When Congress uses the word "shall," it intends to create a mandatory obligation. That was the unanimous conclusion of the U.S. Supreme Court this week in the case of Kingdomware Technologies, Inc. v. U.S. (opinion). "Shall," the Court emphasized, was meant as "a command."
This is one of the cardinal rules of statutory interpretation. It applies not only to acts of Congress, but to state legislative acts as well.
A couple of weeks ago I posted New complaint filed against Secretary of State Michele Reagan – will the AG Act this time?
This week we learned "Oops! … I did it again." Reagan's office skips election manual: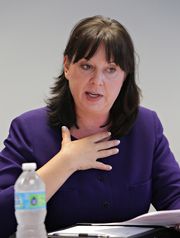 Secretary of State Michele Reagan did not compile a new election procedures manual for the 2016 cycle, perhaps the first time in decades, if not longer, that the office did not release the biennial publication that instructs county and local officials on the conduct of elections.
* * *
State law requires the secretary of state to submit the manual for review to the attorney general and governor "not fewer than ninety days before each election," a deadline that has already passed for the 2016 primary election. The manual must be issued no less than 30 days before each election, which some county election officials say is no longer feasible.
* * *
[T]he law says: "Such rules shall be prescribed in an official instructions and procedures manual to be issued not later than thirty days prior to each election. Prior to its issuance, the manual shall be approved by the governor and the attorney general. The secretary of state shall submit the manual to the governor and the attorney general not fewer than ninety days before each election."
Not this time.
Reagan's office has decided it's not necessary. To her, state law is more of a recommendation than a requirement.
Ignoring the cardinal rules of statutory interpretation, Arizona's Attorney General agreed with our law-breaking Secretary of State, because in Arizona IOKIYAR.
The Arizona Capitol Times (subscription required) reported this week, AG won't investigate Reagan over election manuals:
The Attorney General's Office won't investigate Secretary of State Michele Reagan for her decision not to issue a new election procedures manual for 2016.
Tom Ryan, a Chandler attorney and political activist, argued in a complaint on Thursday that state law requires her to issue a new manual for every election cycle, as previous secretaries of state have done. He alleged that Reagan's decision to ignore that requirement was a felony, which could have forced her from office had Attorney Mark Brnovich pursued an investigation.
But in a letter to Ryan on Tuesday, Chief Deputy Michael Bailey said there are several interpretations of the statute. Previous secretaries of state have issued new manuals each cycle. Bailey said one could also argue that the statute requires a new manual for each individual election. And, he noted, Reagan has interpreted the law to mean only that a procedures manual must be in place, which is what the secretary of state decided to leave in place the manual from the 2014 cycle.
Bailey said the Attorney General's Office isn't taking a position on which of those three interpretations is best. And because the law requires knowing or willful violation, Bailey said there's no basis for criminal charges.
"We note only that the Secretary's interpretation of the statute is at least plausible," Bailey said.
Ryan, who has been fiercely critical of Reagan, said he was disappointed in the decision, but that he has no plans for further legal action regarding the manuals.
"While it seemed a very clear cut violation to me, the AG's office doesn't see it that way," Ryan said.
Had the Attorney General ruled in favor of Tom Ryan, as he should have, this is what would have happened:
Ryan's complaint had potentially severe consequences for Reagan. In his complaint, he cited a law stating that "a person charged with performance of any duty under any law relating to elections who knowingly refuses to perform such duty" is guilty of a class six felony. Arizona law prohibits anyone convicted of a felony from holding elected office.
The GOP culture of corruption runs deep in Arizona. Tea-Publicans will continue to violate the law with impunity unless and until the voters of this state hold them accountable by kicking them all out of office. It's time to drain the swamp of the GOP culture of corruption.