Earlier this week, attorney Tom Ryan filed a complaint with the Secretary of State and the Attorney General seeking to void the May 17 Special Election and reschedule it to the August primary election or to the November general election, Complaint (.pdf), because the Secretary of State had failed to mail publicity pamphlets regarding the election to over 200,000 households affecting over 400,000 voters.
Ryan cited a law signed into law last year by Governor Doug Ducey, which requires "strict compliance" with requirements for the referendum process. Secretary of State Michele Reagan herself advocated for the law.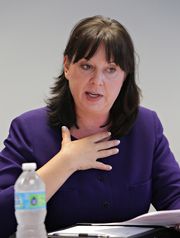 Reagan's office conceded that it had violated the law. The facts are not in dispute. Reagan's office also engaged in a cover up not pro-actively disclosing it's violation of law until it was later discovered, but that's another matter.
Reagan's response to Ryan's complaint  effectively boiled down to "Yeah I violated the law, so whaddya gonna do about it? The election is not going to be canceled."Reagan won't cancel next week's special election.
Which put the ball in the court of Attorney General Mark Brnovich. Stephen Lemons of the Phoenix New Times reports, Attorney General Says Secretary of State Broke Law, but Won't Sue to Halt Special Election:
An angry Arizona Attorney General Mark Brnovich told reporters on Thursday that Secretary of State Michele Reagan "did indeed violate Arizona law" in not sending out hundreds of thousands of publicity pamphlets regarding Tuesday's special election. But the AG said he won't go into court to stop the election from taking place.
During a press conference outside his office, Brnovich claimed there's nothing in Arizona's statutes to provide a remedy for the massive error this close to the actual election date, and that to seek to halt or push back the election could result "in disenfranchising even more voters."
He announced that his office was launching an inquiry into what happened at the Secretary of State's Office to cause the screwup. And he lamented that that Arizona kept facing "fiascoes" such as this one, instead of doing elections by the book.
"It pisses me off as an Arizonan and as the AG," Brnovich said at one point. "In the military, we call this a 'goat rope,' because that's what it was."
I had to look that one up myself. It is military slang meaning "a complete mess, waste of time or very confused situation." That would make "goat rope" equivalent to the more familiar "snafu," an acronym for "Situation Normal, All Fucked Up."
By the way, the word "fiasco" has appeared so frequently in reporting on the election screwups by Michele Reagan that I think this should be her new nickname.
In a letter of response to Ryan issued on Thursday, Brnovich states that the situation created by the secretary of state constitutes "a prima facie and arguably actionable election law violation." AG Response (.pdf).
But the AG writes that the law offers "no statutory remedy" to the violation, and that the solutions proffered by Ryan, such as invalidating the election or moving its date, "would only make matters worse," by disenfranchising those who've already voted and creating more confusion. Brnovich did leave the door open for a challenge from someone else, writing that Ryan or any other voter could "independently seek judicial relief."
Sorry, but no. This runs into what election law attorney Rick Hasen has dubbed the Purcell Principle, whose name comes from an earlier case where the Court stopped the 9th Circuit from putting a last minute stop to implementation of Arizona's voter ID law, which was already underway because it is too close to the election.
Ryan accused Reagan of covering up her blunder in not sending out the ballots, adding that if she had revealed the error earlier, a solution could have been crafted. Ryan said Reagan's "failure to be upfront and honest and to disclose this massive fubar" deprived the AG of the time to act.
Now the electorate could have "no confidence" in the outcome of the May 17 election, he said, calling on Reagan to, "at the very least," demand the resignation of her elections director, Eric Spencer. Ryan also praised Brnovich for investigating Reagan's office over the matter.
This error by the state's top elections official comes on the heels of similar snafus by Maricopa County Recorder Helen Purcell [for whom the Purcell Principle is named], whose office had to apologize for the March 22 presidential-preference election, in which a paucity of polling locations and other issues created long lines, with residents waiting up to five hours to cast their votes.
Purcell's office also recently had to admit that it had misprinted Spanish-language ballots in the county, a $400,000 error.
Reagan largely escaped blame for the PPE debacle, but this near disaster on her part lends itself to a perception of general incompetence when it comes to this state's elections officials.
"I cannot tell you how frustrated I am that we can't seem to get elections right here [in Arizona]," Brnovich said at his press conference. "Elections are the foundation of our republican form of government, and people have to have confidence, when they go to vote, that everything is done legally and properly."
The Arizona Republic adds, Attorney General won't halt May 17 election, launches inquiry into pamphlet error:
Brnovich questioned why Reagan did not immediately widely notify the public of the problems with the pamphlet distribution.
"Are there other violations of law that we don't know about, when did the Secretary know about this, why didn't they notify the public sooner? So I think there are a lot of unanswered questions. … I'm going to work on getting to the bottom of it …
"The next question we're going to ask is: Why did it take so long to notify the public?"
Brnovich said he is worried elections that "aren't being done competently," could result in the U.S. Department of Justice or the federal government "coming in and taking over Arizona elections because people seem to be incompetent."
They don't seem to be incompetent, they ARE incompetent. And the U.S. Department of Justice very well could intervene to supervise Arizona's elections given the screwups who are running our elections now.
Howard Fischer adds, Brnovich will not try to postpone special election:
Brnovich said there is no legal recourse against Reagan. He said that is up to voters.
"We do know and do believe the secretary of state violated Arizona law," Brnovich said. "Unfortunately, there's nothing in the statutes that provide an adequate remedy."
* * *
Brnovich said he now is focused on two things.
One is preventing something like this from happening again.
The other is to put something in law to deal with the situation if it does, whether to halt the election or to punish the elected official who breaks the law. At this point, he said, the only remedy is for voters to make their displeasure known at the ballot box.
"I think that the public will need to hold accountable other officials," Brnovich said.
Well, that's stopping just short of outright calling for a recall of Michele "Fiasco" Reagan for incompetence and misfeasance in office. Sounds reasonable.
UPDATE: Tom Ryan is calling for the impeachment of Michele Reagan. Attorney calls for Michele Reagan's impeachment. Arizona Republic columnist Elvia Diaz says it's  Not a crazy idea to impeach or recall Reagan over election fiasco. Have you met our Tea-Publican controlled legislature? It is never going to impeach one of their own.
Unfortunately, this is yet another illustrative example of the decades-long GOP culture of corruption in Arizona. Here is yet another Tea-Publican official who concedes that they have violated the law, but they can do so with impunity and no accountability because IOKIYAR. It's long past time for the voters of this state to wake the hell up and to say "enough is enough!" and end this GOP culture of corruption in Arizona by kicking Tea-Publicans out of office.