James Carville was right  in 1992, and he still is today: "It's the economy, stupid."
After Democrats in the House passed the HEROES Act back in May, the "Grim Reaper" of the Senate legislative graveyard announced, "I don't think we have yet felt the urgency of acting immediately. That time could develop, but I don't think it has yet." McConnell: No need yet for fifth coronavirus relief bill. "McConnell's comments follow him calling for a "pause" before any additional coronavirus stimulus legislation so that lawmakers can figure out what has, and what hasn't, worked from the nearly $3 trillion already appropriated by Congress."
McConnell and his obstructionist Senate Republicans proceeded to piss away months in which they could have been putting together a serious coronavirus relief bill, even allowing the relief provided for under the CARES Act to expire at the end of July before leaving town for their August recess.
McConnell conceded that 15-20 GOP senators will not vote for any coronavirus deal: "I think there are 15-20 of my guys that are not going to vote for anything. … It's a statement of the obvious that we will not have everybody on our side," McConnell told WHAS, a Kentucky radio station.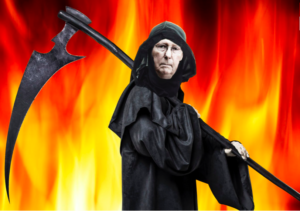 This means that the only way a coronavirus relief bill is ever going to pass the Senate is for Mitch McConnell to deliver enough Republican votes for a Democratic sponsored bill that has 47 votes — he needs to get to 60 for cloture. McConnell adamantly refuses to do this. He is among those Republican Senators who are not going to vote for any coronavirus relief deal.
McConnell views this as giving the Democrats a legislative win, the dire needs of economically distressed Americans be damned. For him, it is always about partisan messaging.
This lack of urgency to provide additional coronavirus relief is being driven by the Trump campaign election messaging touting "the Great American Comeback." Trump's idiot economic advisor Larry Kudlow told reporters last Friday that "the United States can survive to the end of the year without another round of aid meant to alleviate economic pain caused by the pandemic." White House's Kudlow: 'We can live' without coronavirus relief deal. "Right now the economy is on a self-sustaining recovery path in my judgment and will continue along those lines, and will continue to surprise on the upside."
Donald Trump took a "victory lap" on the nation's economic recovery from the coronavirus pandemic, touting it as the "fastest" in U.S. history during a Labor Day speech from the White House. Trump touts 'fastest economic recovery in US history' during Labor Day press conference.
"We're in the midst of the fastest economic recovery in U.S. history, so we have a lot to be thankful for," Trump said Monday. "The United States experienced the smallest contraction of any western nation…You look around and see how we're doing compared to any other nation, our rise is spectacular, and we're rebounding much more quickly from the pandemic."
If you are wondering "WTF is this damn fool talking about?," you are not alone. It is not just the seriousness of the coronavirus pandemic that Trump lied to you about, he is also lying to you about its economic impact.
Business Insider reports, Trump just touted a 'super V' economic rebound even as the recovery shows signs of stalling:
President Donald Trump touted a "super-V" economic recovery on Tuesday, even as the recovery shows signs of stalling out in the absence of additional federal aid and unemployment claims still regularly top one million five months into the pandemic.
Trump and White House National Economic Council Director Larry Kudlow both characterize the economic recovery as a V-shape, suggesting it's a swift one that would fully restore the nation's economic health in a short stretch of time.
But many economists say it's slowing down instead, and they partly attribute it to the expiration of federal aid for individuals and small businesses. It also indicates the devastation stemming from the pandemic will take many years to undo.
The Bureau of Labor Statistics projected on Tuesday the employment rate would grow 0.4% over the coming decade, a slower pace compared to the years following the Great Recession.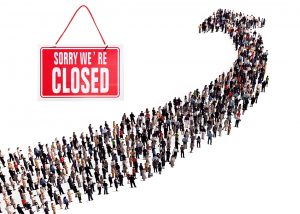 Hiring lost steam in July and consumer confidence also fell to its lowest level in the pandemic last month. Jobless claims briefly dipped below one million in August before climbing up again.
Over one million people filed for unemployment the prior week, the Labor Department reported on Thursday. And a larger share of small businesses continue to lay off more workers than they're hiring, according to the latest Small Business Pulse Survey.
Several large companies have also recently announced they will layoff tens of thousands of workers in the coming weeks, The Wall Street Journal reported. Among them are Coca-Cola, Salesforce, and MGM Resorts.
United Airlines and Delta say their layoffs will be permanent unless they receive another infusion of federal aid.
Daniel Sternberg, head of data science at Gusto, told The Journal "there's not much evidence to suggest that there is going to be this massive bringing people back on the payrolls."
On Thursday, jobless claims were worse than expected last week amid a plodding climb for the U.S. labor market from the damage inflicted by the coronavirus pandemic. Weekly jobless claims miss estimates as employment gains taper:
The Labor Department on Thursday reported 884,000 first-time filings for unemployment insurance, compared with 850,000 expected by economists surveyed by Dow Jones. The total was unchanged from the previous week.
Continuing claims from those filing for at least two weeks rose from the previous week, hitting 13.385 million, an increase of 93,000 from last week's report and an indicator that the strong jobs improvement through the summer may be tailing off entering the fall.
The Labor Department changed its methodology in how it seasonally adjusts the numbers, so the past two weeks' totals are not directly comparable to the reports from earlier in the pandemic. Claims not adjusted for seasonal factors totaled 857,148, an increase of 20,140 from the previous week.
Claims under the Pandemic Unemployment Assistance program continued to climb, rising more than 90,000 last week to 838,916. The total of those claiming benefits through all programs, though Aug. 22, also rose to just over 29.6 million.
Despite the weakening economy due to the stimulus effect of the CARES Act having now been exhausted, Mitch McConnell and his obstructionist Senate Republicans took a meaningless "show" vote on McConnell's "skinny" coronavirus relief bill. "Thursday's vote was a strategic maneuver aimed more at sending a message than producing actual policy, it wasn't expected to pass to begin with. Instead, it was intended to give vulnerable Republican senators something to point toward as evidence they've backed more aid going into the election this fall." The Senate failed to pass more stimulus for a struggling economy. Here's why.
I'm sorry, you did not "back more aid" if you did not actually enact legislation proving that aid. This demonstrates contempt for the intelligence of the American voting public. We know what you did, or didn't do.
There will be no further federal coronavirus relief coming until after the November election, and maybe not even until next January. The Senate Republican plan is to do nothing.
The AP reports, "The nation's unemployment safety net is looking increasingly shaky, with a $300-a-week federal jobless benefit from the Trump administration running out just weeks after it began and millions of laid-off Americans nearing an end to their state unemployment aid. $300 in US jobless aid running out even as more seek help:
Most Americans who exhaust their state's unemployment benefits — typically after six months — will transition to an emergency federal program that provides an additional 13 weeks of aid. Yet they still face a looming deadline: By year's end, nearly all the federal unemployment supports will expire. Unless Congress extends those programs, millions of jobless Americans could be cut off.
Separately, a spokesman for the Federal Emergency Management Agency, which is administering the $300-a-week federal benefit, said Thursday that the agency is providing money to cover six weeks, from the start of August through the end of this week, with no extension in sight.
Nearly all states have applied for the $300-a-week benefit. But only 17 have managed to upgrade their computers systems to actually distribute the payments. As a result, while many states will likely issue checks for several weeks, the money will be retroactive to early August and will cover only through mid-September.
The Arizona Republic reports, "In a letter to Gov. Doug Ducey and Department of Economic Security Director Michael Wisehart, the Democratic leadership teams from the Senate and House called on DES to shake loose some of the [unemployment] money people are waiting for." As thousands of jobless Arizonans wait, Democrats call on state to pay some jobless benefits now:
Thousands, and possibly tens of thousands, of Arizonans continue to wait for benefits.
"Arizona is in the midst of an exceptional public health and economic crisis, with a notable secondary effect in the form of a public trust deficit," they wrote, noting that it's been months since the public health crisis began and thousands of people continue to wait for unemployment benefits.
They want DES to issue "interim" payments to people who have waited 30 days or longer for jobless benefits. They also want to outsource the fraud verification work that is slowing payments, possibly to the National Guard, and to form a working group with lawmakers and DES to clear the department's backlog of unpaid claims.
They also said the lawmakers' offices have been flooded with calls from people who can't reach anyone at DES to help them sort out problems with their applications.
"Many are still awaiting their first benefit payment. This is unacceptable," they wrote. "As a result, our legislative offices have received an influx of dire cries for help, unexpectedly becoming a de facto back channel to access the UI office of DES. We are deeply concerned about Arizona families, especially single moms, minorities, low-income wage earners, those without computer or technological access, and those in rural areas, who are disproportionately impacted by a loss of income."
"Department of Economic Security Director Michael Wisehart said last week that DES is not paying 900,000 jobless claims until they can verify they are authentic, and that even if most of them are fraudulent, payments to people with legitimate claims are being held up as well."
And what is Governor Ducey's response? Ducey says he'll save money on hand, won't increase unemployment pay: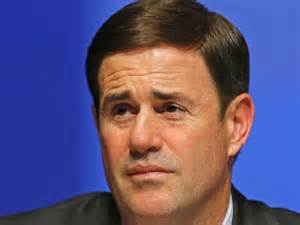 Gov. Doug Ducey has no plans to use state resources to make up for the fact that more than 430,000 Arizonans will see their jobless benefits cut by more than half within weeks.
"It's on Congress," the governor said Thursday when asked about the rapidly depleting federal account that is providing unemployed Arizonans with an extra $300 a week.
Dude, your Republican colleagues in the U.S. Senate, including the appointed, not elected Senator Martha McSally, have made it clear that they have no desire to enact another coronavirus relief bill. Their plan is to do nothing. When you say "It's on Congress," you are actually saying that it is also your plan to do nothing.
Ducey said the state does have "money in the bank."
"We have been financially responsible," he said. But he called questions from Capitol Media Services about the state filling in some, if not all, of the lost benefits "hypothetical."
Ducey's message to unemployed Arizonans, if congressional action does not happen, was simple: "Plan ahead," he said.
In other words unemployed Arizonans, "you're on your own." Don't expect your Republican governor and state legislature to come to your assistance. They simply do not care.
"Arizona had the highest rate of 'housing loss' in the nation, according to a new national study, and that was before what experts called a 'tsunami of evictions' that is expected to hit this fall." Report: Arizona had highest 'housing loss' rate:
The report by New America Foundation looked at evictions and foreclosures by county across the country and found Arizona was first for overall housing loss and second for evictions from 2014-2016. The state was third for foreclosures from 2014-2018.
Displaced in America also included an in-depth look at Maricopa County, which experienced a "total housing loss" rate of 4.5% from 2014-2018, more than double the national average during the period. The trends behind those numbers do not bode well for this fall, experts said, when economic problems from the COVID-19 pandemic are likely to lead to more housing losses.
"From looking at the past these patterns that we saw in this report some of the drivers of housing loss really are amplified by the current pandemic" said Patricia Solis, an Arizona State University geography professor and executive director of the Knowledge Exchange for Resilience, which partnered with New America.
* * *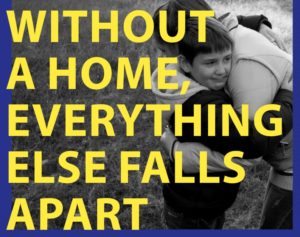 [C]ritics of the eviction moratoriums note that those policies do not include rent forgiveness, meaning many of the people who have lost income due to the pandemic will still be at risk of eviction once the moratoriums end. Researchers compared it to a dam trying to hold back the looming "tsunami of evictions."
New America's recommendations to address the problem include expanding affordable housing options, improving tenants' rights and getting the state to work proactively to prevent housing loss. Solis said that while the moratorium helps in the short term, it has effectively just pushed the problem down the road.
"We need to start thinking about what we're going to put in place to ever really recover," Solis said. "As a community we do not want to deal with the other end of this tsunami."
Woods said the moratoriums help, for now, but that there needs to be a focus on finding solutions to the root causes of housing insecurity in Arizona.
"Evictions are a symptom of a bigger situation and bigger issues," he said.
Do you really believe that a Republican state legislature which has ignored this problem for years is going to address this issue in good faith when the legislature convenes in January? Don't be stupid.
I don't have the time to get to food insecurity and the demands on local food banks. We are entering the holiday season when the demand on food banks is high even in good years. Expect to see increasing pleas for help from community organizations and food banks in news reports over coming weeks. Do what you can to help.
And vote these Republicans out of office in November.