On Monday, the New York Times reported, Newest Immigrants Assimilating as Fast as Previous Ones, Report Says: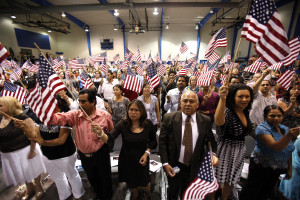 The newest generations of immigrants are assimilating into American society as fast and broadly as the previous ones, with their integration increasing over time "across all measurable outcomes," according to a report published on Monday by the National Academies of Sciences, Engineering and Medicine. (Photo: Naturalization Ceremony).
Immigrants' education levels, the diversity of their jobs, their wages and their mastery of English improved as they lived for more time in the United States, and the gains were even greater for their American-born children, the report concluded.
"The force of integration is strong," said Mary C. Waters, a sociologist at Harvard who led the panel of 18 immigration scholars who wrote the more than 400-page report. "However we do it, we are good at it," she said.
It is the first major report by the national academies on the integration of immigrants since a similarly sweeping overview in 1997. Its timing is linked to the 50th anniversary in October of the Immigration and Nationality Act, 1965 legislation that abolished restrictive national quotas and opened legal immigration to all countries.
Apparently J.E.B.! Bush needs to read more. On Tuesday, J.E.B.! was feeding the xenophobic fears of the GOP crazy base. Daily Kos reports, Jeb!, who once boasted about being 'bicultural,' warns we are 'creeping toward multiculturalism'
Speaking to supporters in Iowa Tuesday, Jeb Bush worried that America's "assimilation process" was being "retarded," and said we should not be a "multicultural society."
"We're creeping toward multiculturalism and that's the wrong approach."
Here's more of Jeb!'s quote:
"We should not have a muticultural society … America has done immigration so much better than the other countries because it's a set of values that people share, that defines our national identity—not race or ethnicity or where you come from. And when you create pockets of isolation—and in some cases, the assimilation process has been retarded because they slowed down—it's wrong … So I think across the board, education, English—being able to speak English—a common language is important. We need to get back to that. We're creeping toward multiculturalism and that's the wrong approach."
Sounds like a special brand of xenophobic American exceptionalism, no? Quite a contrast from the February roll out of his book, when Jeb! touted his biculturalism as an asset on the campaign trail.
Bush said part of the outreach, to Hispanics, will focus on the fact that he speaks Spanish."The fact that I'm bilingual, bicultural can't hurt," he said during the call in response to his former deputy legal counsel, Frank Jimenez, who asked Bush about his Hispanic-outreach plans.
Apparently, none of that applies in Iowa.