Programming Note: Our Confederate Attorney General Jefferson Beauregard Sessions III will testify in open hearing Tuesday before Senate Intelligence Committee on Tuesday: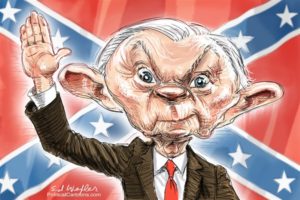 Attorney General Jeff Sessions will testify in an open hearing before the Senate Intelligence Committee on Tuesday, according to the committee's leaders.
The hearing will be held Tuesday at 2:30 p.m. ET.
Former FBI Director James Comey testified last week that the bureau had information about Sessions — before he recused himself from overseeing the investigation into Russian meddling in the 2016 election — that would have made it "problematic" for him to be involved in the probe. The former director did not elaborate in public on the nature of the information.
Justice Department spokeswoman Sarah Isgur Flores said Sessions requested that the committee hearing be public.
"He believes it is important for the American people to hear the truth directly from him and looks forward to answering the committee's questions tomorrow," Flores said.
Sen. Richard Burr (R-N.C.) and Sessions negotiated details of the hearing directly, according to aides familiar with their talks. While the hearing will be held in public, there has been no time scheduled — at least as of Monday morning — for Sessions to stick around and testify in a closed hearing to discuss classified matters, according to those aides, who were not authorized to speak publicly on the matter.
[S]ome members of the committee have pushed for a closed hearing, or at least some allotted time to meet with Sessions privately after the public forum, aides said.
* * *
In early March, The Washington Post reported that Sessions twice met with Russian Ambassador Sergey Kislyak during the campaign and did not disclose that to the Senate Judiciary Committee during his confirmation hearing in January. The next day, Sessions recused himself from the Russia investigation and said it would be overseen by his deputy attorney general, who last month appointed a special counsel to handle the probe.
Since then, CNN has reported that the FBI and Congress are looking into a potential third undisclosed meeting. First on CNN: Sources: Congress investigating another possible Sessions-Kislyak meeting:
Investigators on the Hill are requesting additional information, including schedules from Sessions, a source with knowledge tells CNN. They are focusing on whether such a meeting took place April 27, 2016, at the Mayflower Hotel in Washington, DC, where then-candidate Donald Trump was delivering his first major foreign policy address. Prior to the speech, then-Sen. Sessions and Russian Ambassador Sergey Kislyak attended a small VIP reception with organizers, diplomats and others.
In addition to congressional investigators, the FBI is seeking to determine the extent of interactions the Trump campaign team may have had with Russia's ambassador during the event as part of its broader counterintelligence investigation of Russian interference in the election.
The FBI is looking into whether there was an additional private meeting at the Mayflower the same day, sources said. Neither Hill nor FBI investigators have yet concluded whether a private meeting took place — and acknowledge that it is possible any additional meeting was incidental.
This would likely be part of the closed hearing, because it is part of an ongoing FBI and congressional invetigation. I would not expect to learn much from Sessions in the open hearing.