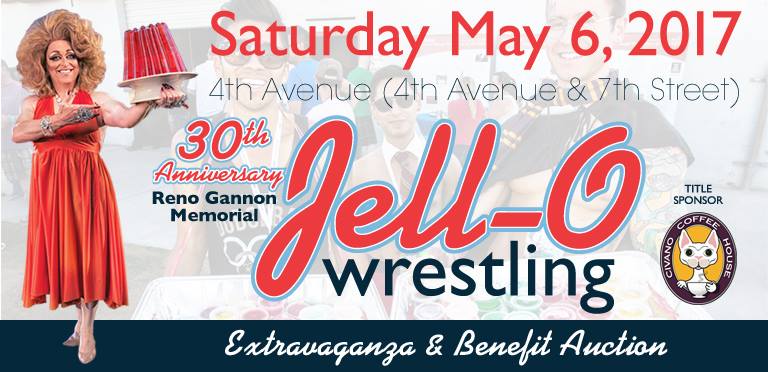 "The 30th Annual Reno Gannon Memorial Jell-O Wrestling Extravaganza and Benefit Auction will be held on Saturday May 6, 2017 on 4th Avenue at 7th Street.
Teams of wrestlers raise funds to wrestle in a pit of Jell-O, often with extraordinary costumes and characters. Between wrestling matches our Drag Diva Hostesses run a live auction featuring a variety of unique items selected to please the crowd."
"Admission tickets for the 30th Annual Reno Gannon Jell-O Wrestling Extravaganza & Benefit Auction taking place on Saturday May 6, 2017 are now available! All tickets purchased online will be mailed to purchaser by April 23, 2017. Any tickets purchased on or after April 24 will be held at the will-call window under purchaser's name. The will-call window opens at 4pm on Saturday May 6 and you will need valid photo ID to pick up will-call tickets.
Purchase Admission Tickets- $25 each
Saturday May 6, 2017
On 4th Avenue & 7th Street

4:00pm   Gates Open/Pre-Event Games & Festivities
4:30pm   Wrestling & Live Auction Begins
8:30pm   Event Ends
Get tickets online: http://jello-wrestling.saaf.org/tickets/, to benefit Southern Arizona Aids Foundation (SAAF).
Doing Good Was Never This Much Fun!
"Funds raised through Jell-O Wrestling assist SAAF with our mission to cultivate a healthy & stigma-free society through transformative action.
Your support will help to fund the vital programs and services of SAAF and help us to help so many others."
Carolyn's note: I've attended in the past and it is indeed a wild, extravaganza night of jello shots and lively wresting by teams in the awesome jello pit. Don't miss out.