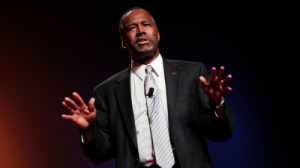 The Washington Post's right-wing blogger Jennifer Rubin harshes on Dr. Ben Carson, saying he tops the GOP presidential field for buffoonery. The most unfit GOP candidate isn't Trump:
Donald Trump wants to round up 11 million people in two years for deportation. He approves of Russia's incursion into Syria. He has a tax plan that adds at least $10 trillion to the debt. And with all that, he is not the most ignorant or unfit GOP presidential contender. That distinction goes to Ben Carson.
Republican presidential candidate Ben Carson told CNN's Wolf Blitzer that the Holocaust would have been "greatly diminished" had Jewish people in Europe been armed with guns.

"I think the likelihood of Hitler being able to accomplish his goals would have been greatly diminished if the people had been armed," Carson said. "I'm telling you there is a reason these dictatorial people take guns first."
This follows his jaw-dropping response to the Oregon mass shooting: "I would say, hey guys, everybody attack him. He may shoot me but he can't get us all!"
The Anti-Defamation League roundly condemned his remarks. ("The small number of personal firearms available to Germany's Jews in 1938 could in no way have stopped the totalitarian power of the Nazi German state.")
Carson's ignorance is not limited to the Nazis, although he continues his appalling comparisons of trends and people he dislikes to the fascist, genocidal regime.
He does not, it seems, grasp the difference between the debt limit and the budget.
He thinks "diplomacy" was an alternative to a military response to the slaughter of nearly 3,000 people on Sept, 11, 2001. (New Jersey Gov. Chris Christie retorted that "these people were out to kill us.")
He insisted that a Muslim should not be president, only begrudgingly backpedaling to say only those intent on imposing sharia law shouldn't hold office.
And there was this telling exchange from the first debate, which largely escaped notice:
MEGYN KELLY: You've suggested that the Baltic States are not a part of NATO, just months ago you were unfamiliar with the major political parties and government in Israel, and domestically, you thought Alan Greenspan had been treasury secretary instead of federal reserve chair.

Aren't these basic mistakes, and don't they raise legitimate questions about whether you are ready to be president?

CARSON: Well, I could take issue with — with all of those things, but we don't have time.

But I will say, we have a debate here tonight, and we will have an opportunity to explore those areas, and I'm looking very much forward to demonstrating that, in fact, the thing that is probably most important is having a brain, and to be able to figure things out and learn things very rapidly.
(Wait. He thinks the Baltic states are not part of NATO?)
Conservatives have a dangerous habit of excusing ignorance or offensive comments so long as they come from someone attacking liberal elites. One does not need to elevate ignoramuses to cultlike status simply because they also happen to attack the media or liberal dogma. In doing so, Republicans wind up getting behind crank candidates and losing elections to mediocre candidates. (Anyone recall the "I-am-not-a-witch" Christine O'Donnell?)
There is a Chauncey Gardner-like quality to Carson. He speaks softly, smiles a lot and lulls his audience into the belief he possess great insights and wisdom. He is an esteemed neurosurgeon and a lovely dinner speaker. He is, however, entirely unfit for the presidency, seemingly oblivious to basic historical facts, constitutional concepts and world events. Surely conservative Republicans, especially some in the right-wing media who have fawned over him, should have figured this out by now.
Dr. Carson continues to add to his buffoonery today after Rubin's column. When asked about raising the federal debt ceiling in November — the means by which the federal government tells its creditors that it will honor its debts already incurred — Dr. Carson responded  "It's the same crap every year. Why do we keep doing it?" Carson suggests he wouldn't raise debt limit.
Because, Doc, the Congress has an obligation to ensure the full faith and credit of the United States in the repayment of its debts, and defaulting on those debts will result in a downgrade of credit worthiness, increased borrowing costs, and an economic catastrophe. Carson dismissed this saying "a warning about the U.S. defaulting on its debt if the ceiling isn't raised is 'absurd Washington spin.'"
Dr. Carson also does not like the more critical media scrutiny he is receiving now as a top-tier candidate in GOP polling. He is used to the friendly confines of FAUX News. Rupert Murdoch's Tweets Suggest a New Favored Candidate: Ben Carson.
So today Carson declares war on the press:
Speaking at a gathering of reporters and communications professionals at the National Press Club in Washington, Carson lashed out at the press, citing several instances where he believes his views have been misrepresented.
"Many in the press will say I'm sensitive and that I should not be thinking about running for office, because I get offended by what they do," he said. "But the reason I expose the press is because I want the people of America to understand what they're doing. It's not because I'm sensitive."
* * *
Carson's frustration with the press is boiling over as the presidential candidate, who is soaring in the polls and raising tens of millions of dollars from grassroots conservatives, has battled weeks of controversial headlines.
Carson believes his views on guns and religion have been intentionally distorted by reporters eager to sink his presidential hopes.
"The good thing is that a lot of people in America are on to them and understand what they're trying to do, and that's one of the reasons we're doing well," Carson said. "It seems like the more they attack me, the better we do."
This week, Carson said that if he had been at Umpqua Community College, the site of a recent mass shooting, he would have stood up to the gunman. Many people interpreted the remarks to mean that the victims didn't do enough to protect themselves.
Carson this week also called for arming officials on school grounds, described an encounter with a gunman at a Popeye's restaurant and said that the Holocaust would have been less likely if the Jews in Germany had been armed.
Carson on Friday defended his remarks on the Holocaust but said that in several other instances, his words had been taken out of context or overblown.
"Everything needs to be looked at in context, and when news media picks one word or one phrase and they run with it and try to characterize people like that, I gotta tell you guys, that's why people don't trust you anymore," he said. "I mean you're down there with used car salesmen."
Well Jennifer Rubin, are you going to take this from the Doc?
Let's be honest. We all know that this GOP clown car presidential primary is just an audition for getting a paid gig on FAUX News or right-wing hate radio. Dr. Carson will land on his feet with his own show and book/speaking tours to shake down the rubes and relieve them of the money in their wallets. That's what the conservative media entertainment complex is all about.