And then there were 20 … Joe Biden made it official today, he is running for president in a crowded Democratic primary field that may continue to grow. Joe Biden Announces 2020 Run for President:
Former Vice President Joseph R. Biden Jr. announced Thursday that he would seek the Democratic nomination to challenge President Trump in 2020, marshaling his experience and global stature in a bid to lead a party increasingly defined by a younger generation that might be skeptical of his age and ideological moderation.
Mr. Biden, 76, is set to offer himself as a levelheaded leader for a country wracked by political conflict, a rationale he believes could attract a broad cross-section of voters who want to move on from Mr. Trump.
In a three-and-a-half minute video laying out his reasons for running, Mr. Biden chose not to talk about policy issues or his biography but instead began by recalling the white supremacist march through Charlottesville, Va., in 2017 and a counterprotest, and Mr. Trump's comment that there were "very fine people on both sides." In that moment, Mr. Biden said, "I knew the threat to our nation was unlike any I'd ever seen in my lifetime."
"We are in the battle for the soul of this nation," Mr. Biden said. "I believe history will look back on four years of this president and all he embraces as an aberrant moment in time. But if we give Donald Trump eight years in the White House, he will forever and fundamentally alter the character of this nation, who we are, and I cannot stand by and watch that happen."
* * *
Mr. Biden is seen by many Democrats as a trustee of former President Barack Obama's legacy, perhaps capable of restoring the consensus-seeking liberalism of Mr. Obama's administration. The former vice president has encouraged that perception, labeling himself to reporters in early April as an "Obama-Biden Democrat" and suggesting that accounts of the left wing's ascendancy in the party were greatly exaggerated.
A spokeswoman for Mr. Obama issued a statement on Thursday morning praising Mr. Biden without endorsing him, a sign of both the political value of that relationship and also the limits of what Mr. Obama might do to support his former running mate.
* * *
As Mr. Biden joins a race with 19 other Democratic candidates, he is in an unaccustomed political position: He is an early front-runner for the nomination, though by no means an imposing one. He has run four previous national campaigns — two as a little-noticed candidate for the presidential nomination in 1988 and 2008, and two as Mr. Obama's running mate — but in a half-century career he has never been the starring actor in a major political production of his own inception.
The overarching question of Mr. Biden's campaign is whether he can fill that role with sufficient competence and imagination, and dispel concerns within his party that he lacks the discipline to run an effective campaign or the vision to ignite Democrats' enthusiasm.
In his announcement video, Mr. Biden's opening argument to Democratic voters and the country at large attempted to set him above and apart from his party's ideological dividing lines and crowded field of candidates. Rather than describe his political record or embrace left-wing policies that some Democrats and liberal activists are hungry for, Mr. Biden made a thematic attempt to define the Democratic primary in terms of a question: which candidate can beat Mr. Trump and restore normalcy.
* * *
Mr. Biden will seek to make the case for himself in the coming days, giving his first television interview on Friday on ABC's "The View," where he memorably appeared in 2017 and comforted a co-host, Meghan McCain, a daughter of Senator John McCain, about her father's battle with brain cancer.
Note: According to the Washington Examiner, the family of the late John McCain, a longtime Senate colleague of Biden's, will back him in both the Democratic primary and, assuming he wins that contest, the general election against Donald Trump. In a tweet posted after the Examiner story, Cindy McCain denied that she'll be "getting involved in presidential politics."
He will then barnstorm the early primary states over the next few weeks, following up his Pittsburgh speech with trips to Iowa and South Carolina, and then proceeding to Nevada, California and New Hampshire by the middle of May. The Biden rollout is set to culminate in Philadelphia on May 18, with a speech about "unifying America," his campaign said.
His long-awaited entry effectively completes the field of major Democratic candidates, and may goad the party's large number of would-be presidents to compete more aggressively for attention in a race currently framed by two outsize political characters in their eighth decades of life — Mr. Biden and Senator Bernie Sanders of Vermont.
Name politicians still contemplating running for president are Senator Michael Bennet (D-CO), Governor Steve Bullock (D-MT), Mayor Bill de Blasio (D-NY), and former state Representative Stacey Abrams (D-GA), among others.
It is unclear how bold a campaign Mr. Biden intends to run, and whether he will seek to electrify the Democratic coalition or merely satisfy its thirst for a champion who appears up to the job of beating Mr. Trump.
Mr. Biden is expected to face intensive scrutiny of his decades-long political record as vice president and a Delaware senator, and his political allies believe he must take steps in short order to articulate publicly how his views have changed over time on fundamental Democratic concerns involving race and women's rights. He has yet to allay concerns about the most contentious aspects of his career, including his treatment of Anita Hill during the confirmation hearings of Justice Clarence Thomas.
* * *
Mr. Biden has consistently led the Democratic primary polls, collecting between a quarter and a third of the vote, and he is expected to receive robust support from donors in the Democratic establishment and the national business community. Last week he began accepting financial contributions for his candidacy, and his wealthy supporters are expected to hold a major fund-raising event in Philadelphia to help propel him into the race.
Mr. Biden has described himself to associates as the candidate best equipped to defeat Mr. Trump, mainly by reclaiming historically Democratic areas of the Midwest, where many lower-income white voters have abandoned his party in a broad cultural and racial realignment.
A white male centrist in his 70s, Mr. Biden also resembles few of the Democrats who electrified the party during last year's midterm elections. And because he delayed so long in joining the race, Mr. Biden now finds himself up against an array of competitors who have already found their footing in different ways.
Biden is at a disadvantage in fundraising. Joe Biden Plans to Enter the 2020 Race on Thursday. He's Starting With $0.
The field includes muscular fund-raisers like Mr. Sanders, Senator Kamala Harris of California and former Representative Beto O'Rourke of Texas; intriguing underdogs, like Mayor Pete Buttigieg of South Bend, Ind., who have excited voters with their novelty; and policy-minded liberals like Senators Elizabeth Warren of Massachusetts and Cory Booker of New Jersey, who have helped frame the race as a contest of ideas.
Some of those candidates may be keen to take on Mr. Biden's record, including his background as a Delaware senator who was highly attentive to the state's credit card industry. Ms. Warren has been bluntly critical of Mr. Biden in the past, and much of his legislative history conflicts with the central concerns of Mr. Sanders, the leading liberal populist in the race.
Mr. Biden has already been facing tough scrutiny of his shifting policy positions over the decades, on matters like civil rights, abortion and the war in Iraq.
Confronting skepticism from his own party, Mr. Biden has recently expressed regret for supporting stringent tough-on-crime measures in the 1980s and 1990s, and he made a partial attempt at voicing contrition for the aggressive questioning Ms. Hill faced when she accused Justice Thomas of sexual harassment.
Mr. Biden's private endeavors and personal finances could also become political targets. He appears to have earned upward of $12 million since leaving office, mainly through a book deal and dozens of paid speeches, and he has created a network of nonprofits and academic centers that employ his advisers and advocate his priorities. His aides have drawn up plans to shut down his flagship nonprofit, the Biden Foundation.
Mr. Biden promised in January, through a spokesman, that he would give a full accounting of his assets if he entered the presidential race, including his tax returns.
There are few modern examples of a man of Mr. Biden's age assuming the leadership of a Western democratic power. The precedents that exist have tended to arise from moments of military conflict or social turbulence: Georges Clemenceau becoming France's premier during World War I at the age of 76, or Winston Churchill returning as prime minister in the 1950s, also at 76.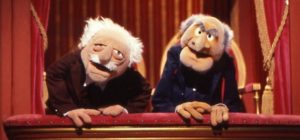 Mr. Biden would be 78 on Inauguration Day in 2021 (Bernie Sanders would be 79), and it remains to be seen whether voters will view him as a similar kind of political savior, or the times as equally dire.
Mr. Biden's imposing tenure in government has long been twined in voters' eyes with a biography touched several times by crippling tragedy. He has spoken frequently about the death of his first wife, Neilia, and his infant daughter in a 1972 car crash. And the death of his son, Beau, in 2015 became an occasion of national mourning.
In matters beyond grief, too, Mr. Biden is widely seen as a politician with an uncommon gift for empathy, and for communicating with voters on an emotional level. He has criticized Democrats for appearing too "elitist," and during the midterm elections last year branded himself happily and often as "Middle-Class Joe."
The speculation is over. Now things get real.