Lynching in America continued from the 1920s up to 1980, according to Pima County Public Defender Joel Feinman.
Arizona incarcerates a higher percentage of the population than South Africa did during apartheid. "We are not the land of free and home of brave as long as that statistic is true," said Pima County Public Defender Joel Feinman.
He spoke recently at a program on mass incarceration sponsored by the Arizona Ground Game (TAGG), a grass-roots Progressive organization that encourages active citizenship through neighborhood building.
"Mass incarceration is a long and ugly story, a bloody and racist tour of where we've been," he said. "The good news is that mass incarceration is actually one of easiest political problems to solve."
Plea bargains
Part of the problem is the universal use of plea agreements to end criminal cases. In 2013, 97% of criminal cases in the federal system were resolved by plea bargains.
"The average sentence for federal narcotics defendants with a plea agreement is  5 years," Feinman said. "For defendants who went to trial, the average sentence was 16 years — more than 3 times the years in prison because they chose to exercise their constitutional right under the 6th amendment to have a trial by jury."
Plea bargains are an unfair contract, where the prosecutor (the Pima County Attorney) has all the bargaining power and the defendant has none. "The criminal justice system is more interested in moving cases along than dispensing justice," he said. "As a result, you get the highest incarceration rate and the highest number of people in prison. The judge is not the most powerful person, not the jury, not our state representatives or congress people — it is your local prosecutor. They are by far the most powerful person in the criminal justice system."
Racism in criminal laws
"We cannot talk about mass incarceration without talking about race. The reason we have such a vastly disproportionate number of people of color in prison is that it is precisely what our political leaders intended. In 1866 we passed the 13th amendment: all slavery is outlawed except for people who are convicted of a criminal offense. What did powerful white men in the South who had recently lost a war, what did they do? They recaptured that human property by re-enslaving those people through the criminal justice system."
White men have a 1 in 17 chance of being in prison in their lifetime. For black men, the odds are 1 in 3. For a white woman, the odds are 1 in 111. For a black woman, the odds are 1 in 18.
Oppressive drug laws
At the turn of the 20th Century, vagrancy and intoxication charges were used to put black people in jail and use them in chain gangs. "Right when that started to ebb, we killed blacks by lynching them."
Today, oppressive drug laws directly result in mass incarceration.
In Arizona prisons today, 21% of inmates are there for narcotics crimes. Only 1.4% are in prison for rape or sexual assault. "Why in the holy hell are we prosecuting more nonviolent drug offenses than sexual assault and rape?"
Mandatory minimum sentences are another cause of mass incarceration. "Mandatory minimum sentences are a critical tool for prosecutors to do what they want. If you go to trial for stealing a car, the judge has to sentence you for 5 years in prison. This gives the prosecutor power to offer you 2.5 years in prison."
For example, simple possession of marijuana is a felony in Arizona, despite that 153,000 Arizonans can buy marijuana with a state-issued medical marijuana card at 130 state-approved dispensaries.
Feinman said the public defender is representing a 15-year-old boy with mental health issues. He went off his medication and stole cigarettes from behind the counter of a store, and showed a knife handle in his pocket. Pima County Attorney Barbara Lawallcharged him as an adult violent offender. "The prosecutor had the discretion to charge him as a juvenile, but the county attorney chose to charge him as an adult violent offender," Feinman said. 
Disenfranchising thousands
Prison sentences deprive masses of people of their civil rights. "In 2016, 221,000 Arizonans were disenfranchised —  they cannot vote because of their criminal conviction. "If you are convicted of a felony, you automatically lose your civil rights, lose the right to vote, to be on a jury, to bear arms, or to run for office." This is 4.25% of the state population. President Trump won only by 3.5% in Arizona.
The loss is permanent. Arizona has no expungement law. "We need to have an expungement law that says after a certain amount of years, your record is wiped clean."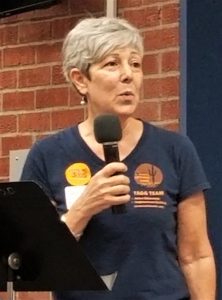 "If you want to turn Arizona blue, reform mass incarceration laws by electing Democrats."
To persuade conservatives and Republicans, Feinman makes a fiscal argument. "When I talk to conservative Republicans or right-wing talk radio, I point out that mass incarceration is the worst welfare there is."
The state government spends an average of $23,000 per inmate. "Keeping a person in the Pima County jail for a year costs $34,000." In contrast, the state spends only $3,500 per student in K-12 schools.
"When people say it's too expensive to reform mass incarceration, that's false.
What we are doing now it the most expensive thing. There is no more expensive solution to crime than what we are doing now."
The simple solution
Feinman says the simple solution is to elect Progressive people to the 15 County Prosecutor positions in Arizona.
"You change the prosecutor and you change the system," he said. "As horrible as mass incarceration is, the upside is that it's one of easiest problems to fix. If we elect different leaders who are committed to ending mass incarceration, then we will see change. We will actually move closer to the idea of being a country where people are born free and have due process."
As positive examples, he cited Kimberly M. Foxx, the new Cook County, Illinois, state's attorney who ran as a reformer on the issues of wrongful prosecutions and police reform, and reformer District Attorney Larry Krasner in Philadelphia, who said he wouldn't seek cash bail in certain crimes.
"The best way to get elected prosecutor is to say, "I'm going to keep you safe, and use coded language that the bad men are black, and say "I'm tough on crime and I'll send everyone to jail." This is how Pima County Prosecutor Barbara Lawall got elected.
"You can vote the prosecutors who do nothing to address mass incarceration out of office."