The New York Times teases passages from John Bolton's tell-all book today. Bolton Says Trump Impeachment Inquiry Missed Other Troubling Actions (excerpts):
Mr. Bolton describes several episodes where the president expressed willingness to halt criminal investigations "to, in effect, give personal favors to dictators he liked," citing cases involving major firms in China and Turkey. "The pattern looked like obstruction of justice as a way of life, which we couldn't accept," Mr. Bolton writes, adding that he reported his concerns to Attorney General William P. Barr.
Mr. Bolton also adds a striking new allegation by saying that Mr. Trump overtly linked trade negotiations to his own political fortunes by asking President Xi Jinping of China to buy a lot of American agricultural products to help him win farm states in this year's election. Mr. Trump, he writes, was "pleading with Xi to ensure he'd win. He stressed the importance of farmers, and increased Chinese purchases of soybeans and wheat in the electoral outcome."
The book confirms House testimony that Mr. Bolton was wary all along of the president's actions with regard to Ukraine and provides firsthand evidence of his own that Mr. Trump explicitly linked the security aid to investigations involving Mr. Biden and Hillary Clinton. On Aug. 20, Mr. Bolton writes, Mr. Trump "said he wasn't in favor of sending them anything until all the Russia-investigation materials related to Clinton and Biden had been turned over." Mr. Bolton writes that he, Mr. Pompeo and Defense Secretary Mark T. Esper tried eight to 10 times to get Mr. Trump to release the aid.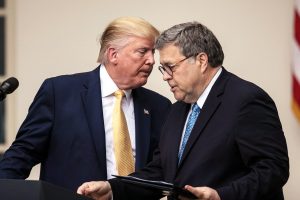 Mr. Bolton, however, had nothing but scorn for the House Democrats who impeached Mr. Trump, saying they committed "impeachment malpractice" by limiting their inquiry to the Ukraine matter and moving too quickly for their own political reasons. Instead, he said they should have also looked at how Mr. Trump was willing to intervene in investigations into companies like Turkey's Halkbank to curry favor with President Recep Tayyip Erdogan of Turkey or China's ZTE to favor Mr. Xi.
Note: Donald Trump could not do this without the active participation of his Attorney General, William Barr, who is also believed to have torpedoed investigations by the Southern District of New York into Donald Trump and his businesses following revelations by his former attorney and fixer, Michael Cohen (who is also writing a tell-all book).
Mr. Trump married politics with policy during a meeting with Mr. Xi on the sidelines of the Group of 20 summit meeting in Osaka, Japan, last summer, according to the book. Mr. Xi told Mr. Trump that unnamed political figures in the United States were trying to spark a new cold war with China.
"Trump immediately assumed Xi meant the Democrats," Mr. Bolton writes. "Trump said approvingly that there was great hostility among the Democrats. He then, stunningly, turned the conversation to the coming U.S. presidential election, alluding to China's economic capability to affect the ongoing campaigns, pleading with Xi to ensure he'd win." Mr. Bolton says he would have printed Mr. Trump's exact words, "but the government's prepublication review process has decided otherwise."
[Mr. Bolton says] he reported them to Mr. Barr and Pat A. Cipollone, the White House counsel. They should have been investigated by the House, he said, and at the very least suggested abuses of a president's duty to put the nation's interests ahead of his own.
The book, "The Room Where It Happened," was obtained by The New York Times in advance of its scheduled publication next Tuesday.
First of all, fuck you John Bolton! You are no patriot. You had relevant information for which you should have volunteered to testify before the House Intelligence Committee for impeachment, as other patriotic government officials did at the risk of retaliation ending their career (as several have since been retaliated against). You refused to testify before the committee and forced a dilatory lawsuit because your only concern was financially profiting from this information in your tell-all book. You are the last person in any position to criticize anyone of "malpractice." What you have done is far worse. May you rot in hell.
UPDATE: House Intelligence Committee Chairman Adam Schiff: "Bolton's staff were asked to testify before the House to Trump's abuses, and did. They had a lot to lose and showed real courage. When Bolton was asked, he refused, and said he'd sue if subpoenaed. Instead, he saved it for a book. Bolton may be an author, but he's no patriot."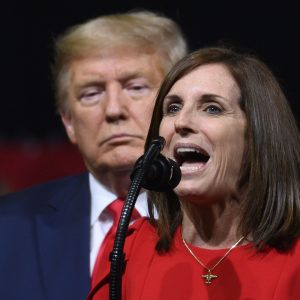 Secondly, Donald Trump and endangered Senate Republican candidates, like Arizona's Martha McSally, have coalesced around a smear campaign against Joe Biden and their Democratic Senate opponents based on China. McSally voted to acquit Donald Trump for his extortion of Ukraine to interfere in the 2020 election, and now we learn that Trump also colluded with the Communist government of China to help him get reelected in 2020, just as he did with the Communist government of Russia in the 2016 election (and likely again in 2020).
When Martha McSally runs ads claiming "I would never trust Communists in China" to smear Joe Biden and Mark Kelly, she should be held to account for her support of Donald Trump – the biggest Commie dictator loving traitor we have ever had – who conspired with two Communist governments for help in stealing an election. Fuck her too!
But the one person I so much want to see prosecuted and convicted, so he can spend the rest of his miserable life in prison is the most corrupt attorney general in American history, William "Coverup" Barr. If John Bolton's allegations are to be believed and are supported by the evidence, William Barr has been an active partner in crime with Donald Trump in the obstruction and subversion of justice and abuse of power. This pair of corrupt criminals can share a cell together till death do them part.
Recently Joseph H. Hunt, the head of the Justice Department's civil division, announced he was resigning. This follows Brian A. Benczkowski, the head of the Justice Department's criminal division, said last week that he was leaving in July, and Noel J. Francisco, the solicitor general, told officials at the department that he planned to leave when the Supreme Court wrapped up its session this month. Some observers say this is just the normal turnover of personnel late in a presidential term, but it could also be rats jumping from a sinking ship.
Next week, Two whistleblowers agree to testify on AG Barr's 'unprecedented politicization' of DOJ:
House Judiciary Chair Jerry Nadler announced Tuesday the committee had secured the testimony of two witnesses who can lend insight into Attorney General William Barr's "unprecedented politicization" of the Justice Department.
One of the witnesses House Democrats subpoenaed is Aaron Zelinsky, who worked on the prosecution of Trump bestie Roger Stone and resigned from the team handling the case after Barr intervened in an attempt to lighten Stone's sentence.
The other is John Elias, who was tasked with reviewing a fuel efficiency deal between California and big auto makers, which the Trump administration has sought to undermine. "Mr. Elias can speak to the Department's improperly motivated activity by the Antitrust Division," a statement from Nadler read.
A third witness, former Deputy Attorney General Donald Ayer, who served under George H.W. Bush, will also testify about "what is at stake when there is a breakdown of the Department's independence at the hands of its own leadership," read the statement.
Some 2,000 Justice Department alumni have signed an open letter calling for Barr's resignation in the wake of his interference in the cases of both Stone and former national security adviser Mike Flynn. Senate Democrats have also sought an internal investigation into Barr's recent role in violently clearing peaceful protesters from outside the White House.
Barr has repeatedly declined to testify before House Judiciary Democrats, and Nadler has made noise about subpoenaing him if he failed to appear once the coronavirus scare died down. Presumably that's now since the House has resumed conducting hearings and testimony can be conducted remotely.
Nadler's statement noted that despite Barr's failure to give congressional testimony, he has "made time for multiple television interviews."
Barr has previously been held in contempt of Congress last year for his failure to respond to a subpoena for his testimony. Of course, his thoroughly corrupted Justice Department won't bring charges against Attorney General William Barr after being held in contempt of Congress.
Charles Pierce at Esquire comments, If the William Barr Personal Injury Law Firm Doesn't Block This, It Could Be a Sign:
Sometimes, I shiver visibly when I consider what this political moment would have been like had the Democratic Party not swept into a majority in the House of Representatives back in 2018. I suspect the folks at Camp Runamuck would be selling the country off for parts by now. Certainly, there would be far fewer rocks being overturned to reveal the vermin beneath.
* * *
If the William Barr Personal Injury Law Firm—a.k.a. the United States Department of Justice—doesn't fight these subpoenas, that would be yet another sign that the administration is running out of a) gas, and b) alibis.
Over the past couple of weeks, I've noticed a kind of resigned recognition among the Republicans that the hammer is coming down with increasing speed. Sure, they can still get their judges because they have the votes. But the spirit has gone out of them. Even Lindsey Graham was grim and downcast as he issued his kangaroo subpoenas. Neil Gorsuch bummed them out generally with his decision on LGBTQ rights on Monday. The poll numbers—Arkansas? Really?—are appalling, and the president seems to be deteriorating physically as well as mentally, and I get the feeling that the Republicans in Congress are genuinely sick and tired of walking around with a grand piano on their backs. If Zelinsky and Elias testify freely, it's an indication that the Republicans may be coming to the conclusion that taking a dive on this experiment gone horribly wrong may be the smart play.
In an email from Congressman Raul Grijalva today, he calls for the resignation of Attorney General William barr.

June 1, 2020: Attorney General Bill Barr personally ordered the violent removal of peaceful protesters near the White House. Pepper balls, rubber bullets, and flashbangs were used just so Donald Trump could pose for a photo-op at St. John's Episcopal Church.
It is time for the American people to force Attorney General Barr to resign. That is why I am asking you to sign this petition demanding his resignation:
Friends,
Attorney General Bill Barr has proven time and again that he is more committed to protecting Donald Trump than protecting the rule of law.
As video evidence continues to mount showing the June 1st violent clearing of Lafayette Square — where protesters were peacefully demonstrating against police brutality — Barr continues to defend Trump's actions and deny any wrongdoing.
We know what happened and we must take action. That is why I am teaming up with several of my House colleagues and partner organizations in demanding Barr's resignation.
Stand with us today and sign our petition — Attorney General Barr is not acting in the public interest and is desecrating the rule of law in the name of Trump. He must resign.
Since the day he became Attorney General, Barr has been acting as a personal lawyer to Trump instead of the attorney for the interests of the nation.
Under Barr's guidance, the Justice Department recently dropped the criminal case against Trump's first national security adviser Michael Flynn, claiming the FBI's interview was "unjustified" by the agency's counterintelligence probe of Flynn and conducted "without basis."
Flynn admitted in court to lying to the FBI about contact with a Russian official. He admitted his guilt, but the Justice Department is now saying that it does not matter. Barr's actions are a continuation of Trump's efforts to obstruct justice, doing anything he can to protect Trump at whatever cost.
It is time for the American people to force Attorney General Barr to resign. Sign our petition and demand that Attorney General Bill Barr resign. »
Thank you for making your voice heard today.
Peace,
Raúl Grijalva (D-AZ)