When a politician does the right thing, a rare occurrence these days, I will give them the credit and respect they deserve.
In a totally unexpected move early this morning, Senator John McCain in the end did the right thing, joining two GOP women stalwarts, Susan Collins and Lisa Murkowski, to defeat evil GOP bastard Mitch McConnell's ultimate act of legislative malpractice to repeal "Obamacare."
Thank you Senator McCain. After all the calls and emails to the senator's office that you all have made over the past several weeks, today I would urge you to do the same to offer a word of thanks to the senator. And do the same for Sens. Collins and Murkowski.
The New York Times reports, Senate Rejects Health Law Repeal, With McCain Casting the Decisive 'No' Vote: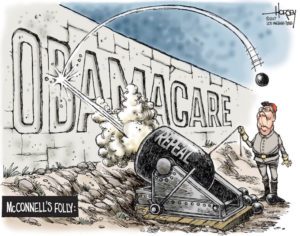 The Senate in the early hours of Friday morning rejected a new, scaled-down Republican plan to repeal parts of the Affordable Care Act, derailing the Republicans' seven-year campaign to dismantle President Barack Obama's signature health care law and dealing a huge political setback to President Trump.
Senator John McCain of Arizona, who just this week returned to the Senate after receiving a diagnosis of brain cancer, cast the decisive vote to defeat the proposal, joining two other Republicans, Susan Collins of Maine and Lisa Murkowski of Alaska, in opposing it.
The 49-to-51 vote was also a humiliating setback for the Senate majority leader, Mitch McConnell of Kentucky, who has nurtured his reputation as a master tactician and spent the last three months trying to devise a repeal bill that could win support from members of his caucus.
As the clock ticked toward the final vote, which took place around 1:30 a.m., suspense built on the Senate floor. Mr. McCain was engaged in a lengthy, animated conversation with Vice President Mike Pence, who had come to the Capitol expecting to cast the tie breaking vote for the bill. A few minutes later, when Mr. McCain ambled over to the Democratic side of the chamber, he was embraced by Senator Dianne Feinstein, Democrat of California. A little later Senator Amy Klobuchar, Democrat of Minnesota, put her arm around Mr. McCain.
The roll had yet to be called, but the body language suggested that the Trump administration had failed in its effort to flip the Arizona senator whom President Trump hailed on Tuesday as an "American hero.''
Many senators announced their votes in booming voices. Mr. McCain quietly signaled his vote with a thumbs-down gesture. He later offered an explanation on Twitter:
And of course, our Twitter-troll-in-chief had to respond from the dark Tower of Trump:
Unlike previous setbacks, Friday morning's health care defeat had the ring of finality. After the result was announced, the Senate quickly moved on to routine business. Mr. McConnell canceled a session scheduled for Friday and announced that the Senate would take up the nomination of a federal circuit judge on Monday afternoon.
With so many senators in both parties railing against the fast-track procedures that Republican leaders used, a return to health care seemed certain to go through the committees, where bipartisanship and deliberation are more likely.
"We are not celebrating," said the Senate Democratic leader, Chuck Schumer of New York. "We are relieved that millions and millions of people who would have been so drastically hurt by the three proposals put forward will at least retain their health care, be able to deal with pre-existing conditions."
What comes next? More GOP sabotage of "Obamacare" out of retaliation and spite. These evil GOP bastards never rest from being evil. Paul Krugman of the Times recently wrote, Health Care in a Time of Sabotage:
[L]et's be clear: The reason this assault failed wasn't that Donald Trump did a poor selling job, or that Mitch McConnell mishandled the legislative strategy. Obamacare survived because it has worked — because it brought about a dramatic reduction in the number of Americans without health insurance, and voters didn't and don't want to lose those gains.
Unfortunately, some of those gains will probably be lost all the same: The number of uninsured Americans is likely to tick up over the next few years. So it's important to say clearly, in advance, why this is about to happen. It won't be because the Affordable Care Act is failing; it will be the result of Trump administration sabotage.
Some background here: Even the A.C.A.'s supporters have always acknowledged that it's a bit of a Rube Goldberg device. The simplest way to ensure that people have access to essential health care is for the government to pay their bills directly, the way Medicare does for older Americans. But in 2010, when the A.C.A. was enacted, Medicare for all was politically out of reach.
What we got instead was a system with a number of moving parts. It's not as complex as all that — once you understand the basic concept of the "three-legged stool" of regulations, mandates and subsidies, you've got most of it. But it has more failure points than, say, Medicare or Social Security.
Notably, people aren't automatically signed up for coverage, so it matters a lot whether the officials running the system try to make it work, reaching out to potential beneficiaries to ensure that they know what's available, while reminding currently healthy Americans that they are still legally required to sign up for coverage.
You can see this dependence on good intentions by looking at how health reform has played out at the state level. States that embraced the law fully, like California and Kentucky, made great progress in reducing the number of the uninsured; states that dragged their feet, like Tennessee, benefited far less. Or consider the problem of counties served by only one insurer; as a recent study noted, this problem is almost entirely limited to states with Republican governors.
But now the federal government itself is run by people who couldn't repeal Obamacare, but would clearly still like to see it fail — if only to justify the repeated, dishonest claims, especially by the tweeter in chief himself, that it was already failing. Or to put it a bit differently, when Trump threatens to "let Obamacare fail," what he's really threatening is to make it fail.
[Last] Wednesday The Times reported on three ways the Trump administration is, in effect, sabotaging the A.C.A. (my term, not The Times's). First, the administration is weakening enforcement of the requirement that healthy people buy coverage. Second, it's letting states impose onerous rules like work requirements on people seeking Medicaid. Third, it has backed off on advertising and outreach designed to let people know about options for coverage.
Actually, it has done more than back off. As reported by The Daily Beast, the Department of Health and Human Services has diverted funds appropriated by law for "consumer information and outreach" and used them instead to finance a social media propaganda campaign against the law that H.H.S. is supposed to be administering — a move, by the way, of dubious legality. Meanwhile, the department's website, which used to offer helpful links for people seeking insurance, now sends viewers to denunciations of the A.C.A.
And there may be worse to come: Insurance companies, which are required by law to limit out-of-pocket expenses of low-income customers, are already raising premiums sharply because they're worried about a possible cutoff of the crucial federal "cost-sharing reduction" subsidies that help them meet that requirement.
This is the House v. Price case in the court of appeals, for which the White House and House GOP must file a status report on their positions on the "cost-sharing reduction" subsidies in August. This is Trump's "nuclear option" that this small, vindictive man can exercise out of retaliation and spite in defeat.
The truly amazing thing about these sabotage efforts is that they don't serve any obvious purpose. They won't save money — in fact, cutting off those subsidies, in particular, would probably end up costing taxpayers more money than keeping them. They're unlikely to revive Trumpcare's political prospects.
So this isn't about policy, or even politics in the normal sense. It's basically about spite: Trump and his allies may have suffered a humiliating political defeat, but at least they can make millions of other people suffer.
Can anything be done to protect Americans from this temper tantrum? In some cases, I believe, state governments can insulate their citizens from malfeasance at H.H.S. But the most important thing, surely, is to place the blame where it belongs. No, Mr. Trump, Obamacare isn't failing; you are.
Thomas Edsall of the Times adds more detailed analysis of the years-long GOP sabotage efforts in Killing Obamacare Softly:
Unable — at least so far — to kill the Affordable Care Act outright, the Trump administration has conducted a sustained war of attrition designed to inflict fatal damage on Obamacare.
This war, often operating below the radar, entails the use of a quintessentially conservative strategy, and the cooperation of Congressional Republicans. In a way, it's pretty simple: You cut the budget, impose debilitating regulations, track the subsequent missteps and then attack the program as a failure.
The political opportunism behind the Republicans' determination to undo legislation that makes federally financed health care more broadly available has deep roots.
"Democratic legislation," the conservative strategist Bill Kristol argued after President Bill Clinton proposed his health care plan in 1993, poses "a serious political threat to the Republican Party."
If enacted, Kristol continued,
it will relegitimize middle-class dependence for "security" on government spending and regulation. It will revive the reputation of the party that spends and regulates, the Democrats, as the generous protector of middle-class interests. And it will at the same time strike a punishing blow against Republican claims to defend the middle class by restraining government.
Sound familiar? The Kristol memo captures the reasoning and the philosophy behind the many covert (and overt) Republican attempts to eviscerate Obamacare.
"There's a clear pattern of the administration trying to undermine and sabotage the Affordable Care Act," Elizabeth Hagan, an associate director at Families USA, a liberal advocacy group, told The Associated Press. "It's not letting the law fail, it's making the law fail."
Over its first six months in office, the Trump administration has used its power to dismantle the A.C.A. limb by limb — to halve the enrollment period, to reduce the value of many of the A.C.A. insurance plans and, somewhat spectacularly, to use Obamacare funds to finance a public relations drive against it.
Most recently, with little fanfare, the Trump administration terminated contracts for health care "in person assisters" in 18 cities, including Chicago, Dallas, Cleveland, Miami and Philadelphia. These "assisters" are personnel trained to guide Obamacare applicants through the multipart A.C.A. enrollment process.
In April, the Trump administration issued a "Rule to Increase Patients' Health Insurance Choices for 2018" that effectively reduces the value of an Obamacare linchpin, the premium tax credit.
In an email, Sarah Lueck of the nonpartisan Center on Budget and Policy Priorities, explained that this "rule allows insurers in the individual market to offer plans with higher deductibles and out-of-pocket costs in 2018 than have been permitted previously." Because of this, "the rule is likely to reduce the premium tax credit for many people." A premium tax credit is a federal subsidy that consumers can use to lower their monthly health insurance payments.
Most important, according to the center's analysis, is the covert aspect of the rule which has
the hidden impact of reducing the Affordable Care Act's premium tax credits, which help moderate-income marketplace consumers afford health care. As a result, the rule would force millions of families to choose between higher premiums or worse coverage.
Louise Norris, one of the founders of the Colorado Health Insurance Insider, has mapped out the Republican strategy in an online essay, "10 ways the GOP sabotaged Obamacare."
The attacks began on day one, March 23, 2010, when the A.C.A. was signed into law. Fourteen state Attorneys General, 13 of them Republicans, filed suit challenging the constitutionality of the mandate requiring individuals to buy health care coverage. The sole Democratic Attorney General involved, Buddy Caldwell of Louisiana, switched into the Republican Partyin 2011.
On June 28, 2012, the Supreme Court affirmed the constitutionality of the individual mandate but in a blow to the program, Norris wrote, it also
ruled that the federal government could not withhold Medicaid funding from states that did not expand Medicaid. This had the effect of making the ACA's Medicaid expansion optional, which has, in turn, hobbled the ACA's progress in many states.
The rejection of Medicaid expansion by 19 states — all controlled by Republican governors or legislative majorities or both — to cover individuals making up to 138 percent of poverty level income meant that these individuals had to turn to "Health Insurance Marketplaces" or "private insurance risk pools." The addition of low income, Medicaid-eligible individuals in these 19 Republican states to the private A.C.A. insurance market added a less healthy and more expensive-to-insure population to the pool.
Faced with more a costly clientele, insurance companies increased premiums. This gave Republicans new ammunition to charge that Obamacare premiums were rising.
A 2014 measure sponsored by Senator Marco Rubio, Republican of Florida, capped government spending to protect insurance companies against financial losses. It, too, weakened Obamacare. The Rubio amendment, Robert Pear wrote in The Times, demonstrated "the effectiveness of quiet legislative sabotage."
* * *
Perhaps most significant among Republican sabotage efforts was the decision by House Republicans to file suit in 2014 challenging the constitutionality of "cost sharing reductions" — payments made by the federal government to insurance companies in order to lower premiums for those making less than 250 percent of poverty income. It is these payments that make health care affordable for moderate-to-low-income Americans.
The suit went before Rosemary Collyer, a George W. Bush appointee on the Federal District Court in Washington, D.C. In May, 2016, Collyer ruled in favor of the House Republicans, declaring that although Congress had authorized the subsidies, there had never been a specific appropriation. Collyer did allow the federal government to continue making the payments while the decision is under appeal.
Trump has warned that he may drop the appeal and end the subsidies — both of which he can do unilaterally — to deliver what Politico called "an immediate and fatal blow to the Obamacare marketplaces."
"The best thing politically is to let Obamacare explode," Trump told The Washington Post on March 24. The program is "totally the property of the Democrats" so that "when people get a 200 percent increase next year or a 100 percent or 70 percent, that's their fault."
Survey data suggests that Trump may be wrong about whom the public would blame.
The Kaiser Family Foundation tracking poll asked voters in June whether Trump and Republicans or President Obama and Democrats would be "responsible for any problems with" the Affordable Care Act "going forward?"
By nearly 2-1 voters said Trump and Republicans in Congress would be responsible, 59-30, a view shared even by Republicans, 56-35.
We have won this battle, but the GOP war on Americans access to affordable health care is not over. It's never over. The GOP has been trying to repeal Medicare/Medicaid since it was first enacted. The GOP will continue to do so. This battle requires your eternal vigilance.
UPDATE: Good points from Philip Bump of the Washington Post, Enough about McCain. It was Collins, Murkowski and red-state Democrats who killed Trumpcare., and Paul Krugman of the New York Times, The Sanctimony and Sin of G.O.P. 'Moderates'.