Senator John McCain's attack ads against Rep. Ann Kirkpatrick all rely on a video clip of her "walking out" on constituents at a "Chats with Ann" constituent event when questioned about the Affordable Care Act in 2009.
The ads say: "Kirkpatrick betrayed Arizona on Obamacare, walking out on constituents when questioned about it." The ad shows Kirkpatrick walking out of an Aug. 6, 2009 meeting in Holbrook, Arizona.
PolitiFact fact-checked John McCain claims Democratic challenger walked out on constituents: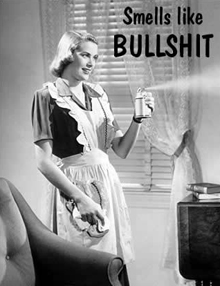 Politico reported that the event was overrun by protesters, noting that conservative interest groups had organized opposition to similar events across the country. Conservatives for Patients' Rights, an anti-health care reform group, did have the Kirkpatrick's event listed on their website.
* * *
"Ann was trying to answer questions, and was shouted down," Kirkpatrick spokesman D.B. Mitchell said.
We were unable to find a full video from the 2009 chat, but an extended clip does appear to show several people shouting.
* * *
The ad fails to mention that Kirkpatrick went back to Holbrook for a town hall meeting on health care a month later.
Our ruling
While Kirkpatrick did walk out of the Holbrook grocery store, the ad fails to mention the protesters — and that she returned for a health care town hall a month later.
So some unruly White Mountain Tea Partiers decided to disrupt a constituent event, and McCain fails to mention any of this in his ads to portray Kirkpatrick in a false light. Mr. "honor" and "integrity" he's not.
But now our boy Johnny has a video of his own in which he flees from a reporter, refusing to answer questions about Donald Trump and his statement this week about obstructing President Hillary Clinton with a "blockade" of any nominee to the U.S. Supreme Court. Karma is a bitch, Johnny.
CBS 5 – KPHO's Dennis Welch tried to interview John McCain at a Chandler Chamber of Commerce event, but McCain ran from him sounding like the Mad Hatter: "I'm late! I'm late for a very important date!" Fun stuff. VIDEO: McCain dodges questions.  Here are a couple of screenshots from the video.
Ann Kirkpatrick should get a copy of this video and respond in kind to McCain's bullshit attack ads.  Run the hell out of this video in a new ad.
McCain is about to have the national spotlight turned on his Supreme Court "blockade" comments in tonight's final presidential debate. The Washington Post reports, The Supreme Court will be a focus of tonight's presidential debate:
THE BIG IDEA: The Supreme Court is one of six main topics that will be covered during tonight's final debate at the University of Nevada in Las Vegas. The late Antonin Scalia's seat continues to sit empty. An evenly-divided court has begun its new term under a cloud of uncertainty. Assuming Hillary Clinton wins, it remains unclear whether Republicans will try to confirm Merrick Garland during the lame-duck session to prevent her from putting up someone who is younger and more liberal next year.
The debate took on new significance this week when John McCain boasted during a radio interview that Republicans would automatically oppose whomever Clinton nominates. "I promise you that we will be united against any Supreme Court nominee that Hillary Clinton, if she were president, would put up," the Arizona senator said. "I promise you!"
Attacked by his Democratic challenger, McCain's spokeswoman released a statement walking back his comment. The senator will "thoroughly examine the record of any Supreme Court nominee put before the Senate," she said. McCain then awkwardly avoided a local TV reporter who tried to follow up.
Republicans, who have struggled to convince voters that they are capable of governing, talked a big game in years past about the need to be more than just "the party of no." That messaging is gone now. The prospect of four more years in the wilderness suggests that they will move back toward unapologetic obstruction.
Right now, however, they are in damage control mode. Judiciary Committee Chairman Chuck Grassley, who is up for reelection in Iowa, promised yesterday to not automatically "stonewall" any Clinton pick. "If that new president happens to be Hillary, we can't just simply stonewall," Grassley said on a conference call with local press.
Your pal Grassley just threw you under your "straight talk express" bus, Johnny.
This is a very delicate balancing act. Vulnerable Republican incumbents are trying to convince people who are reluctantly voting for Clinton to support them by promising that they'll be a check and balance on the excesses of the Clinton presidency. One man's "check and balance," however, is another man's "obstruction." Regardless of how you play it, the bottom line is that Republicans are trying to save their majority by promising more gridlock.
If Republicans hold the Senate, Mitch McConnell will control the floor schedule and Grassley will continue to have the Judiciary gavel. So they technically could do exactly what they have for the past nine months with Garland.
Democrats are now favored to win the Senate majority. Even if they run the table, however, they'll only control around 53 seats. That is nowhere near filibuster proof. The question then becomes: Which Republicans would cross over to vote for a President Clinton's SCOTUS picks? Could a Majority Leader Chuck Schumer cobble together 60 votes? Or does he invoke the nuclear option and change the rules to allow Supreme Court nominees to be confirmed by a simple majority? Going nuclear will probably be the easier course, both politically and procedurally, especially because the Republican blockade of Garland has cost GOP leaders much of their moral standing to oppose such a gambit.
* * *
For many conservative intellectuals, stopping Clinton from appointing Scalia's replacement is no longer a good enough reason to support Trump. Among the Republican politicians who have capitulated, such as Ted Cruz, holding the Scalia seat is a favorite talking point to justify supporting someone who they privately see as dangerously authoritarian. But 29 top conservative legal scholars have signed onto a letter arguing that it is not enough. The "Originalists against Trump" do not believe Trump would protect the Constitution. And they do not trust him to actually pick from his list of 21. "More importantly, we do not trust him to respect constitutional limits in the rest of his conduct in office, of which judicial nominations are only one part," they write. The group understands that the alternative is Clinton. "Yet our country's commitment to its Constitution is not so fragile that it can be undone by a single administration or a single court," they conclude. (Read the full letter here.)
Our Robert Barnes notes that the signatories include a Northwestern law professor who was one of the founders of the Federalist Society, Steven G. Calabresi; Post columnist George F. Will; and a well-regarded conservative law professor at New York University and the University of Chicago, Richard Epstein. "The effort was organized by Duke University law professor Stephen E. Sachs and University of Chicago law professor William Baude, a pair of former clerks to Chief Justice John G. Roberts Jr."
They're making you look pretty bad, Johnny . . . because you are.