After 30 years of enduring this buffoonish cartoon caricature, haven't Arizonans suffered enough already? For the love of God man, retire and take the wife on a cruise.
John McCain hates Arizonans so much that he is running for the Senate again. McCain running for re-election in 2016: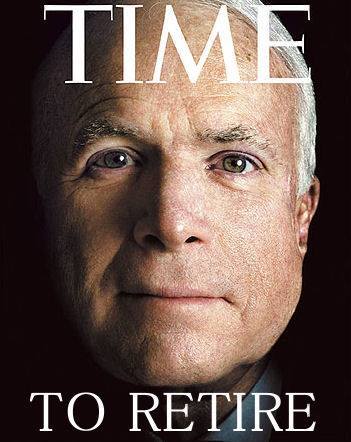 Sen. John McCain, R-Ariz. officially declared his bid for re-election during a speech before the Arizona Chamber of Commerce and Industry at the Arizona Biltmore resort in central Phoenix.
"The reason why I want to seek re-election is that there's a lot more to do, both for Arizona and the country," McCain told The Arizona Republic [aka the McMedia] during a late Monday afternoon interview in his Phoenix office.
* * *
McCain said his campaign will emphasize the state issues of "fire and water" and highlight his work on U.S. Department of Veterans Affairs reform, on the jobs-creating Resolution Copper mine legislation and on saving the A-10 Thunderbolt II, or "Warthog," whose pilots train at Davis-Monthan Air Force Base in southern Arizona.
He also believes his years of experience in national security will give him an edge at a time when the Middle East and Ukraine are in crisis.
Whenever Grampy Crankypants says this utter nonsense, reporters have a duty and obligation to call him out for it. What, are you afraid he is going to get angry and go ballistic on you? Who hasn't seen him do that?
The number of times that Senator McCain hasn't just been wrong, but deadly wrong, on matters of our security is nearly impossible to count. The Media and John McCain: How Someone Always Wrong Is Always on TV.
Arizonans can no longer afford their experience with John McCain. Character matters, and John McCain has demonstrated time and again that he is sorely lacking in character and judgment.
Two words: "Sarah – Palin."  John McCain demonstrated that he lacks the character, honesty and judgment to serve in office. McCain has remained steadfast in his defense of his pick of Palin. He was perfectly willing to put this batshit crazy insane woman "one heart beat away" from the presidency and to jeopardize the national security of this country.
The Arizona Democratic Party today was fundraising off of McCain's announcement in an email asking "Are you prepared to do the work it takes to beat McCain?"
I would throw that question back at the Arizona Democratic Party. What credible candidate do you have to take on and defeat John McCain in his final election? Hello? Anyone?
McCain has not lost an Arizona election since first being elected to Congress in 1982 and later to the Senate in 1986. I want the satisfaction of handing him an election loss before he can die with his boots on in office. Find me a candidate!