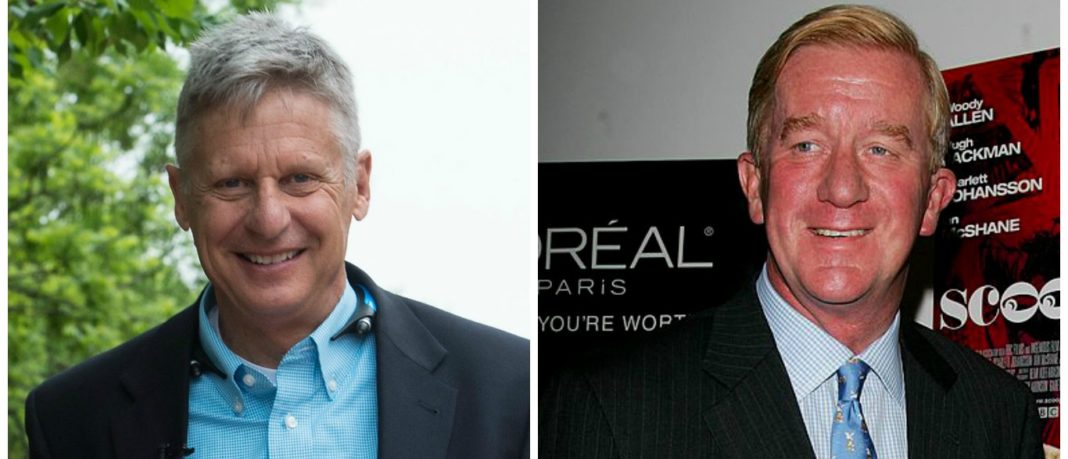 There's nothing like a campaign gaffe to expose the hypocrisy of partisan political hacks.
And so it is with Gary Johnson's immediately infamous "Aleppo moment." For those who didn't see it, Johnson, the Libertarian nominee, when asked on MSNBC what he thought about Aleppo, inquired what Aleppo was.
For one glorious moment, Republican and Democratic Party hacks were in sync: Johnson is a complete clown, the right and left agreed, completely unfit for the presidency.
So, I asked my Facebook friends if someone who subscribes to the Libertarian philosophy should abandon Johnson in favor of a candidate with an entirely different governing philosophy, all because Johnson didn't know what Aleppo is.
And the answers rolled in. The bottom line? I was more or less an idiot to think that a candidate's philosophy of governance should overwhelm his ignorance of a specific fact in the minds of those who share that philosophy. Silly me.
Yes, Johnson's gaffe was a whopper. But gaffes happen. John McCain didn't know the difference between Sunni and Shia at one time. Trump didn't know what the "triad" is in reference to nuclear weapons. He also thought Iran's Quds force had something to do with the Kurds.
I tried to reason with my Facebook friends. I asked two progressives: if a progressive candidate made a similar gaffe, would they then support that candidate's conservative opponent? That question, they explained, was too hypothetical. Yes, it would just be too outlandish to imagine a Democrat with an embarrassing knowledge gap.
Except it wouldn't. Go back and check Bernie Sanders early on in the debates against Clinton when asked about foreign policy. I was a Sanders supporter. I cringed watching him. In later debates, he improved, but early on the only thing separating him from a major gaffe was the right question.
Oh, I know, the Ready for Hillary crowd is smug in their certainty that Hillary could never commit such an error. Yes, Hillary knows more than any of the other candidates, perhaps even more than all of them combined.
But so what? If knowledge of specific facts was a major factor in voting, we would have the candidates all sit for a comprehensive exam and publish the results.
And that's where the hypocrisy of partisan political hacks lies. When it's their candidate, they know that it's not about knowledge of specific facts, but about intangibles such as governing philosophy, world view, and judgment. We don't vote for the student who scored the highest grade on the history exam. If Bernie Sanders had not known what Aleppo is, neither I nor any of his other gazillion supporters would have stopped supporting him. And if Hillary Clinton didn't know what Aleppo was, her supporters would have hung in there as well. Heck, the BlueMeanie would have treated us to at least three posts explaining how a double standard was afoot.
But when it's a candidate they already oppose who gaffes, knowledge of specific facts becomes the only thing that matters to partisan hacks. How could those stupid Libertarians support Johnson after this? Check out these kernels of wisdom:
Only issue is Libertarians. Worthless at all levels and this proves it. Not prepared, big issue here.
Note the certitude and the categorical nature of the comment.
Here's another:
Considering that he is interviewing with the American people for the office of President, yeah. It shows a lack of knowledge of the job.
That was in answer to my original question, whether a Libertarian should reject Johnson for this, despite sharing his political philosophy and rejecting the philosophies of the other candidates.
So, why the rank hypocrisy? My guess is that it's an extreme form of lack of objectivity.
Which is a troubling phenomenon. I'm not a Libertarian. While I embrace the civil libertarian approach to social issues, I reject it in the economic sphere, I believe in a social safety net, and I believe certain costs and risks, such as education, health care and police protection to name a few, should be socialized. Despite my own view of Libertarianism, it's almost instinctive to me that someone who believes in the Libertarian philosophy cannot be expected to reject Johnson because of his Aleppo moment. Really, that's Empathy 101. Except in the world of political hackery, empathy, the ability to see the world from the perspective of others, is a rare quality.