Lost in the media memory hole is the fact that Brett Kavanaugh, then an adviser to President George W. Bush and one of his most controversial judicial appointees, had to go through the nomination process twice because of strenuous objection to his nomination, once in 2004 and again in 2006.
Roll Call recently reported, Democratic Senators Once Accused Potential Trump SCOTUS Pick of Offering Misleading Testimony: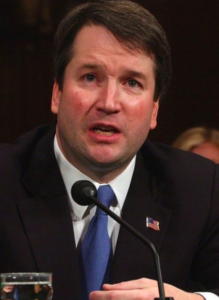 Senators might find themselves debating whether the judge gave false testimony about detainee policy the last time he had a confirmation hearing.
That is in part because the two senators who suggested Kavanaugh may have misled them still serve on the Judiciary Committee.
Kavanaugh's potential connection to the detention policies in the early 2000s stems from his work as a lawyer in the White House during the George W. Bush administration.
The question of what Kavanaugh knew about the interrogation programs was a topic of discussion during Senate consideration of his nomination to be a judge on the U.S. Court of Appeals for the D.C. Circuit.
Illinois Democratic Sen. Richard J. Durbin, the current minority whip and a long time member of the Judiciary Committee, asked Kavanaugh back in 2006 what he knew about the involvement of William J. Haynes II, who had been a Bush nominee for a Fourth Circuit seat, in developing detainee policies.
"Senator, I did not — I was not involved and am not involved in the questions about the rules governing detention of combatants — and so I do not have the involvement with that," Kavanaugh said back in May 2006.
Kavanaugh was confirmed. But the following year, news reports established that this answer was misleading at best, and lying to Congress at worst. NPR reported in 2007, Federal Judge Downplayed Role in Detainee Cases:
One of President Bush's most controversial judicial appointees, Brett Kavanaugh, may have been less-than-forthright with Congress at a crucial hearing last year to confirm his appointment to a seat on the powerful federal appeals court in Washington, D.C.
Kavanaugh told senators in May 2006 that he "was not involved in the questions about the rules governing detention of combatants" during his time as a White House lawyer. Now, it is clear that Kavanaugh took part in at least one White House conversation about detainees.
During last year's confirmation hearing, Illinois Democrat Sen. Dick Durbin asked Kavanaugh about William Haynes, who helped craft harsh interrogation policies and was later nominated for a judgeship.
Historical Note: The Judiciary Committee approved Haynes's nomination in November 2003, but he did not receive a vote in the full Senate. Although re-nominated in subsequent Congresses, Haynes never moved past the committee level. Republican Senator Lindsey Graham of South Carolina was revealed to be the principal opponent to the appointment. In December 2006, after the Senate adjourned following the Democratic gains of the 2006 elections, Haynes asked President Bush to forego re-nominating him to the Court of Appeals. He is in private practice today.
"What was your role in the original Haynes nomination and decision to renominate him?" Durbin asked. "And at the time of the nomination, what did you know about Mr. Haynes's role in crafting the administration's detention and interrogation policies?"
Kavanaugh replied, "Senator, I was not involved and am not involved in the questions about the rules governing detention of combatants, and so I do not have any involvement with that."
In fact, in 2002, Kavanaugh and a group of top White House lawyers discussed whether the Supreme Court would uphold the Bush administration's decision to deny lawyers to American enemy combatants. Kavanaugh advised the group that the Supreme Court's swing voter, Justice Anthony Kennedy, would probably reject the president's assertion that the men were not entitled to counsel. Kavanaugh had worked as a clerk for Kennedy. That meeting was first reported in The Washington Post. NPR independently confirmed the details with multiple sources.
Durbin now says he feels "perilously close to being lied to" at Kavanaugh's confirmation hearing.
Durbin said in a telephone interview, "I will just say that he might have decided that he could split the difference here and give me an answer in the negative. But he had to know he was misleading me and the committee and the people who were following this controversial nomination."
Durbin says he plans to write to Kavanaugh "and ask that, based on this contradiction in the sworn testimony, that he recuse himself from cases involving enemy combatants."
Durbin sees no difference between the Guantanamo enemy-combatant cases that Kavanaugh has ruled on and the American enemy combatant cases that Kavanaugh discussed at the White House meeting.
Roll Call continues:
After reporting from media outlets including NPR, Durbin followed-up with a letter to Kavanaugh, who by then had been confirmed, about his involvement in meetings with Vice President Dick Cheney about the potential need to provide lawyers to detainees.
Durbin asked for Kavanaugh to recuse himself from detainee-related cases.
"In light of the Washington Post and National Public Radio reports, your sworn testimony appears inaccurate and misleading," Durbin wrote. "By testifying under oath that you were not involved in this issue, it appears that you misled me, the Senate Judiciary Committee, and the nation."
"Therefore, I request that you provide the Senate Judiciary Committee with an explanation for this apparent contradiction," he said.
Durbin's office said earlier this week they had no record of a response from Kavanaugh — nor did there appear to be a real resolution to Durbin's 2007 concerns.
Kavanaugh has ruled in some cases that could be reasonably construed as connected to U.S. detention programs in the aftermath of the Sept. 11, 2011, terrorist attacks. That includes a case decided in 2016, reported on by The Washington Post, in which the D.C. Circuit upheld the conviction of Ali Hamza al-Bahlul, who had been Osama bin Laden's media secretary.
A separate Democratic letter from June 2007 went even further.
Sen. Patrick J. Leahy, the chairman of the Judiciary Committee at the time, referred the alleged misstatements to then-Attorney General Alberto Gonzales for possible prosecution.
"Mr. Kavanaugh's responses to written follow-up questions from Senator Durbin reinforced the impression that Mr. Kavanaugh had no awareness or involvement in the legal justifications for the policy on detainees until it became public," Leahy wrote. "He was subsequently reported out of Committee with a favorable recommendation and confirmed to the D.C. Circuit."
While it is unclear if the issue could weigh on Trump's decision-making, it would be hard to imagine the documentation wouldn't surface during White House vetting of Kavanaugh.
The Leahy letter to Gonzales was copied to Jeffrey A. Taylor, the U.S. attorney in D.C., at the time.
"False testimony by any witness is troubling and undermines the Senate's ability to fulfill its constitutional duties on behalf of the American people," Leahy wrote. "But my concern is heightened because the subject matter of the possibly false testimony was highly controversial and played a critical role in many Senators' consideration of Mr. Kavanaugh's nomination for a lifetime appointment to one of the courts most involved in reviewing those very same detention policies."
Senators Leahy and Durbin both currently serve on the Senate Judiciary Committee. They are certain to investigate this matter further and to question Judge Kavanaugh further. Sen. Durbin will demand a response to his letter to which he never received the curtesy of a reply. Sen. Leahy is certain to press Judge Kavanaugh about his misleading, if not false testimony during his previous confirmation hearing.