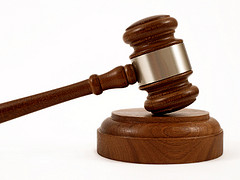 Arizona follows the judicial merit selection and retention system for judges. Judges of the Arizona Supreme Court and the Arizona Court of Appeals are selected by gubernatorial appointment from a nominating commission and then face retention at the end of their terms.
Judges of the Arizona Superior Court in counties with populations over 250,000 (Maricopa, Pima and Pinal County) are appointed and then face retention at the end of their terms. Judges of the Arizona Superior Court in counties with populations under 250,000 are chosen in a partisan primary, then face nonpartisan general elections.
The Commission on Judicial Performance Review has posted information about the judges who are up for review on the November 2018 ballot:
In Arizona you have the right to decide which of our State's judges stay on the bench and which don't. Start by checking out our short video and then use the information on this website to learn about the judges you'll be voting on so you can Finish The Ballot!
On the website, you can "Select your county to the left to see a list of all [Superior Court] judges that will appear on your ballot and their evaluations or select your county from the drop down menu (below)."
Here are the judges of the appellate courts up for review in November.
Arizona Supreme Court
Clint Bolick, appointed 2016 by Governor Doug Ducey, previously served as Vice President of Litigation at the Goldwater Institute, and co-founded the Institute for Justice, where he was the Vice President and Director of Litigation from 1991 until 2004.
John Pelander, appointed 2009 by Governor Jan Brewer, previously served as an appellate court judge, appointed by Governor Fife Symington in 1995.
Arizona Court of Appeals – Division One
Peter Swann, appointed 2008 by Governor Janet Napolitano.
Arizona Court of Appeals – Division Two
Peter Eckerstrom, appointed in 2003 by Governor Janet Napolitano.
Phillip Espinoza, appointed 1992 by Governor Fife Symington.
Christopher Staring, appointed 2015 by Governor Doug Ducey.
Too many voters do not even fill out this portion of their ballot. But this year, after the Arizona Supreme Court knocked two popular citizens initiatives off the ballot in favor of corporate interests, there is a  bit of a scandal. Group seeks to oust two Arizona Supreme Court justices:
Upset with a ruling that knocked a tax hike for education off the ballot, some members of the Save Our Schools movement are trying to get voters to turn one or two Supreme Court justices out of office in November.
Teresa Ratti said the conclusion by the justices that the wording of the Invest in Ed initiative was misleading was "the exact same statement" that came from the Republican-controlled Legislative Council which was tasked with writing an explanation of the proposal.
"Do we really have a separate judiciary branch or is our judicial branch being controlled or influenced by the executive and the Legislature," she asked.
So Ratti, a high school government teacher, is using a constitutional provision on how judges are chosen in Arizona to urge people to oust Clint Bolick and John Pelander. They are the two of the seven justices whose terms are up this year.
Jennifer Hilsbos, another SOS member, is focusing solely on Bolick.
Ideally, Hilsbos said, she would like to get rid of the two newest justices who Gov. Doug Ducey got to name after the Republican-controlled Legislature agreed to expand the court from five to seven members. She said Ducey effectively was packing the court with his choices.
But neither John Lopez nor Andrew Gould are up for retention election this year. So that leaves her to take out her wrath on Bolick, who Ducey named to the high court in 2016.
* * *
In the entire history of the system, only two judges have been removed, one from the Court of Appeals and one from the Maricopa bench. No Supreme Court justice has ever lost an election, though a group that did not like one of his rulings did try to deny Pelander another six-year term in 2012.
* * *
[I]n a brief order late last month, Chief Justice Scott Bales said the description provided to petition signers did not inform them of all the implications of the measure, saying "that creates a significant danger of confusion or unfairness."
It's not just that conclusion that angered education supporters. There was also the fact that Daniel Scarpinato, a campaign aide to Ducey, confirmed that he had told some reporters that the decision was a 5-2 split in a bid to show that the governor's two new appointments didn't make a difference, even though that information is not public.
Laurie Roberts of The Republic writes, How did Gov. Doug Ducey get inside information about Arizona Supreme Court's Invest in Ed vote?
We won't know the actual vote tally – or who voted how – until the full opinion comes out, presumably in a few weeks.
That's the way the Supreme Court is supposed to work – independent from political considerations. Concerning itself with the law, not the political fallout of putting a proposal to raise taxes on the wealthy on the ballot while Ducey is seeking re-election.
So imagine my surprise to learn that within hours of announcement of the Supreme Court ruling, Ducey's campaign team knew that which no one outside the state's highest court should have known, then or now: The vote tally.
* * *
I can't verify it either, and let me tell you, I tried. I grilled my sister, who happens to sit on the Supreme Court, about the vote. I got the old stiff arm and a lecture about how that information will become public when the formal opinion is released. And. Not. Until. Then.
Yet we now learn that within hours of the announcement that Invest in Ed was off the ballot, Team Ducey was telling reporters that the vote was 5-2.
Ducey, who has appointed three of the seven justices: Clint Bolick, Andrew Gould and John Lopez IV.
Ducey, whose chief of staff, Kirk Adams, wrote an op-ed the day before the Supreme Court ruled, saying the justices had "a significant and consequential opportunity" to reinforce a new state law boosting the legal standard by which initiatives must be judged by throwing out Invest in Ed.
Ducey, who this week chastised Invest in Ed supporters for their suspicions that court minions did his bidding.
"I would point them to a civics 101 class," Ducey told Capitol Times' Forman. "The Supreme Court is a separate and co-equal branch."
One wonders, then, how he would know the inner workings of that "separate and co-equal branch."
* * *
Some Invest in Ed supporters are making noise about mounting an opposition campaign against Bolick and Vice Justice John Pelander, who are up for retention in November. That's a curious move, given that the ouster of Pelander would give Ducey, should he win re-election, the opportunity to appoint that all-important fourth member of the seven-member court.
But Invest in Ed leaders are out for blood and news that Team Ducey claimed to know the vote in advance will certainly fuel that blood lust.
I'm not a generally a fan of going after judges for making a controversial call. I worry that it'll lead to other judges in other courts pondering their political future rather than pondering the law as they go about the business of pronouncing judgments.
Besides, we don't yet know how anyone on the Supreme Court voted.
Well, most of us don't know.
More about the campaign to target the two Supreme Court Justices at the Phoenix New Times. Teachers Target Arizona Supreme Court Justices in Elections After Tax Ruling.
---
Support volunteer citizen journalism at the Blog for Arizona with a donation today. Your secure contribution keeps the Blog online and sustains a free press in Arizona.
---