The June jobs report released today may be the apex of job growth after 93 consecutive months of job creation — the longest streak on record — because today marks the official start of the Trump vs. The World Trade War. As Trump's trade war starts, China vows retaliation:
The United States imposed the first duties on $34 billion in Chinese goods early Friday, officially launching a trade war between the world's two largest economies. Moments later, the Chinese side fired back, accusing the United States of violating WTO rules setting off "the largest trade war in economic history to date."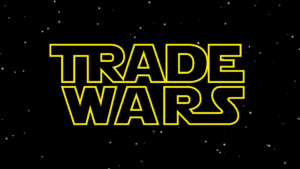 Cadet bone spurs says Trade Wars Are 'Good, and Easy to Win', but history says otherwise. "Trade wars are never won. Trade wars are lost by both sides," Sen. Ben Sasse of Nebraska has warned. "[I]t will kill American jobs — that's what every trade war ultimately does. So much losing." More about this later in the post.
Steve Benen has the June jobs report. Job growth remains steady, but jobless rate ticks higher:
Ahead of this morning's new jobs report, most projections pointed to totals of roughly 200,000 new jobs last month. Those projections turned out to be correct.
The Bureau of Labor Statistics reported this morning that the economy added 213,000 jobs in June, while the unemployment rate inched a little higher, climbing from 3.8% to 4%.
Meanwhile, the revisions for the two previous months – April and May – looked encouraging, with a combined gain of 37,000 jobs as compared to previous BLS reports.
In terms of the larger context, this morning's data points to 1.287 million jobs created so far in 2018, which is evidence of a healthy job market, and which is an improvement on the totals from the first six months of 2016 and 2017. That said, this year's tally is still short of the totals from the first six months of 2014 and 2015.
Here's another chart, this one showing monthly job losses/gains in just the private sector since the start of the Great Recession.
For large and small businesses around the nation, the impact of tariffs is expected to grow on Friday, after the Trump administration placed additional duties on $34 billion of Chinese products, many used in American manufacturing. China responded immediately with sanctions of its own. Tariffs? Time for a Plan B: 'Gobble Up Every Bit of Material That I Can':
The 25 percent tariff on steel and 10 percent tariff on aluminum that President Trump first threatened in March and put into effect in June precipitated a string of retaliatory tariffs from China and other trading partners including Germany, Mexico and Canada. Mr. Trump has said that in the long run, the tariffs will save jobs in the protected industries, and safeguard national security.
Remember when Republicans used to say that "Government should not be picking winners and losers in the economy, let the free market decide." Hypocrisy is not a bug but a feature of Republican philosophy.
But many businesses in other sectors, including apple growers in Washington, hog farmers in Minnesota and Harley-Davidson in Wisconsin, are scrambling to adjust.
Last week, the potential impact on American companies was thrust into sharp relief when General Motors warned that a new wave of tariffs under consideration by the administration could lead to "less investment, fewer jobs and lower wages" at G.M. While the company has not drafted specific contingency plans for job reductions, a spokeswoman said, such a move is "something that could happen."
For Mr. Sareshwala at Accu-Swiss, Plan B is already the new normal.
* * *
Accu-Swiss doesn't use imported steel, but the tariffs have ratcheted up the demand for domestic steel, making it harder to find and afford … "I use a lot of stainless steel, so I'm still trying to gobble up every bit of material that I can and not worry about the dollars and cents," he said. That strategy may wipe out his single-digit profit margin or even bring on a loss, he said, but in the short-term he would rather lose money than customers.
Some [heavy users of steel] said their contingency plans had not anticipated the extent of the shortages and rapidity of price increases, which started months ago.
"In a few days, domestic companies raised prices on stainless steel anywhere from 15 to 25 percent," said Joe Carlson, president of Lakeside Manufacturing, a medical and food service equipment maker in Milwaukee with 175 employees.
"I've been in this business 24 years, and I've seen price increases and tariffs," Mr. Carlson said, "but haven't seen this combination before."
Edward Farrer, director of purchasing at Principal Manufacturing in Broadview, Ill., which produces automobile parts, has felt the same effect. His company, which employs 330 people and has $50 million in annual sales, is a purchaser of imported steel and has not been able to find a domestic alternative.
Even if one emerges, he said, "the tariffs have been a springboard for domestic producers to increase their price" — and those higher costs will put American companies like his at a disadvantage compared with foreign manufacturers. Moreover, he said, any change in Principal's suppliers would require customer approval, an exhaustive process that would cause significant delays.
* * *
Several manufacturers, however, said they were skeptical that domestic steel and aluminum makers had the capacity to meet the increased demand any time soon, and worried that prices would continue to rise — and even threaten jobs at their own companies. Mr. Farrer has halted all hiring, leaving about 30 positions unfilled, and has canceled, at least for now, a major capital purchase, two large machine tools.
Mark Vaughn has similarly put a brake on hiring at his metal stamping plant in Nashville. As the year started, he planned to add five or six new machinists in $28-an-hour jobs. His tax bill was going down, he had a fat backlog of orders, and one of his biggest clients, the Swedish appliance manufacturer Electrolux, was planning to invest $250 million to modernize its nearby Springfield plant.
* * *
Vaughn Manufacturing's backlog has dwindled, and Mr. Vaughn said he would probably have to revise price quotes he promised six months ago. Instead of expanding his work force, which he described as "very highly skilled," he is thinking of cutting five to 10 jobs out of his 50-person staff.
The first rule in his contingency plan, he said, is to "take care of what you got and not overexpand."
In some significant cases the very industries that Mr. Trump has vowed to help say that his proposals will actually hurt them. They also warn that policies designed to aid one group will eat into someone else's business in ways that policymakers should have anticipated (this is not the law of unintended consequences). How Trump's Policy Decisions Undermine the Industries He Pledged to Help:
"I would like to tell the president, 'Man, you are messing up our market,'" said Kevin Scott, a soybean farmer in South Dakota and the secretary of the American Soybean Association. The idea of changing Nafta, he said, "gives us a lot of heartburn in farm country."
At the same time, Mr. Scott said, China's threat to impose tariffs this week on United States soybeans — in direct response to Mr. Trump's tariffs on other Chinese-made products — is already having a negative effect on the prices farmers see. In recent days, Canada imposed its own retaliatory tariffs against the United States.
"[I]f we lose those Chinese and Mexican markets, it will be hard to get them back," he said. China and Mexico are the two biggest markets for American soybean exports.
* * *
If nothing else, experts say, the unpredictability of many of Mr. Trump's proposals — the lack of clarity on when or how NAFTA might be renegotiated; the risk of potential litigation over his rollback of auto-pollution rules; the ways in which other countries might retaliate against Mr. Trump's tariffs — seeds confusion across the American economy, making it tough for businesses to plan effectively for the future.
"That just wreaks havoc with American farmers and businesses with the investments they have to make," said Matthew Slaughter, a professor of international business at Dartmouth College. "It creates massive uncertainty for these industries."
Remember when Republicans and their Wall Street masters waged a jihad against President Obama's economic policies on the grounds that he was creating economic "uncertainty" for businesses? IOKIYAR.
While the steel industry supports the tariffs, the aluminum industry is mostly opposed. The tariffs raise prices for aluminum, which helps smelters, the companies that make raw aluminum here. However, only a handful of smelters still operate in the United States.
The Aluminum Association, which represents the bulk of the American industry, says that 97 percent of American jobs in aluminum are at what are called "downstream" businesses that shape the metal into things like auto parts or other goods. Those companies are hurt by Mr. Trump's tariffs, because they must now pay higher prices for their raw materials.
* * *
Mr. Trump has ordered Energy Secretary Rick Perry to "prepare immediate steps" to stop the closing of unprofitable coal and nuclear power plants nationwide. One proposal would order grid operators to buy electricity from struggling coal and nuclear plants for two years, using emergency authority that is normally reserved for crises like natural disasters.
A government bailout for a failing industry? Remember when Republicans argued to let the American auto industry die rather than bail it out? The big difference is that there is not a ready and cheaper alternative to automobiles, as there is with clean energy alternatives to coal. Those auto jobs would have been lost to foreign producers, whereas clean energy jobs are being created in America.
Such a move would cut deeply into the market share for natural gas producers, many of which are also among the nation's largest oil companies — a group Mr. Trump has also sought to support. Mr. Trump's proposal "seems counter to what he campaigned on," said Dan Eberhart, a Trump donor and the owner of Canary LLC, a Phoenix oil field services company. "He campaigned on unleashing America's energy, but this tortured coal policy penalizes natural gas."
The Washington Post reports, A trade war with China could hit these communities hardest:
[China's tariffs] are targeted with laserlike precision at farmers, ranchers and certain manufacturing workers, as well as at the local economies of rural and small-town America.
These maps, based on data from the Brookings Institution, show counties with workers in China-targeted industries, with the circle sizes representing their share of total jobs. The maps don't predict if or how many jobs could be lost, but they do show a pattern of where jobs and communities are most exposed to fallout from further escalation of trade hostilities.
Almost 1.6 million people work in the targeted industries, with about three-quarters working in farming, fishing and food-related manufacturing. The rest are primarily workers who make construction equipment, trucks, cars and vehicle parts.
* * *
While the largest urban and suburban counties are home to almost as many people working in tariff-exposed industries as rural areas, the rural concentration is far higher, about 1 job in 33. In the big cities, it's 1 job in 200.
Tariff-exposed jobs are more than twice as likely to fall in counties that voted for Republican Donald Trump in 2016 than in counties won by Democrat Hillary Clinton. There are more than 1 million jobs exposed to China tariffs in more than 2,600 counties carried by Trump, and fewer than 564,000 exposed jobs in Clinton's counties.
So Trump's trade war is going to hurt the very Americans who voted for him because he promised a trade war with China and to build a wall on the Mexican border, plying off their economic anxieties. Economic ignorance exacts a heavy price. They will be the one's who pay the price for Trump's trade war (but GOPropogandists will find a way to blame it on immigrants and Democrats). These Americans will never admit they were wrong, or accept personal responsibility for having fallen for the empty promises of a con man.
One final point: Trade Wars Lead to Shooting Wars and Depressions:
Trade wars cause depression. Trade wars cause shooting wars.
French economist Frédéric Bastiat (1801-1850) is often quoted as saying that when goods do not cross frontiers, armies will. Whether he said it or not, it's right.
Trade wars were a principal factor in causing the Great Depression of the 1930s and World War II. In 1922 and again in 1930, the U.S. Congress enacted tariffs designed to protect American industries from foreign competition.
Millions of people around the world could pay the ultimate price for Trump's trade war.