Politico recently reported that "Republicans who sought to undercut or overturn President Joe Biden's election win are launching campaigns to become their states' top election officials next year, alarming local officeholders and opponents who are warning about pro-Trump, "ends justify the means" candidates taking big roles in running the vote." They tried to overturn the 2020 election. Now they want to run the next one.
The candidates include Rep. Jody Hice of Georgia, a leader of the congressional Republicans who voted against certifying the 2020 Electoral College results; Arizona state Rep. Mark Finchem, one of the top proponents of the conspiracy-tinged vote audit in Arizona's largest county; Nevada's Jim Marchant, who sued to have his 5-point congressional loss last year overturned; and Michigan's Kristina Karamo, who made dozens of appearances in conservative media to claim fraud in the election.
Now, they are running for secretary of state in key battlegrounds that could decide control of Congress in 2022 — and who wins the White House in 2024.
Rep. Mark Finchem, currently the subject of a recall campaign, and a QAnon-Loving 'Stop the Steal' Leader Wants to Be Arizona's Next Secretary of State:
As a mob of pro-Trump rioters overran the U.S. Capitol on January 6, Arizona State Rep. Mark Finchem took a photo of the crowd.
"What happens when the People feel they have been ignored, and Congress refuses to acknowledge rampant fraud. #stopthesteal," he tweeted, along with a picture of pro-Trump rioters waving flags on the Capitol steps after breaching the initial security perimeter.
Now, he wants to be his state's top election official.
Finchem has launched a campaign to be Arizona's next secretary of state, a powerful position that oversees the election system of one of the nation's most important swing states. And he's running on a "secure elections" platform rooted in conspiracy-mongering.
"Since my very first election, I knew something was very wrong with our elections process," Finchem claims on his website. "Then on November 3rd, 2020, the unthinkable happened: Americans witnessed real-time reallocation of votes from one candidate to another, broadcast on national television."
Some Republicans worry that Finchem could be a force to contend with in primary, given how virulently pro-Trump much of the GOP base is in the state. And Democrats are terrified at the prospect of Finchem in charge of Arizona's election system heading into 2024—when the state could once again be at the epicenter of the presidential map.
"I'm totally freaked out that he's running. He cannot hold that position. If he does, democracy is completely out of the question," Pima County Democratic Chair Bonnie Heidler told VICE News.
Donald Trump's push to overturn his loss in Arizona's close presidential election gave Finchem a new platform. He seized the chance to be Trump's loudest defender in the statehouse, organizing an 11-hour unofficial hearing with Trump attorney Rudy Giuliani and working hand in handwith Ali Alexander, the head of the Stop the Steal campaign, to gin up suspicions about the election.
"Arizona started with one man, state Representative Mark Finchem, and he's become a great friend and a brother to me," Alexander said in an interview with Church Militant.
Trump took notice.
"Thank you Mark. Big numbers found in Arizona. We must win for our Country!" Trump tweeted on December 26, retweeting a Finchem tweet.
Trump praised Finchem by name during a January rally, calling him "a very respected man" [he is not] before reading a letter from Finchem that claimed he had "significant evidence" of voter fraud in Arizona.
Trump's campaign paid more than $6,000 to Finchem for what was labeled "legal consulting" for the recount, even though Finchem isn't an attorney.
Finchem has also become a fairly regular guest on former Trump adviser Steve Bannon's web show, "The War Room." In early March during a report from the Conservative Political Action Conference, Finchem told Bannon that Maricopa County's Republican board of supervisors should be arrested for not cooperating with a statehouse investigation into the election.
That effort has dramatically elevated Finchem's profile, making him a favorite on the hard right and a real threat to win the GOP nomination for secretary of state.
Joining this seditious insurrectionist this week in the Republican primary for Secretary of State is one of the 16 Republican senators who voted for the Arizona Senate's GQP sham "fraudit," Sen. Michelle Ugenti-Rita, who has spent her entire political career establishing her reputation as the GQP Queen of Voter Suppression.
Ugenti-Rita has been the lead sponsor of almost every bill designed to nullify your constitutional right to citizens initiatives, referendum and recall, and to restrict your right to vote. Her bill to to purge the Permanent Early Voting List (PEVL) – an concept originally proposed and supported by Republicans when they thought it worked to their advantage  – into the Early Voting List (EVL), pronounced "evil," was signed by our "Wimpy Kid" Governor who will do nothing to resist GQP Jim Crow 2.0 voter suppression measures.
In Arizona's constitution, voters' initiative and referendum rights are established before the Legislature itself. https://t.co/E6CelkRCFq

— Once @senyorreporter, but always Tim Steller 🦉 (@timothysteller) May 25, 2021
Your reminder for May 25, 2021, that GOP lawmakers have nothing but contempt for the will of the voters.

See also: minimum wage increases, marijuana and everything else the voters had to do because the #AZLeg wouldn't listen https://t.co/XQcOcxorsu

— Jim Small (@JimSmall) May 25, 2021
Note: Both of these Republicans have run in "safe" Republican districts that are not competitive. Having to face the voters of Arizona on a statewide basis will be a new experience for them. Ugenti-Rita is counting on her voter suppression efforts to tip the results in her favor. There's a real qualification for the state's chief election official for ya.
The Arizona Republic reports, GOP state Sen. Michelle Ugenti-Rita announces bid for Arizona secretary of state:
State Sen. Michelle Ugenti-Rita announced Wednesday that she will seek the Republican nomination for secretary of state in 2022.
The chair of the Senate Government Committee, the Scottsdale lawmaker already is near the center of the raging battle over election law in Arizona. The race could vault Ugenti-Rita into the role of Arizona's top election official and make her second in line to the governor.
Ugenti-Rita was widely excepted to enter the race after sponsoring some of the most high-profile and controversial election-related legislation at the Capitol in recent years. She sponsored a bill Gov. Doug Ducey signed this year, for example, that will require counties to remove voters from the permanent early voting list of those who do not vote early for two election cycles.
The lawmaker has argued that the measure is merely meant to ensure the list's accuracy. But Democratic legislators, as well as the president and vice president of the Navajo Nation, denounced the bill as an effort to suppress voter turnout.
Ugenti-Rita has been a member of the Legislature since 2011. She served in the House of Representatives before winning a seat in the Senate in 2018.
Who else is in the GQP primary
In addition to the seditious insurrectionist Rep. Mark Finchem, several others may enter the primary.
About 50 prominent local businesspeople, including John Graham, Jerry Colangelo and Bill Post, recently signed on to a letter asking that Beau Lane also enter the race. Lane is executive chairman of the marketing firm LaneTerralever and opposed Ugenti-Rita's election bill earlier this year.
The current Secretary of State Katie Hobbs, a Democrat, could run for a second term as secretary of state but is widely expected to seek the Governor's Office instead. That would leave the Democratic side wide open.
If Katie Hobbs does run for governor, Democrats had damn well better find a candidate who can defeat the seditious insurrectionist Rep. Mark Finchem, or the GQP Queen of Voter Suppression, Michelle Ugenti-Rita. This is an "all hands on deck" must win election contest.
This week, the GQP seditious insurrectionists in the legislature took aim at Hobbs in a 'power grab' after Bar complaint against AG:
A budget reconciliation bill approved by the House and Senate appropriations committees on Tuesday states that the attorney general has "sole authority" to defend state election laws, and that his authority should not be delegated to the secretary of state — a constitutional officer — or any other state officials. As such, the attorney general would have exclusive authority to direct legal defenses, appeal rulings, intervene on the state's behalf and "make all strategic decisions regarding election litigation."
The Attorney General's Office is also barred from representing or providing legal advice to the secretary of state, and the secretary of state would be prohibited from hiring an outside attorney. Instead, Hobbs could hire one full-time position to serve as a legal advisor for her office.
Both provisions are only temporary. The "sole authority" provision expires in January 2023, while the legal counsel law expires in June of that year, when the 2023 fiscal year ends. Brnovich and Hobbs are both likely to be out of their respective offices after 2022. Brnovich is term-limited and cannot seek another term as attorney general, while Hobbs is widely expected to run for governor next year.
In addition, the budget bill strips Hobbs's office of its authority over the Capitol Museum and gives it to Legislative Council.
This is known as a "special law" which applies to only one person. Nearly every state constitution in the United States contains a restraint on the legislature's authority to enact special laws. See Arizona Constitution, Article IV, Part 2, Section 19. "No local or special laws shall be enacted in any of the following cases … 11. The conduct of elections." Expect a legal challenge.
Lawmakers' move to clip Hobbs's wings comes amid two-plus years of friction between the Republican attorney general and the Democratic secretary of state largely revolving around their respective positions on election law and related litigation. The discord between the two statewide elected officials reached a new level after Hobbs last year filed state Bar complaints against Brnovich, his chief deputy and other lawyers at the Attorney General's Office.
In a statement provided to the media, Hobbs cast the budget provisions as partisan power plays by a Republican-controlled legislature determined to limit voting rights and restrict her authority.
"All year, our legislature has worked to undermine our elections — from a wave of bills to make it harder to vote to the ridiculous 'audit' taking place at the Coliseum. It appears their next step is an attempt to undermine Arizona's Chief Election Officer and prevent me from doing the job Arizona voters elected me to do," Hobbs said. "The fact that the legislature has singled out me and my Office for these unjustifiable restrictions — restrictions which expire at the end of my term — make it clear what this is really about: partisan politics."
This isn't just an attack on me, it's an attack on Arizona voters. My statement on the legislature's budget proposal: https://t.co/THkPj07VTZ pic.twitter.com/t4SMq3YIHc

— Governor Katie Hobbs (@GovernorHobbs) May 25, 2021
[I]n her Bar complaint, Hobbs alleged that Brnovich, Chief Deputy Joe Kanefield and a half dozen other attorneys in their office violated rules of ethical conduct in a handful of election law cases where the attorney general represented the secretary of state.
Hobbs alleged that the AG's office pursued legal arguments contrary to her wishes. In some instances, Brnovich withdrew from representing the Secretary of State's Office and intervened on the opposite side of the case. At times, Brnovich or his employees publicly disparaged Hobbs for her actions, the secretary wrote.
For those unfamiliar with the Arizona Rules of Professional Conduct, these all state ethics violations for an attorney. Hence her bar complaint.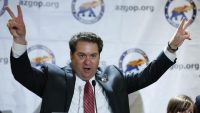 "Attorney General Brnovich has engaged in a pattern of behavior — directed at me and my office — that violates his ethical duties as an attorney. He frequently sought to substitute his judgement for my own and allowed his political preferences to interfere with his obligation to represent me as a client, in my pursuit of the best interests of Arizona voters," Hobbs said in a statement provided to the Arizona Mirror. "Unfortunately, it appears that AG Brnovich isn't asking forgiveness for his behavior — he's asking our legislature to authorize it."
Alberto Rodriguez, a spokesman for the State Bar of Arizona, said the complaint is under investigation.
The Pettiness of the GQP Move
[D]emocrats also accused the Republicans of taking away the secretary of state's authority over the Capitol Museum in retaliation for a 2019 incident in which she hung an LGBT pride flag and a transgender pride flag over the old Capitol building. Hobbs said she did so with the permission of the museum's director. However, Legislative Council, which manages the building, ordered the flag removed on the grounds that Hobbs didn't go through the proper channels.
"Did she fly some flag? Did she do something wrong? Did she do something to upset people?" said Rep. Aaron Lieberman, a Paradise Valley Democrat, who called the provision "political score settling."
GOP lawmakers denied that the change was motivated by the flag incident.
"Oh, I have an issue with that, but this has nothing to do with that," said Rep. John Kavanagh, R-Fountain Hills, who added that no one raised any such concerns when lawmakers originally shifted responsibility for the museum from Legislative Council to the secretary of state.
Budget funds conspiracy theory investigations
The changes affecting the Secretary of State's Office aren't the only election-related matters in the budget.
One budget bill directs the state's auditor general to look into several issues that have been fodder for conspiracy theorists who have made baseless claims that the 2020 election was rigged against former President Donald Trump and that President Joe Biden won several swing states, including Arizona, through fraud.
The bill instructs the auditor general to conduct a "special audit" of private, nongovernmental grant money received by the Secretary of State's Office, Maricopa County and Pima County election officials in 2020 for things like voter education efforts, poll worker recruitment and combating misinformation. Nine counties, in addition to the secretary of state, received grants from Center for Election Innovation and Research, but the budget only calls for audits of Maricopa and Pima, the state's two largest counties, both of which Biden won.
Gov. Doug Ducey signed legislation earlier this session banning election officials from accepting private grants. Some Republicans raised concerns about election officials taking grant money from the Center for Election Innovation and Research, which has received funding from Facebook founder Mark Zuckerberg's foundation.
Somehow this does not apply to the "dark money" being grifted from MAGA/QAnon cult members by One America News Network (OAN) and other Trump "Stop The Steal" conspiracy theorists to pay for the Arizona Senate's GQP sham "fraudit." 'Dark Money' Is Paying For The AZ Senate Sham 'Fraudit' With No Transparency. So money for misinformation is OK?
The auditor general will also be required to look into Maricopa County's 2019 contract for ballot tabulation machines from Dominion Voting Systems. Dominion has been the subject of rampant conspiracy theories and baseless accusations from Trump supporters who falsely claim the election was fraudulent. The budget does not direct the auditor general to look into the other 14 counties' voting machines.
This is our authoritarian GQP culture of corruption in Arizona run amok.
Arizona elected me to help ensure the integrity of our elections. That's what I have been doing for the last two years. Watch my new video ⬇️ pic.twitter.com/O9lMufsN7o

— Katie Hobbs (@katiehobbs) May 26, 2021