The biggest bullshit story over the weekend, for which multiple news outlets committed journalistic malpractice, is this representative sample from the Washington Post. Trump considers waiving claim of executive privilege for Steve Bannon.
Just to be clear, Donald Trump does not possess any executive privilege to waive. Only the incumbent president possesses executive privilege, and Joe Biden has not asserted it over any witness or evidence in the January 6 Committee investigation.
Secondly, Steve Bannon was fired from the White House in 2017. There is no colorable claim that he was a White House advisor with any executive privilege in 2020.
Trump's assertion of executive privilege over Steve Bannon was purely to obstruct the investigation of the January 6 Committee. Bannon is going on trial later this month for obstruction of Congress. If he wants to testify, let him testify at his trial. (He will be convicted).
By 2020, Steve Bannon was a private citizen, a podcaster calling for violent insurrection on January 6, and a Coup Plotter at the Coup command center at the Willard Hotel, along with Rudy Giuliani and his sidekick Bernard Kerick, John Eastman and Jenna Ellis.
A second Coup command center was at the Trump International Hotel. Several people have been identified as having participated in both, including Trump's former National Security Advisor, retired Army General Michael Flynn and Trump political fixer and confidant Roger Stone, who were photographed in the days leading up to the coup attempt at both hotels. These are just the highly visible individuals identifed from a much larger group at the Coup command centers.
The media should not be indulging Donald Trump's fantasies that he is still president and has any executive privilege to waive. The weekend headlines are an embarrassment for the mainstream media.
Donald Trump has been trying to find any means necessary to disrupt the January 6 Committee with his Big Lie propaganda about a stolen election. If Trump wants to tell his story, he can voluntarily testify under oath to the committee. Until then, he can STFU.
Steve Bannon is just the raging asshole bomb thrower Trump needs to disrupt the January 6 Committee hearings. The committee should not give him that opportunity. He can testify under oath in private – not on live TV where he will use the opportunity to turn it into fodder for his podcast like the serial killer who represents himself at trial uses the opportunity to spew his manifesto.
Today the Washington Post reports, Bannon says he will testify at public hearing as contempt trial looms:
Former president Donald Trump sent a letter on Saturday to Stephen K. Bannon saying he will waive his claim of executive privilege if his former chief strategist can agree on terms to testify before the House select committee investigating the pro-Trump riot at the Capitol.
Again, why are they indulging this fool that he has any executive privilege to waive?
The letter was quickly communicated to the House panel by Bannon's lawyer, Robert J. Costello, who said Bannon "is willing to, indeed prefers, to testify at your public hearing."
The claim of executive privilege is disputed by government lawyers. But the effort suggests Bannon is seeking to bolster his defense against contempt of Congress charges filed after he refused to comply with a subpoena from the House committee last fall. A trial on those charges is scheduled to begin July 18, though Bannon has sought to delay the proceedings.
Late last night, DOJ filed a response to Bannon's "sudden wish" he will testify before the #January6thCommitteeHearings. They think this "11th hour assertion" is irrelevant. They would be correct. https://t.co/LfRn3V37vd

— Juliette Kayyem (@juliettekayyem) July 11, 2022
https://twitter.com/RJBrune/status/1546483946304708615
#SteveBannon is trying to save his A** from going to Prison…. He already lied to the #January6thCommittee….#January6thCommitteeHearings https://t.co/16LtOEAiM4

— TheCupofJoeintheD (@CupofJoeintheD2) July 11, 2022
The fact the #Bannon even had a notion that the #January6thCommitteeHearings is irresponsible enough to blow up every thing they've been dedicating their lives to just to let him call the shots is next level narcissism. https://t.co/QtOqfUuayo

— BoY mOmBie ☮️ (@erinwilsonu2) July 11, 2022
Nope. Don't give them the public platform they are demanding. Have them produce the documents asked for first. So far, nothing. They want to grandstand and waste a public hearing so F**K NO. #January6thCommitteeHearings https://t.co/bkgC5FlAkr

— GreenSpringInstitute 🏳️‍🌈🇺🇦☮️🟧 (@GreenSpringBlog) July 11, 2022
UPDATE:Steve Bannon's 'eleventh-hour' reversal on Jan. 6 testimony is a stunt, DOJ says:
"The Defendant's last-minute efforts to testify, almost nine months after his default—he has still made no effort to produce records—are irrelevant to whether he willfully refused to comply in October 2021 with the Select Committee's subpoena," the Justice Department argued. "Any evidence or argument relating to his eleventh-hour efforts should, therefore, be excluded at trial."

"The Defendant's purported desire to testify now does not erase his past contempt," the DOJ filing added.

The Justice Department said that Bannon's "continued failure to comply with the subpoena's document demand while claiming he now will testify suggests his actions are little more than an attempt to change the optics of his contempt on the eve of trial, not an actual effort at compliance."
Trump's letter reflects his frustration with the drumbeat of revelations emerging from the hearings — and his eagerness for allies to have an audience before the House panel to present his side of the case.
As I said, If Trump wants to tell his story, he can voluntarily testify under oath to the committee. Until then, he can STFU.
The committee has [correctly] argued that claims of executive privilege are not valid for Bannon, who was a private citizen at the time of the Jan. 6, 2021, riot. The committee has also said that Bannon, an outspoken advocate of false claims that the 2020 election was stolen, was required to respond to the subpoena in some way — citing claims of privilege on a question-by-question basis instead of by refusing to respond.
"Even if your client had been a senior aide to the President during the time period covered by the contemplated testimony, which he was most assuredly not, he is not permitted by law to the type of immunity you suggest that Mr. Trump has requested he assert," Chairman Bennie G. Thompson (D-Miss.) wrote to Bannon's attorney in October.
Bannon's offer is not guaranteed to produce testimony before the committee, which may find the conditions his attorney hinted at, such as a public hearing, unacceptable. The hearings have yet to feature any live witnesses aligned with Trump – but they have all been Republicans – who has repeatedly demanded that the proceedings air his claims about voter fraud, which have been widely disproved. Bannon could also still assert his Fifth Amendment right against self-incrimination, as other witnesses have done in closed-door testimony.
Committee member Rep. Zoe Lofgren (D-Calif.) confirmed in an interview on CNN on Sunday that the committee had received the letter from Bannon's lawyer but said it was unlikely that any deposition from Bannon would be public.
"Ordinarily, we do depositions, you know. This goes on for hour after hour after hour," Lofgren said about Bannon's offer to appear live before the committee. "We want to get all our questions answered, and you can't do that in a live format."
The Departent of Justice has declined to bring contempt charges against other former Trump aides who have also cited claims of executive privilege, including former chief of staff Mark Meadows and former adviser Dan Scavino.
It could be that the DOJ is building a broader criminal case against Mark Meadows than merely obstruction of Congress for not testifying to the January 6 Committee. Meadows was the point man at te center of the seven part plan for a coup d'etat.
Since the bombshell testimony from Cassidy Hutchinson, a former top aide to Meadows, several Republicans have come forward to cooperate with the House select committee and more are expected to come forward, according to people familiar with the investigation who spoke on the condition of anonymity because of the matter's sensitivity.
The live and videotaped testimony featured in the committee's case against Trump has so far painted a detailed picture of the former president's efforts to hold on to power at all costs. These public hearings could continue into August and beyond as investigators accumulate more evidence and new witness testimony, the people familiar with the investigation added.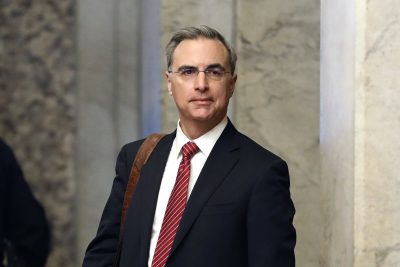 On Friday, former White House counsel Pat Cipollone appeared for an eight-hour, closed-door, transcribed interview with investigators to discuss his role in trying to prevent Trump's attempts to overturn the results of the 2020 election.
Cipollone may have provided the committee with answers to crucial questions that could corroborate previous testimony or provide new evidence about what he may have witnessed in the White House in the lead-up to Jan. 6 and on the day of the attack.
Committee spokesman Tim Mulvey said in a statement Sunday that Cipollone provided "critical testimony on nearly every major topic in its investigation, reinforcing key points regarding Donald Trump's misconduct and providing highly relevant new information that will play a central role in its upcoming hearings."
"This includes information demonstrating Donald Trump's supreme dereliction of duty," Mulvey added. "The testimony also corroborated key elements of Cassidy Hutchinson's testimony. Allegations of some preinterview agreement to limit Cipollone's testimony are completely false."
Hutchinson's public testimony last month identified Cipollone as a key witness to potential criminal activity in the Trump White House.
Hutchinson testified that, on the morning of Jan. 6, Cipollone came forward with an urgent request, saying "something to the effect of: 'Please make sure we don't go up to the Capitol, Cassidy. Keep in touch with me. We're going to get charged with every crime imaginable if we make that movement happen.'"
She also testified that when the violence broke out at the Capitol, Cipollone demanded that he and Meadows speak with Trump to intervene and try to stop the violence. When Meadows told Cipollone that Trump did not want to take any action, Cipollone replied that "something needs to be done, or people are going to die, the blood's going to be on your f-ing hands," according to Hutchinson's retelling of the interaction.
Stewart Rhodes, the leader of the far-right militia group the Oath Keepers, made an offer to the House committee on Friday to appear before the committee, his attorney Lee Bright confirmed.
Don't trust this criminal asshole either. He would also use the opportunity to disrupt the committee hearings. He knows that he is likely to be convicted for seditious conspiracy when he goes on trial, what does he care about adding a perjury charge if he can put on a show for his "Dear Leader." Do not give him the opportunity. Lower ranking members of his domestic terrorist orgnization have already turned state's witness and are cooperative witnesses.
The committee has not responded to the offer. Rhodes requested that his testimony be conducted under certain conditions: an open forum, taped from a venue other than the jail where he is currently in custody, and unedited. Bright said his client is willing to talk about Oath Keeper activities during the last election and on Jan. 6, 2021.
Fuck him! He can give a depostion like thousands of other witnesses have done. No "Showtime" for this insurrectionist criminal.
UPDATE: NBC News reports, Judge won't delay Steve Bannon's trial after his last-minute offer to cooperate with Jan. 6 panel:
A judge said Monday that he would not delay the contempt of Congress trial of Steve Bannon, just one week before it is set to begin.
Bannon was indicted last year for refusing to answer questions from the congressional committee investigating the Jan. 6 attack on the U.S. Capitol. Bannon, who had stonewalled the committee since October 2021, had a last-minute change of heart over the weekend, a decision his lawyer attributed to a letter from former President Donald Trump that waived a purported claim of executive privilege. The Justice Department maintains that Bannon's offer to testify was nothing more than a "last-ditch attempt to avoid accountability."
Trump's own lawyer, Justin Clark, according to the Justice Department, told the FBI that Trump "never invoked executive privilege over any particular information or materials" and offered no basis for Bannon's "total noncompliance" with his subpoena.
Judge Carl Nichols issued a series of rulings on motions preparing for the trial Monday that largely did not go Bannon's way, including knocking out several potential defenses he had raised. After the judge concluded, Bannon lawyer David Schoen said in the courtroom, "What is the point of going to trial here if there are no defenses?"
Nichols agreed, suggesting Bannon's team consider that.
Nichols, who previously ruled that Bannon could not argue that he was not guilty because he was relying upon the advice of his lawyer, ruled Monday that Bannon cannot present evidence that he relied upon old opinions from the Justice Department's Office of Legal Counsel (OLC) regarding executive privilege either.
Nichols emphasized how low the bar was in the Bannon case. The government had only to illustrate that Bannon's decision was deliberate and intentional, and not by accident.
Nichols also ruled out two affirmative defenses that he said Bannon could not use at trial.
The fact that Bannon was not a government employee at the time of the subpoena "dooms" any "entrapment by estoppel" defense, Nichols said, meaning that Bannon cannot argue that he ignored the subpoena and he believed his actions were legal because of instruction from a government official.
Because Donald Trump was a former government official, Nichols said, Bannon also could not rely upon a "public authority" defense, meaning that he thought he was acting upon the instructions of a government official and believed unlawful activity was authorized.
Nichols also said Bannon could not present evidence that the Jan. 6 committee was not properly formed due to the political balance of its members and that he and the jury would have to defer to the House's interpretation of its own rules. Nichols cited the fact that the entire House had validated the House select committee.
[T]he judge also said he would not allow evidence about any individuals who had not been prosecuted for contempt of Congress, such as Mark Meadows and Dan Scavino, Trump's former White House chief of staff and deputy chief of staff, respectively.
And Nichols quashed Bannon's subpoenas for members of Congress to provide testimony in the trial, citing the speech and debate clause of the U.S. Constitution. Much of the testimony and documents Bannon sought, Nichols said, would be barred.
So now Bannon is left with two options: he either comes clean and testifies truthfully, giving up his other Coup Plotter co-conspirators, or he takes the Fifith Amendment and hopes the prosecutors fail to prove their case to the jury – unlikely. He is looking at a conviction and prsion time. Is he really willing to stay silent and do time for Donald Trump? We're about to find out.
By the way, today's hearing and Judge Carl Nichols' rulings also cut the legs out from under Peter Navarro's defenses to his obstruction of Congress prosecution. Like Bannon, he is looking at a conviction and prsion time. Is he really willing to stay silent and do time for Donald Trump? We're about to find out.