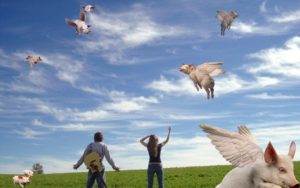 Holy shit! Pigs really do fly!
Something remarkable, truly amazing happened in Brownbackistan fna the state of Kansas this week.
A Tea-Publican controlled legislature overrode the veto of its Tea-Publican governor to increase taxes and to reverse Gov. Sam Brownback's failed "trickle down tax cuts" eutopian experiment in Kansas.
The Wichita Eagle reports, Lawmakers override Brownback veto of tax increases, rolling back 2012 cuts:
Lawmakers rolled back Gov. Sam Brownback's signature tax policy over his objections Tuesday night, forcing into law tax increases to fix a budget shortfall and provide more money for schools.
The legislation ends the "march to zero" income tax cuts that Brownback heralded for much of his time as governor.
(Sound familiar? Our own Koch-bot Governor Doug Ducey also promises to reduce taxes every year with the goal to drive income tax rates to "as close to zero as possible.")
Income taxes will rise across the board but most tax rates will remain lower than they were before the 2012 tax cuts. The increases are expected to generate more than $1.2 billion for the state over the next two years.
The Senate and House voted 27-13 and 88-31, respectively, to override Brownback's veto. The action took place on the 109th day of the legislative session and paves the way for lawmakers to wrap up their work quickly, potentially this week.
The override represents a blow to the legacy of one of the most unpopular governors in America, amid speculation that he may not serve out his remaining time in office but instead take a federal position.
Lawmakers who supported the bill and the override said the 2012 policy was a mistake that had drained the state of revenue, leading to rounds of budget cuts and harming investments in roads and other priorities.
"It's hard to celebrate because Kansas is in such shambles. The magnitude of the problems that we have to correct is so great," Rep. Melissa Rooker, R-Fairway, said.
Kansas faces a projected budget shortfall of roughly $900 million over the next two years. Lawmakers also have approved hundreds of millions in new spending on schools, though Brownback has yet to take action on the legislation.
* * *
Senate Majority Leader Jim Denning, R-Overland Park, said the Legislature should have acted earlier to roll back the 2012 tax cuts.
"We could've done it the easy way, but by God, now we've got to do it the hard way," Denning said. "We had the opportunities to do it. It was right in front of us."
Denning said he wasn't voting to override to spite Brownback.
"I don't want to be disrespectful to the governor. He still believes in this (the 2012 tax plan)," Denning said. "That's OK. I don't."
The Legislature passed Senate Bill 30 just after midnight on Tuesday. Brownback immediately promised to veto the bill and fulfilled his promise on Tuesday afternoon.
The tax plan was the first to pass the Legislature since February, when lawmakers passed a similar plan. Brownback also vetoed that bill, but the override effort fell three votes short in the Senate.
Lawmakers had been gridlocked over taxes since May, however. Various plans had failed, at one point because many House Democrats withheld their support because a plan wasn't large enough.
Democrats supported the override on Tuesday. That, along with support from some conservative Republicans, was enough to take the bill over the line.
"We're moving back to the fiscally responsibly path that allows us to meet our core needs as a state," House Minority Leader Jim Ward, D-Wichita, said.
Ward said the override was a repudiation of Brownback for being an "obstructionist" for much of the session.
"Tonight, we said 'enough is enough,'" Ward said. "We're moving on without you."
Rep. Larry Hibbard, R-Toronto, said the state had become a national laughing stock for its recent fiscal troubles, including a tax system that allowed situations where "the employee was paying the taxes and the employer wasn't."
"This tax bill starts us on the road to recovery," he said.
Gov. SamBrownback may soon join Donald Trump's administration and skip the remainder of his second term in Kansas. Tea-Publicans always fail up somehow.
Steve Benen adds:
Donald Trump and congressional Republicans are on a similar course, trying to duplicate Brownback's failures at the federal level. In April, the Kansas City Star's editorial board offered some worthwhile advice to federal policymakers, encouraging them to watch developments in Topeka.
The president's tax plan, unveiled by the White House Wednesday, strongly resembles the disastrous tax plan passed in Kansas in 2012.

Trump wants to consolidate individual tax brackets and lower the top rate. He would eliminate some deductions and, most crucially, dramatically reduce taxes for business owners, including millions of people who own businesses but pay taxes on their profits as individuals.

Kansas Gov. Sam Brownback's 2012 tax reform blueprint was quite similar, and we know why. The same worn-out supply-side "experts" helped write both proposals.
As we discussed at the time, the difference is, we know how things worked out in Kansas. There's no need to wonder how this agenda would work on a national scale because Kansas has already flunked the proof-of-concept test.
Pay attention Arizona! There's hope for us yet.