As an independent candidate for the State Senate Seat in Legislative District 21,  Kathy Knecht came historically close to winning the 2018 race against Republican incumbent Rick Gray.
Finding a home in the Democratic Party, Ms. Knecht, a recognized local community and educator advocate, has launched a bid to become one of the two State House Representatives in the 2020 elections currently represented by Kevin Payne and Tony Rivero.
Legislative District 21, which includes all or parts of Peoria, Surprise, El Mirage, Youngtown, and Sun City, saw a marked improvement in the Democratic Party's 2018 turnout and electoral performance compared to previous election cycles.
Ms. Knecht hopes to bring a non-partisan, balanced, inclusive approach to the state government as a legislator, seeking "common ground" that moves the state "forward."
Meeting at Lola's Café in Phoenix, Ms. Knecht and I sat down and discussed her background and views on the issues and her candidacy.
The questions and her responses are below.
Please tell the reader about yourself (education and experiences).
COMMUNITY LEADERSHIP AND INVOLVEMENT:
Peoria School Board 2007-2018

Current President, West Valley Arts Council Board

President Arizona School Boards Assn. 2016

Member, City of Peoria Arts Commission

Former Exec. Director, Leadership West, Inc.

Lifetime "Blue Blazer" Volunteer for Luke AFB

Member, WESTMARC Workforce and Ed. Committee

Former 4th and 5th-grade Teacher

Girl Scout Leader, 15 years
BOARD SERVICE:
West Valley Arts Council

Northwest Valley Connect (senior transportation)

ASU Community Advisory

Peoria Education Foundation

Benevilla Senior Care

New Life Center (domestic violence)

Arizona Town Hall

Arizona Broadway Theatre

Peoria Chamber of Commerce
EDUCATION:
Elementary Education B.A. Arizona State University

Interdisciplinary Studies M.A. Arizona State University
2. Please tell the reader what are at least three qualifications you have for the Legislative seat you are seeking.
" I am a well known and respected non-partisan community leader."

" I have an unmatched resume of community service and leadership."

"I am an Independent thinker."

"I am committed  to leading with integrity."
3.  What are at least two reasons you would be a better public servant than your likely Republican opponent?
"My motives are pure and genuine.  Unlike many of those currently serving in the  AZ legislature, I have nothing to gain personally by seeking election as House Representative to LD21.   Working for good schools, quality jobs, affordable healthcare and a more effective, ethical government improves the livelihood for ALL Arizonans.

"Some say the first rule of leadership is 'Show Up!' I show up. A lot. I make a concerted effort to be where I can have a positive influence and be helpful and supportive.  That's why I am involved in many local and state organizations and take part in so many communities and business events. To serve people you have to know what they want and need and to learn what those things are, you have to be willing to engage and work."

"When I say I will protect "local control," I mean it."
4. If elected, please describe the top two education issues you would like to focus on as a legislator?
"Teacher pay/smaller class sizes."

"Early childhood education."

"Promote quality schools."
5. If elected, please describe the top two healthcare issues you would like to focus on as a legislator?
"Protecting Medicaid expansion for families and seniors."

"Protecting coverage for pre-existing conditions."
6. If elected, please describe the top two sustainability issues you would like to focus on as a legislator?
"Mitigation of a rising heat index by utilizing scientific ways to keep the Phoenix area livable. This year, there were 28 days where the temperature was over 110 degrees. Last year (2018), it was 18."

"Improving air quality."

"Investing in solar energy."

"Build up Arizona by attracting young people to Phoenix and the West Valley by providing high paying livable wage positions (especially in the technological, sustainable energy, and creative industries) along with affordable housing and quality schools for them and their children."
7. If elected, please describe the top two helping children issues you would like to focus on as a legislator?
"Reducing poverty (1 in 4 children in AZ live in poverty)."

"Access to affordable childcare for working parents."
"Support affordable Pre K and all-day kindergarten for a good head start."
8. If elected, please describe the top two helping the most vulnerable issues you would like to focus on as a legislator?
"Homeless shelters and resources including job training resources in the West Valley."

"Mental health services and resources in the West Valley."

"Increasing resources for Adult Protective Services."
9. If elected, please describe the top two law enforcement issues you would like to focus on as a legislator?
"Sentencing reform."

"Community-oriented policing that builds trust and respect between law enforcement and community members, fostering collaboration and partnerships."
10. If elected, please describe the top two immigration issues you would like to focus on as a legislator?
"Hold Congress accountable for establishing a reasonable immigration policy."

"Facilitate commerce and tourism for law-abiding citizens while ensuring secure borders that protect citizens from human, drug and weapons trafficking."
11. If elected, please describe the top issues facing women, minorities, and the LGBTQ communities that you would like to focus on as a legislator?
"Approve the Equal Rights Amendment: "Equality of rights under the law shall not be denied or abridged by the United States or any State on account of sex."

"Pass state law prohibiting discrimination based on sexual orientation and gender identity."

"Protect reproductive rights. This is a matter between a woman and her doctor and can involve issues of life and death for women. The government should stay out of medical decisions."
12.  If elected, please describe the top two government reform issues you would like to focus on as a legislator?
"End the chaos."

"End "Dark Money" in the state, local elections."

"End self-dealing among legislators."
 Is there anything you would like to let the reader know about yourself that has not been addressed by the previous questions?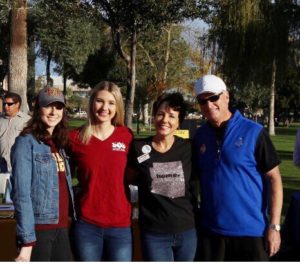 " My home is in LD 21 where we have many diverse beliefs and perspectives. A public servant should have a sense of her district's values and should work for policies that her community supports. I will listen to everyone regardless of party and will work very hard for the people of LD21. I recognize that we are all in this together and our success as a district and a state relies on leaders who lead with integrity and who are mission-driven.  I am that leader."
If elected to the State House, Kathy Knecht would represent a shift in public policy perspective from either of the current Republican Incumbents.
In addition to Mr. Payne and Mr. Rivero's general embrace of ultra-conservative causes like voting for tax cuts over more funds for education, a lower minimum wage for students, voter and ballot suppression, and intruding on a woman's right to choose, both of them have distinguished themselves by either:
Ms. Knecht pledges to bring a consensus-building approach and common-sense solutions to move the district and the state forward.  Ms. Knecht will challenge the status quo and the legislature's general embrace of policies that include defunding education, lowering minimum wage for students, and suppressing voting rights
Ms. Knecht is a candidate who has earned a reputation for competence and good standing in the Twenty-First District.  Voters should consider her reputation and her policy positions when deciding who to vote for in the 2020 elections.
For more information on Ms. Knecht and her candidacy, please click on her website here and her Facebook page here.