Arizona has been the "meth lab of democracy" for right-wing craziness dating back to the John Birch Society of the 1950s. Fred C. Koch, the father of David and Charles Koch, was a founding member of the John Birch Society.
The state of Maricopa has been the hub of the "Kochtopus" empire long before "the reign of Scott Walker, the twice-elected goggle-eyed homunculus hired by Koch Industries to manage their midwest subsidiary formerly known as the state of Wisconsin." (Charles Piece). Wisconsin is a newcomer compared to Arizona.
The Nation confirms what you all have known for months: "Cathi's Clown" Doug Ducey is the candidate from Koch. The "Kochtopus" hopes to maintain its stranglehold over Arizona with its Walker-bot candidate, Doug Ducey. EXCLUSIVE AUDIO: How the Koch Brothers Are Molding the Next Scott Walkers:
Scott Walker is a model governor.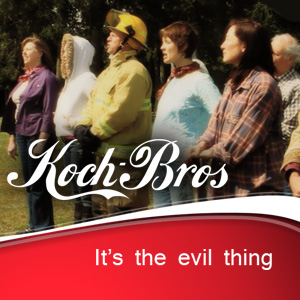 Not in every sense, as critics of the Wisconsin Republican's anti-labor extremism, ethical lapses and failed experiments with economic austerity will remind you. But he is certainly a model governor in the eyes of billionaire conservative donors David and Charles Koch and their acolytes. This well-understood reality has led Republican gubernatorial candidates who seek the billionaire blessing that is so essential for conservative politicians in state races to make reverential references to Walker when appealing to the Koch brothers.
Secret tapes of a June summit of wealthy donors organized by the Kochs reveal that top Republican gubernatorial prospects—including Nebraska's Pete Ricketts and Arizona's Doug Ducey—appeared before the group, as did Senate Minority Leader Mitch McConnell and a cavalcade of Senate candidates that included Iowan Joni Ernst, Arkansas Congressman Tom Cotton and Colorado Congressman Cory Gardner. All were solicitous. But few were so blunt as Ducey, a wealthy former business executive who thanked the Kochs directly while declaring, "I have been coming to this conference for years. It's been very inspirational."
Ducey did not stop there.
On the tape that was obtained by The Undercurrent and shared exclusively with The Nation, he made it clear that he is all about the Walker: "So uh, in this business, you're known by the company you keep, and uh, we're proud that we're off to a fast start. Uh, we're proud that Governor Scott Walker from Wisconsin has come out and endorsed our campaign."
Interestingly, Walker endorsed two candidates in seriously contested Republican primaries for governorships this year; both of them appeared at the Koch brothers session in June: Arizona's Ducey and Nebraska's Ricketts. Like Ducey, Ricketts raves about Walker and has hailed the Wisconsin governor as "a true leader in the Republican Party" because he "stood up to the big government union bosses."
* * *
Walker has, since his 2010 gubernatorial run, been a top recipient of campaign contributions from the Kochs, and a beneficiary of the "independent" campaigns of Koch-fueled groups such as Americans for Prosperity. The Koch-Walker connection runs deep. "We're helping him, as we should. We've gotten pretty good at this over the years," David Koch said when Walker faced a recall election in 2012. "We've spent a lot of money in Wisconsin. We're going to spend more."
Of course, Wisconsin is just one state. The Koch brothers and their allied millionaires and billionaires don't simply spend money there; they spend money wherever they find Republican candidates who are in the Walker mold. Indeed, the executive director of the Republican Governors Association told the secret June gathering organized by the Kochs, "We've really had no stronger partner over the last four years than Americans for Prosperity."
The RGA's Phil Cox talked (in another recording obtained by The Undercurrent and shared with The Huffington Post) about how vital money from the Koch brothers and their wealthy allies had been in the advancing the initiative with which Walker has been most closely associated: the fight to undermine collective-bargaining rights for public employees and to weaken the teacher unions that defend public education.
Jabs at those teacher unions—and at unions in general—were among the biggest applause lines as Cox outlined plans to elect governors who share the Walker vision.
* * *
The tape shared by The Undercurrent with The Nation illustrates how gubernatorial candidates appealed for the blessing not just of the Kochs but of the network of wealthy donors that can provide support both for specific campaigns and for "independent" projects such as a primary-season ad blitz highlighting Walker's endorsement of Arizona's Ducey.
As Ducey told the Koch brothers summit on June 16, "I can't emphasize enough the power of organizations like this."
Somewhat surprisingly — because I suspect the editors of The Arizona Republic will come up with some convoluted  partisan reasoning like they did in the GOP primary to endorse Doug Ducey — The Republic today actually did some solid reporting on this story.  Ducey took campaign pitch to Koch network:
Doug Ducey touted his gubernatorial campaign this summer before wealthy donors at a summit hosted by the billionaire Koch brothers, the prominent financiers of non-profit groups playing heavily in U.S. elections, including the race for Arizona governor.
Ducey, the Republican nominee, has benefited from the spending of at least two nonprofits that have been linked to the Kochs' political network. Sean Noble, a veteran of the Koch network and a Ducey supporter, is also connected to several outside groups that have attacked Ducey's opponents and supported the Republican nominee.
Ducey's appearance at the event, first reported Thursday by The Nation, confirms what his opponents have long suspected: that he sought the backing of the out-of-state political donors who support the Koch brothers' libertarian, free-market concepts but whose identities and motivations are often kept secret.
"I want to say thank you to Charles and David as well," Ducey said. "I have been coming to this conference for years. It's been very inspirational. Uh, Charles, I asked what I would do if I wasn't afraid, and I said, 'I'd run for governor.' "
The Nation's story is based in part on "secret tapes" of the June summit in Dana Point, Calif., at the St. Regis Monarch Beach Resort, where Ducey, the state treasurer and former CEO of Cold Stone Creamery, told the crowd he was inspired by the conference and said he had attended similar events in the past. The story was accompanied by audio and a transcript of Ducey's remarks. The Undercurrent, a YouTube channel that publishes grassroots political news, shared the audio with The Nation.
The summit took place June 14-16, during the GOP primary race between Ducey and his six opponents.
* * *
Ducey's Democratic opponent, Fred DuVal, a former staffer to President Clinton, lobbyist and Board of Regents chairman, has called on Ducey to renounce "dark money" support, saying voters deserve to know who is funding his candidacy. Multiple polls suggest the race is close; the general election is Nov. 4.
"Doug Ducey works for out-of-state billionaires, not for Arizona," said Rodd McLeod, a consultant for DuVal. "He goes to meetings with them, gives a secret speech, says you're known by the company you keep."
Ducey's campaign would not say why he attended the event, who invited him, how many similar events he has attended, whom he spoke to there or whether the outside money supporting his bid for the Governor's Office came as a result of his attendance.
* * *
Ducey also touted his campaign's endorsement from Republican Wisconsin Gov. Scott Walker, who is supported by the Koch brothers, saying, "In this business, you're known by the company you keep, and uh, we're proud that we're off to a fast start. Uh, we're proud that Governor Scott Walker has endorsed our campaign."
Ducey talked about his personal life, his career in the private sector and his successful campaign while state treasurer to defeat a sales-tax measure known as Proposition 204.
"When I did run for treasurer in 2010 … I learned a lot at this conference," he continued, adding he also "learned a lot" while opposing Prop. 204, saying, "I can't emphasize enough the power of organizations like this and engagement from those in the business community."
Proposition 204 sought to make permanent a temporary sales tax and direct the proceeds to education and infrastructure.
In his speech, Ducey portrayed the group pushing for the penny tax as "completely funded by government entities and special interests." Records show it drew donations from teachers, attorneys, retirees and parents. In all, it raised $2.3 million.
The group Ducey led raised $1.8 million, with $1.2 million of it from the combined contributions of Americans for Responsible Leadership and the Arizona Free Enterprise Club. Both of those groups are dark-money entities, which under the IRS tax code do not have do disclose their donors.
However, Americans for Responsible Leadership released its donor list in 2012 after a legal battle with a California campaign-finance watchdog agency over its activities in that state. The list consisted of a single donor, Americans for Job Security, which got its money through a second intermediary, the Center to Protect Patients Rights, which had ties to the Koch brothers and Sean Noble.
Ducey continued, "So what's next? The real action is in the governor's office."
* * *
Outside groups have poured millions to influence statewide races this election cycle. Two of those groups, 60 Plus Association and American Encore, formerly named the Center to Protect Patient Rights, have attacked Ducey's opponents while supporting him. Those groups have been linked to the Kochs' network.
Ducey has also benefited from $2.2 million in spending by the Republican Governors Association Arizona political action committee, which draws its funding exclusively from out-of-state donors, Secretary of State campaign finance records show.
McLeod pointed to American Encore's spending on TV ads since Ducey won the GOP primary five weeks ago. Campaign-finance reports filed with the state show $1.2 million in spending, both in support of Ducey and in opposition to DuVal, as of Wednesday. In addition, McLeod said filings with local television stations show the group is launching a $199,000 television ad buy that began Thursday.
"All it took it was for him to go to California and tell them how powerful they are," McLeod said.
You have the power to "Krush the Kochtopus" by not voting for the bought and paid for candidate from Koch who will do the bidding of corporate elite Plutocrats. You have witnesses the turmoil that Scott Walker has caused in Wisconsin. Is that really what the state of Arizona needs? Don't we need to stop being the subject of late night comedians?