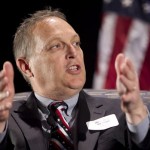 It was a month ago that the Arizona Daily Star, in a rare editorial opinion, said Tell Arizona Sen. Andy Biggs kids need medical coverage.
Arizona Republic columnist Laurie Roberts commented at the time, Who is that mean man sticking it to 30,000 Arizona kids?, and columnist E.J. Montini commented at the time, Montini: Should Gov. Ducey label himself a #deadbeat?
Does the hashtag of "deadbeat" also apply to Ducey? And to his cohorts in the Republican-controlled legislature?
By definition, a deadbeat dad is one who doesn't pay for his children's needs.
Our elected officials are responsible for meeting the basic needs of Arizona's children.
And yet the Republican-controlled legislature so far has refused to participate in KidsCare, a federal program that would provide health insurance to an estimated 30,000 Arizona poor children.
Is there a bigger necessity than our children's health?
Despite pressure from Arizona citizens and from the media, Senator Andy Biggs has refused to schedule the KidsCare restoration bill for a hearing in a Senate committee after it overwhelmingly passed in the House.
So now advocates and the media are trying again before the legislature goes sine die without acting on the KidsCare restoration bill. This is the last chance to save the bill.
Childrens' advocates used a rally at the state Capitol on Monday to call on lawmakers to support and pass a stalled KidsCare restoration bill. Advocates call on lawmakers to unfreeze KidsCare:
House Bill 2309 would allow Arizona to use federal funding to unfreeze KidsCare, the state's version of the Children's Health Insurance Program, also known as CHIP. Senate President Andy Biggs, who opposes the program, has not let the bill be heard in Senate.
Arizona is now the only state that does not have the program, according to the Advocates of Cover Kids Coalition, a collection of health and advocacy groups. The program could extend health-care coverage to more than 30,000 kids who are ineligible now.
State Rep. Regina Cobb, R-Kingman, spoke at the rally, along with other leaders and advocates in support of the program.
"These are families of a mom and dad where the dad is the only worker and doesn't make more than 9 or 10 dollars an hour and can't afford health insurance. Or a single mom with a child or two and is making the decision of whether or not to have heat, pay rent or have health insurance," Cobb said. "We are giving them a leg up."
Gov. Doug Ducey has been noncommittal on whether he would support expanding KidsCare. But on Monday, he suggested he would be open-minded if lawmakers propose lifting the KidsCare freeze during budget negotiations.
Ducey said KidsCare "would be or may be part of the ongoing budget negotiations," with lawmakers in the House and Senate.
Gov. Doug Ducey has not taken a position on the bill, but the funds are not included in the governor's budget.
This would be the budget negotiations between himself and House Speaker David Gowan (who is engaged in a controversy over First Amendment suppression of the press), and Senate President Andy Biggs, who is ideologically opposed to restoration of KidsCare.
It seems to me that if "Il Duce" genuinely wants to restore KidsCare, he would have included it in his budget, and he would bring pressure to bear on his negotiation partners, both of whom unbelievably are running for Congress and want the governor's endorsement. Just sayin'. In the final analysis, the "mean man sticking it to 30,000 Arizona kids" is actually "Il Duce."
The Arizona Republic took another swing at pressuring our lawless Tea-Publican legislature today. Our View: Opposing KidsCare makes no sense:
What Senate President Andy Biggs is doing with KidsCare is just plain wrong, and his explanation for doing it is hopelessly illogical.
He's blocking restoration of a program that would allow tens of thousands of kids to go to the doctor at no cost to the state.
These are the children of the working poor. Their parents make too much to qualify for Medicaid and too little to buy into Obamacare.
If Biggs won't budge, it will be up to Gov. Doug Ducey to restore this pro-family program.
AHCCCS, which is Arizona's Medicaid program, projects that 30,000 kids could benefit from KidsCare.
Which is it: No need or too much?
From one side of his mouth, Biggs says that estimate is a figment of reporters' imaginations. He questions the need.
From the other side of his mouth, he says Arizona shouldn't restore the program because, as he recently told Ted Simons on KAET-TV's "Arizona Horizon," doing so "would create a constituency of up to 50,000 people" who would object if the program were ever cut.
So which is it, Sen. Biggs? There's no need? Or is there such a great need that satisfying it would create a massive constituency of formerly sick kids? A constituency so strong the state would be forced to pay for the program if the feds decided to stop funding it 100 percent?
Yes. 100 percent. It's important to remember that restoring KidsCare would be paid for entirely by the federal government at least through 2017, and possibly through 2019. That's years of doctors visits. Years of care that could make a life-changing difference to tens of thousands of Arizona families.
Don't trust the triggers? Let's look at history
The bill – HB 2309 — that Biggs refuses to hear in the Senate includes an escape clause that says the program ends if the feds fall short of fully funding that promise.
Biggs says he doesn't trust such "triggers" built into the bill.
But those who say lawmakers would be prevented from lowering the ax on KidsCare ignore history.
Before the recession, Arizona participated in KidsCare, which then required a state match. For every $1 from Arizona, the feds put in $3. It was a good deal.
Freezing the program during the recession made no economic sense. But lawmakers did it anyway.
Arizona saved $12.9 million in fiscal 2011 by eviscerating KidsCare, but our state lost $41 million in federal matching money that year, according to the Kaiser Commission on Medicaid and the Uninsured.
* * *
There's more to Biggs' illogical defense of blocking a vote: He's taking one for the team. "I take the beating," he told Simons. He provides cover for KidsCare opponents who are not as willing as he is to publicly stand between kids and doctors.
C'mon. Really?
Biggs is no martyr
Taking a "beating" to spare GOP lawmakers the pain of voting on a bill that lets kids go to the doctor may seem like a profile in courage to the president of the Arizona Senate. It's not.
In the House, which is not known as a gathering place of squishy liberals, HB 2309 passed 47-12. The bill has a Republican sponsor, Rep. Regina Cobb.
House Speaker David Gowan, who felt the need to assure a safe distance from the terrifying queries and deafening keystrokes of reporters, nevertheless let his members dare to take responsibility for their votes on KidsCare. Are senators more fragile?
Biggs says: "I don't support KidsCare." But it's no reason to prevent others from voting.
Arizona taxpayers and parents whose children's health hangs in the balance have one more hope: Gov. Ducey, whose devotion to family values is oft-repeated, can assure KidsCare is included in the budget.
Ducey should recognize how illogical it is to let other states lay claim to federal money that could cool the fevered brow of Arizona kids.
The Republic's faith in "Il Duce" is misplaced and undeserved. As noted, the governor did not provide for restoration of KidsCare in his budget, nor has he publicly taken a position on the KidsCare restoration bill, nor pressured Tea-Publican legislative leaders to act.
When Sen. Biggs says that he is "taking one for the team," what he really means to say is that he is giving "Il Duce" cover: "I wanted to restore KidsCare, but Senator Biggs wouldn't go along." Here's your endorsement, Andy.
"Cathi's Clown" did recently sign an anti-abortion bill from the Center for Arizona Policy and Cathi Herrod, his campaign adviser. This demonstrates the governor's priorities.
It has often been said that Republicans "believe life begins at conception and ends at birth" — you're on your own, baby!
__________
How to contact Andy Biggs
Pressure Senate President Andy Biggs to allow a vote on KidsCare. You can:
Send him an email: Fill out this online form.
Call his office: (602) 926-4371.