Since November, 2016 there have been three art exhibits ongoing at the Tucson Desert Art Museum (TDART) on the WWII Japanese American internment camps, two which were here in Arizona (at Poston and at Gila River).  I posted at the opening:  https://blogforarizona.net/3-exhibitions-at-tucson-desert-art-museum-on-japanese-american-internment-during-wwii/
All exhibits are closing on April 30, 2017.  TDART is open Wed. to Sundays 10 to 4 p.m., 7000 E. Tanque Verde Rd. (west of Sabino Canyon Rd.)
Particularly moving are lovely, solemn watercolors painted by Tokutaro "Kakunen" Tsuruoka (on loan from AZ Historical Society).  Here's one of Poston Relocation Center with the guard tower and barbed wire fence:
Also as part of this exhibit,
Art of Circumstance: Art and Artifacts Created by Japanese Americans Incarcerated During WWII
are poems by Akira Togawa, grand uncle of Tucson Yonsei poet Heather Nagami (whose poems are also at this exhibit). "Distorted Sun" below sadly describes his 5 year old daughter in the desolate, desert camp, yearning to go home to L.A.  But he hopes to turn her "distorted sun" into a peaceful one.
In the room nearby these watercolors and poems, is the "Gambatte! Legacy of an Enduring Spirits: Triumphing over Adversity" travelling exhibit with original 1942-45 photos of the internees, with corresponding recent photographs by Paul Kitagaki, Jr. He researched these families (one being his own), interviewed them, and took black/white recent photos of "where they are today". Photo below courtesy of Shelly Black: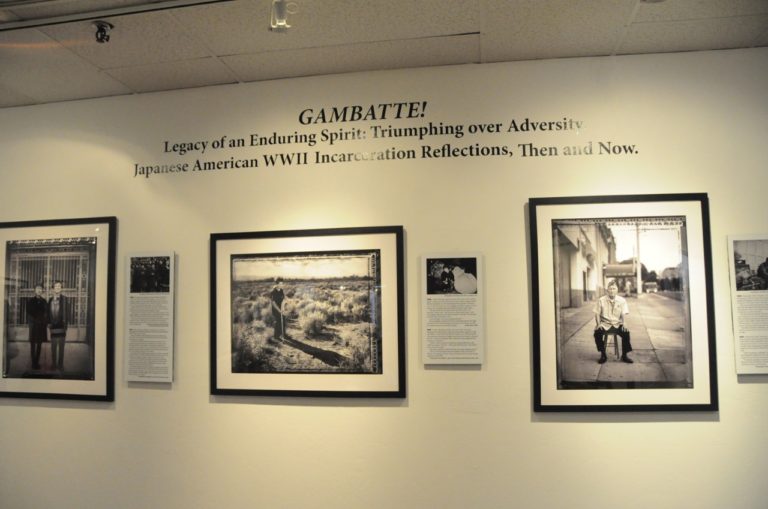 Sansei Brandon Shimoda recently published  a review on 4/1/17: "I Am an American: the Photographic Legacy of the Japanese American Incarceration" of this Gambatte exhibit in an online New York arts magazine Hyperallergic: https://hyperallergic.com/367939/i-am-an-american-the-photographic-legacy-of-japanese-american-incarceration/
Another review "Justice Denied" by Margaret Regan appeared this week in the Tucson Weekly (page 18, 3/30/17 issue) :http://www.tucsonweekly.com/tucson/justice-denied/Content?oid=8237101
And lastly, over the Art of Circumstance exhibit are those  family tags, hanging, as they once did on the innocent Japanese Americans (1/2 of whom were children, 2/3 were U.S. Citizens), as they were being assigned by these 5 digit family #s to the temporary assembly centers, then later the 10 large relocation camps, in isolated areas of America (Arkansas, Arizona, California, Colorado, Idaho, Utah, Wyoming).
Also ongoing is another exhibit up at the Chandler Museum (south of Phoenix):
February 7 – Summer 2017 @ Chandler Museum – "Un-American: Japanese Internment in Our Backyard"
"After the attack on Pearl Harbor, more than 120,000 Japanese Americans were confined to internment camps. Approximately 15,000 individuals – women, men and children – were relocated to Gila River Internment Camp only a few miles away from Chandler, simply because they looked like the enemy. Experience the photos and stories of the people who were forced to leave behind almost everything they owned to live in stark conditions in the middle of the desert." More info online: http://www.chandleraz.gov/default.aspx?pageid=998