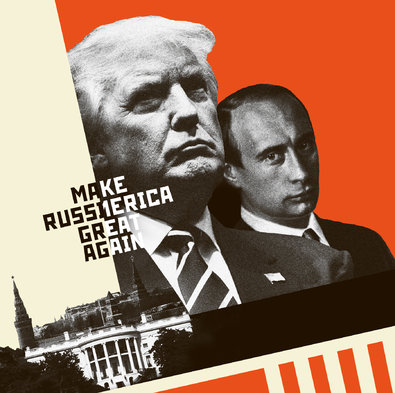 With each new revelation, Donald Trump and his campaign move the goalposts in the Russia investigation. At first there was the flat denial that anyone in the campaign had contacts with the Russians. Then the campaign had to concede, OK there were contacts with the Russians, but we did not discuss collusion. Then it was revealed that the Trump campaign did attempt to collude with the Russians to "get dirt" on Hillary Clinton, but the campaign was unsuccessful in obtaining that information, so "we're good."
Trump and his apologists appear to be unaware of "inchoate" crimes—attempts, conspiracy, and solicitation—actions that fall short of the final act of commission, but may still be a prosecutable crime.
George Papadapolous has already plead guilty for lying to the FBI about his multiple contacts with the Russians to "get dirt" on Hillary Clinton. Papadapolous reported on his activities to several senior Trump campaign officials: his supervisor Sam Clovis, then campaign manager Corey Lewandowski, subsequent campaign chairman Paul Manafort and his associate Rick Gates, and foreign policy adviser Walid Phares. Who's who in the George Papadopoulos court documents (there are additional persons not identified).
Donald Trump, Jr. and Trump son-in-law Jared Kushner, along with campaign chairman Paul Manafort, jumped at a Russian dangle for "dirt" on Hillary Clinton, meeting with several Kremlin-connected Russians in June 2016. Trump Jr. Was Told in Email of Russian Effort to Aid Campaign; Read the Emails on Donald Trump Jr.'s Russia Meeting. Donny junior, relying on a statement crafted by Donald Trump, claimed he only discussed Russian adoptions (this statement is under investigation by the Special Counsel).
Bloomberg News reports this week that Trump Jr. Hinted at Review of Anti-Russia Law, Moscow Lawyer Says:
The Russian lawyer who met with President Donald Trump's oldest son last year says he indicated that a law targeting Russia could be re-examined if his father won the election and asked her for written evidence that illegal proceeds went to Hillary Clinton's campaign.
The lawyer, Natalia Veselnitskaya, said in a two-and-a-half-hour interview in Moscow that she would tell these and other things to the Senate Judiciary Committee on condition that her answers be made public, something it hasn't agreed to. She has received scores of questions from the committee, which is investigating possible collusion between Russia and the Trump campaign. Veselnitskaya said she's also ready — if asked — to testify to Special Counsel Robert Mueller.
Veselnitskaya said she went to the New York meeting to show Trump campaign officials that major Democratic donors had evaded U.S. taxes and to lobby against the so-called Magnitsky Act that punishes Russian officials for the murder of a Russian tax accountant who accused the Kremlin of corruption.
"Looking ahead, if we come to power, we can return to this issue and think what to do about it,'' Trump Jr. said of the 2012 law, she recalled. "I understand our side may have messed up, but it'll take a long time to get to the bottom of it," he added, according to her.
Veselnitskaya also said Trump Jr. requested financial documents showing that money that allegedly evaded U.S. taxes had gone to Clinton's campaign. She didn't have any and described the 20-minute meeting as a failure.
Then there is the Trump foreign policy adviser described by Russian agents as an "idiot" in a previous FBI investigation in which he was being recruited by the Russian agents, Carter Page. Russian Spies Tried to Recruit Carter Page Before He Advised Trump. This "idiot" has gone on numerous television news shows and stated that he "may have" met with the Russian ambassador at the RNC Conventon in Cleveland, but has consistently denied that he met with Russian officals seeking "dirt" on Hillary Clinton during a trip he took to Moscow during the campaign — until he was put under oath at a House congressional committee hearing this week. Transcript of Testimony of Carter Page (.pdf) before the House Intelligence Committee.
Carter Page testified that the Russia Trip was Approved by Corey Lewandowksi:
Carter Page, who had long stated his July 2016 trip to Moscow was personal, told the committee Thursday that he informed Corey Lewandowski, then Trump's campaign manager, about an invitation to visit with Russian officials and that Lewandowski approved as long as it was "not affiliated with the campaign," according to Page's testimony released Monday night.
Page also said he informed Trump campaign official Hope Hicks, who was elevated to White House communications director earlier this year, as well as J.D. Gordon, a campaign adviser, about the trip.
* * *
Other campaign officials, including the current U.S. attorney general, Jeff Sessions, and a former co-chairman of the Trump campaign, Sam Clovis, were also told of the trip, according to Page.
"I mentioned it briefly to Senator Sessions as I was walking out the door [of a Republican club on Capitol Hill]," Carter testified, according to USA Today. "I forget the exact date, but it was the Thursday night before I flew to Moscow to give my speech. So I mentioned it to him in passing…as we were walking out the door."
During his confirmation hearing earlier this year, Sessions said he did not know of anyone affiliated with the campaign making contact with Russians.
The Washington Post reported this week that At least nine people in Trump's orbit had contact with Russians during campaign and transition:
While Trump has sought to dismiss these Russia ties as insignificant, or characterized the people involved in them as peripheral figures, it has now become clear that special counsel Robert S. Mueller III views at least some of them as important pieces of his sprawling investigation of Russian meddling in last year's presidential campaign.
* * *
A key question in the investigation — and one that hangs over Trump's presidency — is whether these instances add up to a concerted Russian government effort to probe and infiltrate the Trump campaign, or whether they were isolated coincidences and, therefore, inconsequential. Ultimately, Mueller must decide whether anyone in Trump's orbit coordinated with the Russians, and, if so, if such actions were illegal or just unseemly. Collusion itself is not a crime [because the crime is "conspiracy"].
The new court filings, along with recent interviews and other documents reviewed by The Washington Post, reveal more details than were previously known about the extent to which Trump's campaign became a magnet for people who believed U.S. policy toward Russia should be retooled — and for Russians who agreed.
In all, documents and interviews show there are at least nine Trump associates who had contacts with Russians during the campaign or presidential transition. Some are well-known, and others, such as Papadopoulos, have been more on the periphery.
Trump's onetime campaign chairman, Paul Manafort, had extensive ties to Russian business interests[.]
A top Trump Organization attorney, Michael Cohen, corresponded through intermediaries with Moscow property developers about trying to build a Trump Tower there.
Donald Trump Jr.'s meeting with the Russian attorney at Trump Tower in New York came after promises that the Russians had dirt on Hillary Clinton they wanted to share with the Trump campaign.
Trump's son-in-law, Jared Kushner, was also at that meeting, as well as a December encounter with Russian Ambassador Sergey Kislyak in which Kushner discussed setting up a secret communications "back channel" between the Trump transition team and the Kremlin.
George Papadopoulos repeatedly tried to work with Russians to set up a meeting between Trump and Putin.
Carter Page traveled to Moscow during the campaign.
J.D. Gordon, met with the Russian ambassador on the sidelines of the Republican National Convention.
The Russian ambassador also met twice with then-Sen. Jeff Sessions, now Trump's attorney general.
The Russian ambassador also met discussed sanctions with Trump's incoming national security adviser, Michael Flynn, during the presidential transition.
"Trump in the past denied that he or his associates communicated with Russia during the campaign. Now, he and his allies are seeking to minimize the importance of the contacts that have emerged."
The next Mueller indictment to drop is likely to be for former General Michael Flynn and his son. NBC News reports Mueller Has Enough Evidence to Bring Charges in Flynn Investigation:
Federal investigators have gathered enough evidence to bring charges in their investigation of President Donald Trump's former national security adviser and his son as part of the probe into Russia's intervention in the 2016 election, according to multiple sources familiar with the investigation.
Mueller is applying renewed pressure on Flynn following his indictment of Trump campaign chairman Paul Manafort, three sources familiar with the investigation told NBC News.
The investigators are speaking to multiple witnesses in coming days to gain more information surrounding Flynn's lobbying work, including whether he laundered money or lied to federal agents about his overseas contacts, according to three sources familiar with the investigation.
Mueller's team is also examining whether Flynn attempted to orchestrate the removal of a chief rival of Turkish President Recep Erdogan from the U.S. to Turkey in exchange for millions of dollars, two officials said.
* * *
Flynn's son, Michael G. Flynn, who worked closely with his father, accompanied him during the campaign and briefly worked on the presidential transition, could be indicted separately or at the same time as his father, according to three sources familiar with the investigation.
If the elder Flynn is willing to cooperate with investigators in order to help his son, two of the sources said, it could also change his own fate, potentially limiting any legal consequences.
The pressure on Flynn is the latest signal that Mueller is moving at a rapid and steady pace in his investigation.
An indictment of Flynn could seal Mueller's obstruction-of-justice case against Trump:
An NBC News report on Sunday that the special counsel Robert Mueller had gathered enough evidence to indict the former national security adviser Michael Flynn could bolster an obstruction-of-justice case Mueller is reportedly building against President Donald Trump – and it could be Flynn's signal for a presidential pardon.
* * *
A Flynn indictment could serve to "complete the circle" in an obstruction case against Trump, said Patrick Cotter, a former federal prosecutor who is currently a white-collar defense attorney at Greensfelder, Hemker & Gale, P.C.
"If there was any doubt that the substantive investigation against Flynn – which had to do with the Russia investigation and which did touch the administration – was the reason the president approached Comey, asked him to back off, and then fired him when he didn't, this would complete the circle," said Cotter, who has worked with Mueller in the past. "That's something a prosecutor always wants to do. You want to tie up all the loose ends."
In addition to investigating whether president attempted to obstruct justice by firing Comey, Mueller is also looking into the role Trump played in crafting a misleading statement in July about his son Donald Trump Jr.'s meeting in June 2016 with a Kremlin-connected lawyer at Trump Tower. Emails released days later by Trump Jr. showed that the meeting was accepted on the premise that the campaign would receive dirt on Hillary Clinton, the 2016 Democratic presidential nominee.
The statement had to be amended several times as details about the meeting emerged, and Trump's defense lawyers initially said the president had no knowledge of the meeting or any role in drafting his son's initial statement.
In late July, however, The Washington Post reported that Trump had "dictated language for" Trump Jr.'s statement, against the advice of aides, while he was aboard Air Force One. Mueller was planning to interview six aides, many of whom were also witness to critical discussions before Comey's firing, The Post's report said.
News of a possible Flynn indictment comes amid reports that Trump is probing the boundaries of his pardon power.
* * *
If charged, Flynn could be subject to what's known as a speaking indictment, or relatively lengthy indictment that includes more facts and allegations than legally required. The indictments against Manafort and Gates were speaking indictments, and it's likely that one against Flynn's indictment would be as well.
Given that, Cotter said, it's possible that Flynn's defense lawyers were the source of the NBC News report because it "could serve as a nudge to Trump" to pardon Flynn sooner rather than later to prevent the release of a list of allegations damaging to both Flynn and Trump.
Neither Flynn's attorney nor the White House immediately responded to a request for comment.
"It's in everybody's interest for Flynn's team to leak information about possible charges," Cotter said. "If you're going to pardon Flynn, it does the most good for him and the White House to do it now, before that indictment is filed."
Such an improper use of the pardon would itself constitute obstruction of justice, and lead to a constitutional crisis in the courts and possible impeachment in Congress.