There appears to be some confusion created by the judge's orders in the Ms. L. v. ICE case and the Flores Settlement Agreement, that Trump administration lawyers from the Department of Justice are taking advantage of — some would say abusing, at the expense of innocent children.
Dara Lind at Vox.com explains, A new court ruling officially opens the door for Trump to separate some migrant families again: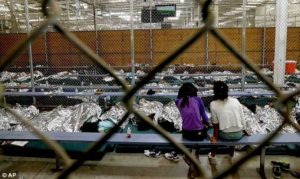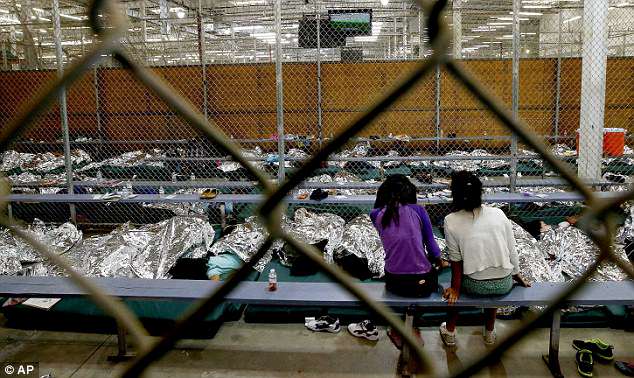 Judge Dolly Gee of the Central District of California formally refused the administration's request to modify the Flores court settlement, which governs the treatment of children in immigration custody. The Flores agreement was the court ruling that the administration had pointed to for its policy of family separation — because it couldn't keep children detained longer than 20 days, per Flores, it had to split children from their parents while the parents were in detention.
Gee rejected the administration's request to allow Immigration and Customs Enforcement (ICE) to keep migrant families in detention facilities for as long as it took to process their cases (a process which, for asylum seekers, can take months or longer).
It's a defeat on the second front of a legal war for the Trump administration and its "zero tolerance" policy at the US-Mexico border. In the Flores case, the administration is fighting for indefinite family detention. In a separate federal case in San Diego, it's being stopped from resuming family separation and hounded to quickly reunite the nearly 3,000 families separated while the policy was in full effect through mid-June.
But Monday night's ruling also makes it clear that the administration has the power to start separating some migrant families again.
The judges in both court cases — as well as the ACLU, which is the lead plaintiff in the family reunification lawsuit — agree with a core principle of the government's argument on immigration policy: that it can't be forced to release anyone who comes into the US without papers just because they bring their child with them.
In some cases, Monday night's ruling says, the government can force parents to make a choice: stay with their children in immigration detention indefinitely, or remain detained by ICE while their children are sent to the custody of Health and Human Services (just as they were under the family-separation policy) and ultimately placed with another adult in the US.
A Department of Justice lawyer said Tuesday that the government interprets the judges as giving parents two options: "remain detained together" for longer than 20 days, or "release the child" and separate the family.
The Trump administration isn't using that power — at least, not now. It stopped separating families as a policy after President Trump's June 20 executive order, and it's not going to try to resume them after Monday night's judicial ruling.
The Los Angeles Times adds more details here:
In court Tuesday, Justice Department attorneys told the San Diego judge that they believed the two orders still allowed the administration to ask parents detained at the border to either waive the right to remain with their children, as recognized in the San Diego case, or waive the Flores settlement's maximum 20-day limit that a child can be forced to spend in immigration detention.
Judge Dana Sabraw asked attorneys what happens if a parent doesn't want to waive either right.
Lee Gelernt, an attorney for the American Civil Liberties Union, said the parent would have to file a separate lawsuit claiming lack of due process.
"We are hopeful the government will do the right thing," Gelernt said.
Good luck with that! There is no good faith from the Trump administration.
Carlos Holguin, an attorney who represents immigrant minors in the Los Angeles case, said the administration was forcing parents to make a tough choice.
"The families are still in a very difficult position, either remain in custody together, or separate" so their children can be released, said Holguin, who offers counsel with the Center for Human Rights and Constitutional Law. "The government doesn't have to do that. They can resume the policies and practices that were prevailing a year or two ago, release families together if they show credible fear of returning to the country of origin."
The Trump administration is making a conscious choice to ignore this third option in order to continue this crisis that it purposefully created with its "zero tolerance policy." Good faith would be ending this misguided policy.
Dara Lind continues:
DHS doesn't have to detain someone who comes into the US without papers. It can release them on their own cognizance to show up for their court hearing; use an ankle bracelet to monitor them; or enroll them in a case management program. (The third option used by previous administrations).
The Trump administration doesn't see these as options, though. It has told the courts, over and over again, that parents simply won't be released from detention. In the administration's telling, the only two options are for parents to be kept with their children (with no time limit), or for the family to be separated.
Each of the court rulings the administration is currently contending with theoretically forecloses one of those options: Sabraw's ruling in the Ms. L case prevents family separation; Gee's ruling in Flores prevents long-term detention.
But Monday night's ruling clarifies that the two rulings don't work together: that parents can be forced to choose between waiving her right to keeping her children with her, and waiving the child's right to be released from detention.
Detained parents may choose to exercise their Ms. L right to reunification or to stand on their children's Flores Agreement rights. Defendants cannot make this choice for them.
In other words: The government can force a choice between separation and indefinite detention.
Lee Gelernt, the deputy director of the ACLU's Immigrant Rights Project — and the lead attorney in the Ms. L reunification case — agrees that the government can do this, and thinks that it's an acceptable solution.
"In the first 20 days," he explained to Vox, "parents will make a decision: Do I want the child released or to stay with me?" Generally, he says, the parents of younger children will probably want to be kept with their children — but the mother of a teenager, for example, might choose to send him to HHS and live with a relative or family friend, rather than staying in immigration detention with her.
But Gelernt and the judges stress that the Trump administration isn't allowed to detain parents — with or without their kids — as a general rule. They're supposed to use "prosecutorial discretion" to determine whether an individual migrant is a security risk, or is likely to skip out on a court date. Parents who pose a low risk are supposed to be released with their kids. Only parents who are deemed risky should be forced to choose whether their kids are detained with them or released alone.
The Trump administration has promised to keep fighting Judge Gee in court, in the hopes that the Supreme Court will allow it to detain families in immigration detention [internment camps] indefinitely. Gee's Flores ruling "handicaps our ability to detain and promptly remove unaccompanied alien children and family units," said Department of Homeland Security spokesperson Katie Waldman — instead encouraging "catch and release."
But DHS says that its current "operational guidance" — the practices that went into effect after Trump's executive order, in which families are no longer separated simply for entering without papers — is still in effect.
In other words, even though the administration could be forcing some parents to choose separation or detention, it is instead choosing not to force that choice — it is releasing parents if it can't detain them.
Some advocates are concerned that, as rumors swirl of parents being forced to sign forms they didn't understand, some parents will unwittingly waive their Flores rights and allow their families to be kept indefinitely even if the government wouldn't be separating them.
But it would be easier for the government to press parents to accept indefinite detention if it were using separation as the bad-cop alternative.
It could. But it isn't. So far.
On Tuesday, the government told Judge Sabraw it would have returned 38 [out of 102] of the youngest separated children to their parents by Tuesday night, and would reunite more once DNA testing and other checks were complete. Judge tells Trump officials to move faster:
But Sabraw said he believed as many as 63 children could be released Tuesday, or soon afterward, if the government streamlined the process and worked harder to locate parents who were no longer detained.
"There's still much time left today," he said from the bench during a late-morning hearing in San Diego. "These are firm deadlines. They're not aspirational goals."
Justice Department lawyer Sarah Fabian said 75 of the children are eligible for release. Another 27 cannot be immediately be reunited for various reasons, she said. Some did not cross the border with their parents. Others have parents who are serving criminal sentences. Some parents have serious criminal histories, including for child abuse, and may be deemed unfit. Some were deported.
Most of the parents of the youngest children were being released from custody to await immigration hearings or deportation proceedings, the government said. But lawyers signaled in court that the government could seek to detain parents and older children after they are reunited. Officials have considered using military installations [for internment camps] for that purpose.
* * *
Under a federal consent decree, the children would have to be released from detention within 20 days, a protection that was affirmed Monday night when a federal judge in Los Angeles rejected the Trump administration's request to hold minors longer.
By separating families, Trump sought to advance a hard-line immigration policy that past administrations had considered, and abandoned as inhumane. Parents were charged with the minor crime of crossing the border illegally and jailed to face court proceedings. Their children were scattered across the country to foster care or shelters. Critics said federal officials did not have a plan to reunite them and failed to keep track of which children belonged to which parents.
* * *
Tuesday's hearing marked the beginning of what Sabraw said he hoped would be a collegial and "good faith" effort to put the families back together.
Advocates have criticized the government for stalling the releases and for forcing parents who arrived with their children to undergo DNA testing and extensive background checks that had not occurred in the past. They note that many who crossed the border illegally are fleeing violence and abuse in their home countries, and want to seek asylum in the United States.
They have a lawful right to seek asylum under U.S. and international law.
Trump said Tuesday that migrants who want to come to the United States should do so legally. "That's the solution. Don't come to our country illegally," he said. "And remember this: Without borders, you do not have a country."
At the court hearing, government lawyers said they are investigating whether a child who has been in custody for more than a year and was believed to be undocumented is in fact an American citizen.
ACLU attorney Lee Gelernt called the case "extremely disturbing."
POLITICO adds:
"These are firm deadlines," Sabraw said during a court hearing in San Diego. "They are not aspirational goals."
* * *
Sabraw acknowledged Tuesday that connecting children with deported parents will be complicated, but said "they are part of the class and they do deserve to be reunited."
* * *
The judge on Tuesday clarified that the administration should proceed with reunifications if parentage can be verified through documentation apart from a DNA test.
Sabraw also ordered the administration to forgo an Office of Refugee Resettlement policy of conducting background checks of all members of a migrant family's prospective household in the interest of a prompt reunification.
Sabraw said in a Tuesday court order that the government did not need to comply with the "onerous policies" for vetting sponsors of unaccompanied minors as laid out in the 2013 Trafficking Victims Protection Reauthorization Act, since the children in question arrived at the border with a parent, not alone.
"Everyone is rowing in the same direction here," Sabraw said at the hearing. "It's just a matter of, I think, streamlining the process and providing clearer direction as to how the government will proceed."
* * *
Sabraw set a Thursday deadline for both parties to provide a status report on the broader reunification efforts, as well as progress on efforts with children under age 5. The parties then will meet in court Friday.
"That's going to be a significant undertaking and we need to have concrete information," he said.
Failure to comply with the court's firm deadlines could lead to sanctions being imposed on the government.