The lesson from the Watergate scandal was "follow the money." It's always about the money.
The New York Times reported over the weekend that Representative Mike Quigley of Illinois, a member of the House Intelligence Committee, traveled to Cyprus last week with staff members as part of the committee's investigation into Russian interference in the U.S. election. House's Inquiry Into Russia Points a Congressman to Cyprus: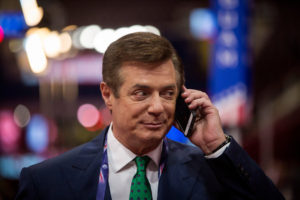 A Democratic member of the House Intelligence Committee conducted interviews and collected documents in Cyprus this week as part of the panel's investigation into Russia's meddling in the American election, and possible links between President Trump's associates and Moscow.
Representative Mike Quigley of Illinois said Friday that Cyprus is the center of Russian money laundering, and that the panel "must follow the facts wherever they take us."
Cyprus, considered a tax haven, has emerged as a focal point in criminal and congressional investigations of Mr. Trump's former campaign chairman, Paul Manafort, who had bank accounts there. The F.B.I. is examining Mr. Manafort's business dealings in Ukraine, and any links he has to the Russian government.
Mr. Quigley, who traveled to Nicosia, the island nation's capital, with an intelligence committee staff member, said he would not discuss what he had learned.
"If you are doing a Russia probe, Cyprus is the place to go," Mr. Quigley said. "These are extraordinary times and the public has a right to know what steps we are taking to try and get to the bottom of what occurred — I just can't discuss what I found."
Mr. Quigley, in Cyprus for two days, said his visit underlined to him the need for an independent commission to investigate Russia's involvement in the election.
"The more I learn, the more complex, layered and textured I see the Russia issue is — and that reinforces the need for professional full-time investigators," Mr. Quigley said.
* * *
According to The Associated Press, officers from the United States Treasury recently obtained financial records from Cyprus as part of the investigation into Mr. Manafort's activities. Mr. Manafort has described the transactions as routine.
Mr. Manafort, who once lobbied for former President Viktor F. Yanukovych of Ukraine, resigned as Mr. Trump's chairman in August after his name surfaced in secret ledgers showing millions in undisclosed cash payments intended for Mr. Manafort from Mr. Yanukovych's political party.
Let's also not forget that Trump's Commerce Secretary, Wibur Ross, recently held an ownership interest in the Bank of Cyprus until he was nominated to the cabinet position. Trump's pick for commerce leaves Russia questions unanswered:
[Ross] led a rescue of Bank of Cyprus in September 2014 after the Cypriot government — in consultation with Russian President Vladimir Putin — first propped up the institution.
"Cyprus banks have a long and painful history of laundering dirty money from Russians involved with corruption and criminality," said Elise Bean, a former Senate investigator who specialized in combating money laundering and tax evasion. "Buying a Cyprus bank necessarily raises red flags about suspect deposits, high-risk clients and hidden activities."
Since I know some of our readers are going to mention this, there is this report that has been circulating on a number of web sites since Sunday.
Supposed conspiracy theorist and national security blogger Louise Mensch, a former member of the British Parliament and an "independent reporter," asserted that former Trump campaign adviser Carter Page took a recording to Russia of Donald Trump personally authorizing Russian President Vladimir Putin's regime to hack the 2016 election. Carter Page Went to Moscow With a Tape of Donald Trump Offering Treason For Hacking.
This report elicited a commentary from Keith Olbermann at
The Resistance with Keith Olbermann | GQ. Olbermann makes clear that he is not endorsing Mensch's reporting. Without additional corroborative reporting, especially in the British media, I would recommend exercising caution to our readers.
I would urge the same caution with respect to this report from last week in The Palmer Report, Intel sources: first big arrests in Donald Trump's Russia scandal could come next week:
Reliable sources, who have proven themselves correct in the past, are now pointing to U.S. intel agencies working with the Attorney General of New York to begin imminently dismantling Trump's inner circle. In fact the big major arrests may come as soon as next week.
Both of these reports were picked up at Daily Kos, so I know that our regular readers have probably read them. Don't believe everything you read and try not to get out ahead of this investigation before the actual investigators go public with whatever evidence they have obtained. When something happens, we'll let you know.
UPDATE: CNN reports that the FBI used dossier allegations to bolster Trump-Russia investigation:
The FBI last year used a dossier [prepared by a former British MI6 intelligence officer, Christopher Steele] of allegations of Russian ties to Donald Trump's campaign as part of the justification to win approval to secretly monitor a Trump associate, according to US officials briefed on the investigation.
The dossier has also been cited by FBI Director James Comey in some of his briefings to members of Congress in recent weeks, as one of the sources of information the bureau has used to bolster its investigation, according to US officials briefed on the probe.
This includes approval from the secret court that oversees the Foreign Intelligence Surveillance Act (FISA) to monitor the communications of Carter Page, two of the officials said. Last year, Page was identified by the Trump campaign as an adviser on national security.
Officials familiar with the process say even if the application to monitor Page included information from the dossier, it would only be after the FBI had corroborated the information through its own investigation. The officials would not say what or how much was corroborated.
* * *
US law enforcement and intelligence officials have said US investigators did their own work, separate from the dossier, to support their findings that Russia tried to meddle in the 2016 presidential election in favor of Trump.
The dossier alleges that Page met senior Russian officials as an emissary of the Trump campaign, and discussed quid-pro-quo deals relating to sanctions, business opportunities and Russia's interference in the election. Page has denied meeting the officials named in the dossier and says he never cut any political deals with the Kremlin.
During the campaign, he traveled to Russia in July, where he gave a lecture critical of US policy toward Russia. That trip drew the attention of the FBI and raised concerns about Page's contacts with suspected Russian operatives, according to US officials briefed on the matter. Page has said he made the trip independent of the Trump campaign and his speech reflected his own views.
* * *
US investigators say they have corroborated some aspects of the allegations, particularly the conversations between foreign nationals that took place as described in the reports.