Last Friday the Washington Post reported in cryptic language, Russia probe reaches current White House official, people familiar with the case say: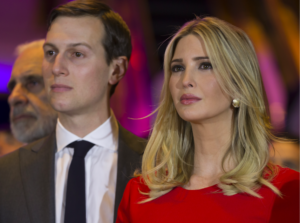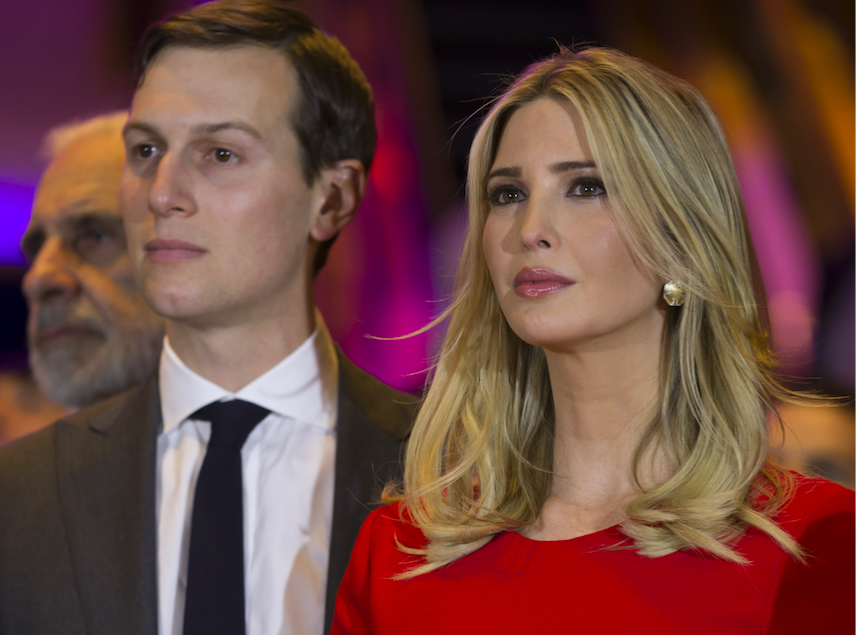 The law enforcement investigation into possible coordination between Russia and the Trump campaign has identified a current White House official as a significant person of interest, showing that the probe is reaching into the highest levels of government, according to people familiar with the matter.
The senior White House adviser under scrutiny by investigators is someone close to the president, according to these people, who would not further identify the official.
As I pointed out at the time, this left only one person who fit that description, Trump's son-in-law Jared Kushner.
Sure enough, the Washington Post confirmed last night that its original report was about Jared Kushner, Jared Kushner now a focus in Russia investigation, about the same time that NBC News reported the same. Jared Kushner Under Scrutiny in Russia Probe, Officials Say.
First, The Post:
Investigators are focusing on a series of meetings held by Jared Kushner, President Trump's son-in-law and an influential White House adviser, as part of their probe into Russian meddling in the 2016 election and related matters, according to people familiar with the investigation.
Kushner, who held meetings in December with the Russian ambassador and a banker from Moscow is being investigated because of the extent and nature of his interactions with the Russians, the people said.
The Washington Post reported last week that a senior White House official close to the president was a significant focus of the high-stakes investigation, though it did not name Kushner.
FBI agents also remain keenly interested in former Trump national security adviser Michael Flynn and former Trump campaign chairman Paul Manafort, but Kushner is the only current White House official known to be considered a key person in the probe.
The Post has not been told that Kushner is a target — or the central focus — of the investigation, and he has not been accused of any wrongdoing. "Target" is a word that generally refers to someone who is the main suspect of investigators' attention, though prosecutors can and do bring charges against people who are not marked with that distinction.
"Mr. Kushner previously volunteered to share with Congress what he knows about these meetings. He will do the same if he is contacted in connection with any other inquiry," said Jamie Gorelick, one of his attorneys.
In addition to possible coordination between the Kremlin and the Trump campaign to influence the 2016 presidential election, investigators are also looking broadly into possible financial crimes — but the people familiar with the matter, who were not authorized to speak publicly, did not specify who or what was being examined.
* * *
At the time of the December meetings, Trump already had won the election. Contacts between people on the transition team and foreign governments can be routine, but the meetings and phone calls with the Russians were not made public at the time.
In early December, Kushner met in New York with the Russian ambassador to the United States, Sergey Kislyak, and he later sent a deputy to meet with Kislyak. Flynn was also present at the early-December meeting, and later that month, Flynn held a call with Kislyak to discuss U.S.-imposed sanctions against Russia. Flynn initially mischaracterized the conversation, even to Vice President Pence — ultimately prompting his ouster from the White House.
Kushner also met in December with Sergey Gorkov, the head of Vnesheconombank, which has been the subject of U.S. sanctions following Russia's annexation of Crimea and its support of separatists in eastern Ukraine.
Maybe they discussed some sweet Russian oligarch money to finance the Princeling's troubled "Kushner Tower." Jared Kushner had a previously undisclosed meeting with the CEO of 'the bank that financed Vladimir Putin's grandest ambitions'.
In addition to the December meetings, a former senior intelligence official said FBI agents had been looking closely at earlier exchanges between Trump associates and the Russians dating to the spring of 2016, including one at the Mayflower Hotel in Washington. Kushner and Kislyak — along with close Trump adviser and current attorney general Jeff Sessions — were present at an April 2016 event at the Mayflower where then-candidate Trump promised in a speech to seek better relations with Russia. It is unclear whether Kushner and Kislyak interacted there.
The New York Times reported that Kushner omitted from security-clearance forms his December meetings with Kislyak and Gorkov, though his attorney said that was a mere error and he told the FBI soon after that he would amend the forms. The White House said that his meetings were normal and inconsequential.
Kushner has agreed to discuss his Russian contacts with the Senate Intelligence Committee, which is conducting one of several investigations into Russian meddling in the 2016 election.
NBC News reports:
Investigators believe Kushner has significant information relevant to their inquiry, officials said. That does not mean they suspect him of a crime or intend to charge him.
The FBI's scrutiny of Kushner places the bureau's sprawling counterintelligence and criminal investigation not only on the doorstep of the White House, but the Trump family circle.
* * *
The officials said Kushner is in a different category from former Trump aides Paul Manafort and Michael Flynn, who are formally considered subjects of the investigation. According to the Justice Department's U.S. Attorneys' Manual, "A 'subject' of an investigation is a person whose conduct is within the scope of the grand jury's investigation."
Records of both Manafort and Flynn have been demanded by grand jury subpoenas, NBC News has reported.
It is not known whether Kushner has received any records requests from federal investigators.
Also unclear is what precisely about Kushner's activities has drawn the FBI's interest as it investigates whether Trump associates coordinated with the Russian campaign to interfere in the election. Former FBI Director Robert Mueller is now leading the probe as a special counsel.
Kushner met at least once in December with the Russian ambassador, Sergey Kislyak, and he also met last year with a Russian banker, Sergey Gorkov.
* * *
Congressional aides have said they would like to question Kushner about that meeting, and Kushner has said he would voluntarily appear before the Senate intelligence committee as part of its Russia investigation.
Gorkov is chairman of VneshEconomBank, a Russian government-owned institution that has been under U.S. sanctions since July 2014. Gorkov studied at the training school for the FSB, one of Russia's intelligence services.
This follows a New York Times report on the known "subjects" of the federal grand jury proceedings, Paul Manafort and Michael Flynn. Top Russian Officials Discussed How to Influence Trump Aides Last Summer:
American spies collected information last summer revealing that senior Russian intelligence and political officials were discussing how to exert influence over Donald J. Trump through his advisers, according to three current and former American officials familiar with the intelligence.
The conversations focused on Paul Manafort, the Trump campaign chairman at the time, and Michael T. Flynn, a retired general who was advising Mr. Trump, the officials said. Both men had indirect ties to Russian officials, who appeared confident that each could be used to help shape Mr. Trump's opinions on Russia.
Some Russians boasted about how well they knew Mr. Flynn. Others discussed leveraging their ties to Viktor F. Yanukovych, the deposed president of Ukraine living in exile in Russia, who at one time had worked closely with Mr. Manafort.
The intelligence was among the clues — which also included information about direct communications between Mr. Trump's advisers and Russian officials — that American officials received last year as they began investigating Russian attempts to disrupt the election and whether any of Mr. Trump's associates were assisting Moscow in the effort. Details of the conversations, some of which have not been previously reported, add to an increasing understanding of the alarm inside the American government last year about the Russian disruption campaign.
The information collected last summer was considered credible enough for intelligence agencies to pass to the F.B.I., which during that period opened a counterintelligence investigation that is continuing. It is unclear, however, whether Russian officials actually tried to directly influence Mr. Manafort and Mr. Flynn. Both have denied any collusion with the Russian government on the campaign to disrupt the election.
John O. Brennan, the former director of the C.I.A., testified Tuesday about a tense period last year when he came to believe that President Vladimir V. Putin of Russia was trying to steer the outcome of the election. He said he saw intelligence suggesting that Russia wanted to use Trump campaign officials, wittingly or not, to help in that effort. He spoke vaguely about contacts between Trump associates and Russian officials, without giving names, saying they "raised questions in my mind about whether Russia was able to gain the cooperation of those individuals."
Whether the Russians worked directly with any Trump advisers is one of the central questions that federal investigators, now led by Robert S. Mueller III, the newly appointed special counsel, are seeking to answer.
* * *
The current and former officials agreed to discuss the intelligence only on the condition of anonymity because much of it remains highly classified, and they could be prosecuted for disclosing it.
Last week, CNN reported about intercepted phone calls during which Russian officials were bragging about ties to Mr. Flynn and discussing ways to wield influence over him.
In his congressional testimony, Mr. Brennan discussed the broad outlines of the intelligence, and his disclosures backed up the accounts of the information provided by the current and former officials.
* * *
Before taking the helm of the Trump campaign last May, Mr. Manafort worked for more than a decade for Russian-leaning political organizations and people in Ukraine, including Mr. Yanukovych, the former president. Mr. Yanukovych was a close ally of Mr. Putin.
Mr. Manafort's links to Ukraine led to his departure from the Trump campaign in August, after his name surfaced in secret ledgers showing millions in undisclosed payments from Mr. Yanukovych's political party.
Russia views Ukraine as a buffer against the eastward expansion of NATO, and has supported separatists in their yearslong fight against the struggling democratic government in Kiev.
Mr. Flynn's ties to Russian officials stretch back to his time at the Defense Intelligence Agency, which he led from 2012 to 2014. There, he began pressing for the United States to cultivate Russia as an ally in the fight against Islamist militants, and even spent a day in Moscow at the headquarters of the G.R.U., the Russian military intelligence service, in 2013.
He continued to insist that Russia could be an ally even after Moscow's seizure of Crimea the following year, and Obama administration officials have said that contributed to their decision to push him out of the D.I.A.
But in private life, Mr. Flynn cultivated even closer ties to Russia. In 2015, he earned more than $65,000 from companies linked to Russia, including a cargo airline implicated in a bribery scheme involving Russian officials at the United Nations, and an American branch of a cybersecurity firm [Kaspersky Labs] believed to have ties to Russia's intelligence services.
ABC News aired this report (video) on top officials from the NSA, FBI and Homeland Security were summoned to Capitol Hill for an urgent classified meeting to discuss growing concerns about a Russian software company, Kaspersky Labs.
The biggest payment, though, came from RT, the Kremlin-financed news network. It paid Mr. Flynn $45,000 to give a speech in Moscow, where he also attended the network's lavish anniversary dinner. There, he was photographed sitting next to Mr. Putin.
A senior lawmaker said on Monday that Mr. Flynn misled Pentagon investigators about how he was paid for the Moscow trip. He also failed to disclose the source of that income on a security form he was required to complete before joining the White House, according to congressional investigators.
American officials have also said there were multiple telephone calls between Mr. Flynn and Sergey I. Kislyak, the Russian ambassador to the United States, on Dec. 29, beginning shortly after Mr. Kislyak was summoned to the State Department and informed that, in retaliation for Russian election meddling, the United States was expelling 35 people suspected of being Russian intelligence operatives and imposing other sanctions.
Despite being the subject of a national security investigation, Politico reports that Manafort advised Trump team on Russia scandal:
Months after the FBI began examining Paul Manafort as part of a probe into ties between President Donald Trump's team and Russia, Manafort called Trump's chief of staff, Reince Priebus, to push back against the mounting controversy, according to four people familiar with the call.
It was about a week before Trump's inauguration, and Manafort wanted to brief Trump's team on alleged inaccuracies in a recently released dossier of memos written by a former British spy for Trump's opponents that alleged compromising ties among Russia, Trump and Trump's associates, including Manafort.
"On the day that the dossier came out in the press, Paul called Reince, as a responsible ally of the president would do, and said this story about me is garbage, and a bunch of the other stuff in there seems implausible," said a person close to Manafort.
* * *
While the people say the conversations were mostly of a political or, in some cases, personal nature, the conversation with Priebus, described by the four people familiar with it, was related to the scandal now consuming Manafort and the Trump presidency.
* * *
The discussion also could provide fodder for an expanding line of inquiry for both the FBI and congressional investigators. They've increasingly focused on the Trump team's handling of the investigations, including evolving explanations from the White House, and the president's unsuccessful efforts to get the FBI to drop part of the investigation, followed by his firing of FBI Director James Comey. All that has led to claims that the president and his team may have opened themselves to obstruction of justice charges.
According to a GOP operative familiar with Manafort's conversation with Priebus, Manafort suggested the errors in the dossier discredited it, as well as the FBI investigation, since the bureau had reached a tentative (but later aborted) agreement to pay the former British spy to continue his research and had briefed both Trump and then-President Barack Obama on the dossier.
Manafort discussed with other Trump allies the possibility of launching a countervailing investigation into efforts by Ukrainian government officials who allegedly worked in conjunction with allies of Trump's Democratic rival Hillary Clinton to damage Trump's campaign, according to the operative. The operative added that Manafort saw such an investigation as a way to distract attention from the parallel FBI and congressional Russia probes.
Priebus and the White House press office declined to comment, as did the Ukrainian presidential administration, though it previously challenged the notion it meddled in the U.S. presidential election.
Priebus did, however, alert Trump to the conversation with Manafort, according to the operative familiar with the conversation and a person close to Trump.
There's no evidence that Trump's team considered an investigation into Ukrainian meddling or acted on Manafort's recommendations[.]
* * *
Meanwhile, a federal grand jury empaneled as part of the FBI's investigation reportedly has issued a subpoena for records related to Manafort, as well as Trump's former national security adviser, Michael Flynn.
In addition to Manafort and Flynn, others being scrutinized in the various investigations include occasional Trump confidant (and former Manafort business partner) Roger Stone and former Trump campaign foreign policy adviser Carter Page, who had only a fleeting association with the campaign.
Politico goes into much more background in this piece.
Finally, Attorney General Jefferson Beauregard Sessions III, just like Trump son-in-law Jared Kushner and former National Security Adviser Michael Flynn, faled to disclose meetings with Russian officials on security clearance form:
Attorney General Jeff Sessions did not reveal meetings with Russian officials when he applied for his security clearance to serve as the nation's highest-ranking law enforcement official.
* * *
The security clearance form requires anyone applying for a security clearance to list "any contact" that he or his family had with a foreign government or its representatives over the past seven years.
A Justice official said that in July, a Sessions staffer was helping Sessions fill out the security clearance form because he was being vetted for a possible position in the Trump administration if Trump won the presidency. The staffer asked an FBI employee handling the vetting if he needed to list seven years of contacts that Sessions had with foreign dignitaries and their staff, and he was told no, the Justice official said.
In late November, after the election, the Sessions staffer helped Sessions fill out a new security clearance form, but did not ask the FBI the same question again — and did not list all the contacts.
Another Sessions staffer who went to work at the Justice Department was also told by an FBI investigator that he did not have to list the many meetings with foreign dignitaries and their staffs if it was related to Senate business, the Justice official said.
Sessions will have to describe in detail his meetings with Russians for Robert Mueller and the congressional panels.