Te big news leading off this week is the investigative report by Evan Osnos, David Remnick, and Joshua Yaffa at The New Yorker, Trump, Putin and the New Cold.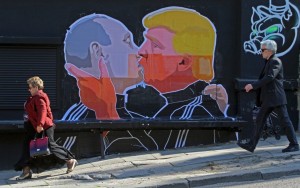 The investigative report describes how the former Soviet Union, and now Russia, employs "active measures"—aktivniye meropriyatiya—unlike classic espionage, which involves the collection of foreign secrets, active measures aim at influencing events—at undermining a rival power with forgeries, front groups, and countless other techniques honed during the Cold War (excerpts):
The 2016 Presidential campaign in the United States was of keen interest to Putin. He loathed Obama, who had applied economic sanctions against Putin's cronies after the annexation of Crimea and the invasion of eastern Ukraine . . . Clinton, in Putin's view, was worse—the embodiment of the liberal interventionist strain of U.S. foreign policy, more hawkish than Obama, and an obstacle to ending sanctions and reëstablishing Russian geopolitical influence. At the same time, Putin deftly flattered Trump, who was uncommonly positive in his statements about Putin's strength and effectiveness as a leader. As early as 2007, Trump declared that Putin was "doing a great job in rebuilding the image of Russia and also rebuilding Russia period." In 2013, before visiting Moscow for the Miss Universe pageant, Trump wondered, in a tweet, if he would meet Putin, and, "if so, will he become my new best friend?" During the Presidential campaign, Trump delighted in saying that Putin was a superior leader who had turned the Obama Administration into a "laughingstock."
For those interested in active measures, the digital age presented opportunities far more alluring than anything available in the era of Andropov. The Democratic and Republican National Committees offered what cybersecurity experts call a large "attack surface." Tied into politics at the highest level, they were nonetheless unprotected by the defenses afforded to sensitive government institutions. John Podesta, the chairman of Hillary Clinton's campaign and a former chief of staff of Bill Clinton's, had every reason to be aware of the fragile nature of modern communications. As a senior counsellor in the Obama White House, he was involved in digital policy. Yet even he had not bothered to use the most elementary sort of defense, two-step verification, for his e-mail account.
The American political landscape also offered a particularly soft target for dezinformatsiya, false information intended to discredit the official version of events, or the very notion of reliable truth. Americans were more divided along ideological lines than at any point in two decades, according to the Pew Research Center. American trust in the mainstream media had fallen to a historic low. The fractured media environment seemed to spawn conspiracy theories about everything from Barack Obama's place of birth (supposedly Kenya) to the origins of climate change (a Chinese hoax). Trump, in building his political identity, promoted such theories.
"Free societies are often split because people have their own views, and that's what former Soviet and current Russian intelligence tries to take advantage of," Oleg Kalugin, a former K.G.B. general, who has lived in the United States since 1995, said. "The goal is to deepen the splits." Such a strategy is especially valuable when a country like Russia, which is considerably weaker than it was at the height of the Soviet era, is waging a geopolitical struggle with a stronger entity.
In early January, two weeks before the Inauguration, James Clapper, the director of national intelligence, released a declassified report concluding that Putin had ordered an influence campaign to harm Clinton's election prospects, fortify Donald Trump's, and "undermine public faith in the U.S. democratic process." The declassified report provides more assertion than evidence. Intelligence officers say that this was necessary to protect their information-gathering methods.
* * *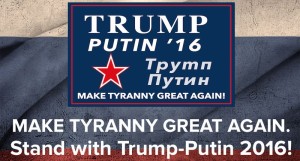 In testimony before the Senate, Clapper described an unprecedented Russian effort to interfere in the U.S. electoral process. The operation involved hacking Democrats' e-mails, publicizing the stolen contents through WikiLeaks, and manipulating social media to spread "fake news" and pro-Trump messages.
At first, Trump derided the scrutiny of the hacking as a "witch hunt," and said that the attacks could have been from anyone—the Russians, the Chinese, or "somebody sitting on their bed that weighs four hundred pounds." In the end, he grudgingly accepted the finding, but insisted that Russian interference had had "absolutely no effect on the outcome of the election." Yevgenia Albats, the author of "The State Within a State," a book about the K.G.B., said that Putin probably didn't believe he could alter the results of the election, but, because of his antipathy toward Obama and Clinton, he did what he could to boost Trump's cause and undermine America's confidence in its political system. Putin was not interested in keeping the operation covert, Albats said. "He wanted to make it as public as possible. He wanted his presence to be known," and to "show that, no matter what, we can enter your house and do what we want."
Remarkably, the Obama Administration learned of the hacking operation only in early summer—nine months after the F.B.I. first contacted the D.N.C. about the intrusion—and then was reluctant to act too strongly, for fear of being seen as partisan. Leaders of the Pentagon, the State Department, and the intelligence agencies met during the summer, but their focus was on how to safeguard state election commissions and electoral systems against a hack on Election Day.
* * *
Last September, at a G-20 summit, in China, Obama confronted Putin about the hacking, telling him to "cut it out," and, above all, to keep away from the balloting in November, or there would be "serious consequences." Putin neither denied nor confirmed the hacking efforts, but replied that the United States has long funded media outlets and civil-society groups that meddle in Russian affairs.
In October, as evidence of Russian meddling mounted, senior national-security officials met to consider a plan of response; proposals included releasing damaging information about Russian officials, including their bank accounts, or a cyber operation directed at Moscow. Secretary of State John Kerry was concerned that such plans might undercut diplomatic efforts to get Russia to coöperate with the West in Syria—efforts that eventually failed. In the end, security officials unanimously agreed to take a measured approach: the Administration issued a statement, on October 7th, declaring it was confident that the Russians had hacked the D.N.C. The Administration did not want to overreact in a way that could seem political and amplify Trump's message that the vote was rigged.
The White House watched for signs that Russian intelligence was crossing what a senior national-security official called "the line between covert influence and adversely affecting the vote count"—and found no evidence that it had done so.
* * *
During the transition, officials in the Obama Administration were hearing that Trump was somehow compromised or beholden to Russian interests. "The Russians make investments in people not knowing the exact outcome," one senior Administration official said. "They obtain leverage on those people, too." No conclusive evidence has yet emerged for such suspicions about Trump. Another Administration official said that, during the transfer of power, classified intelligence had shown multiple contacts between Trump associates and Russian representatives, but nothing that rose to the level of aiding or coördinating the interference with the election. "We had no clear information—that I was aware of—of collusion," the official said. That question, however, persists, and will likely be a central focus for congressional investigators.
* * *
By Inauguration Day, January 20th, the evidence of a wide-scale Russian operation had prompted the formation of a joint task force, including the C.I.A., the F.B.I., the N.S.A., and the financial-crimes unit of the Treasury Department. Three Senate committees, including the Intelligence Committee, have launched inquiries; some Democrats worry that the Trump Administration will try to stifle these investigations. Although senators on the Intelligence Committee cannot reveal classified information, they have ways of signalling concern. Three weeks after the election, Ron Wyden, an Oregon Democrat, and six other members of the committee sent a public letter to Obama, declaring, "We believe there is additional information concerning the Russian Government and the U.S. election that should be declassified and released to the public." At a hearing in January, Wyden pushed further. While questioning James Comey, the director of the F.B.I., Wyden cited media reports that some Trump associates had links to Russians who are close to Putin. Wyden asked if Comey would declassify information on that subject and "release it to the American people." Comey said, "I can't talk about it." Wyden's questioning had served its purpose.
Later, in an interview, Wyden said, "My increasing concern is that classification now is being used much more for political security than for national security. We wanted to get that out before a new Administration took place. I can't remember seven senators joining a declassification request." Asked if he suspects that there has been improper contact between the Trump campaign and Russian interests, Wyden said, "I can't get into that"—without revealing classified information. "But what I can tell you is, I continue to believe, as I have for many months, that there is more that could be declassified." He added, "When a foreign power interferes with American institutions, you don't just say, 'Oh, that's business as usual,' and leave it at that. There's a historical imperative here, too." After viewing the classified materials, Mark Warner, of Virginia, the ranking Democrat on the Senate Intelligence Committee, said of the Russia investigation, "This may very well be the most important thing I do in my public life."
Two weeks before the Inauguration, intelligence officers briefed both Obama and Trump about a dossier of unverified allegations compiled by Christopher Steele, a former British intelligence officer. The thirty-five-page dossier, which included claims about Trump's behavior during a 2013 trip to Moscow, had been shopped around to various media outlets by researchers opposed to Trump's candidacy. The dossier concluded that Russia had personal and financial material on Trump that could be used as blackmail. It said that the Russians had been "cultivating, supporting, and assisting" Trump for years. According to current and former government officials, prurient details in the dossier generated skepticism among some members of the intelligence community, who, as one put it, regarded it as a "nutty" product to present to a President. But, in the weeks that followed, they confirmed some of its less explosive claims, relating to conversations with foreign nationals. "They are continuing to chase down stuff from the dossier, and, at its core, a lot of it is bearing out," an intelligence official said. Some officials believe that one reason the Russians compiled information on Trump during his 2013 trip was that he was meeting with Russian oligarchs who might be stashing money abroad—a sign of disloyalty, in Putin's eyes.
For more on this aspect of the story, see the Rachel Maddow Show from Monday night, which ties these threads together. Here is a link to her interview of David Remnick, editor of The New Yorker, Many avenues of investigation for Trump Russia connection, and newly confirmed Commerce Secretary Wilbur Ross's connections to Russian oligarchs through his position in the Bank of Cyprus New Commerce Secretary at nexus of lucrative Trump Russian deal, and Trump choices, like Manafort, not so odd from Russian perspective.
Breaking News: The FBI once planned to pay former British spy who authored controversial Trump dossier:
The agreement to compensate former MI6 agent Christopher Steele came as U.S. intelligence agencies reached a consensus that the Russians had interfered in the presidential election by orchestrating hacks of Democratic Party email accounts.
While Trump has derided the dossier as "fake news" compiled by his political opponents, the FBI's arrangement with Steele shows that bureau investigators considered him credible and found his line of inquiry to be worthy of pursuit.
Ultimately, the FBI did not pay Steele.
* * *
Steele was known for the quality of his past work and for the knowledge he had developed over nearly 20 years working on Russia-related issues for British intelligence. The Washington Post was not able to determine how much the FBI intended to pay Steele had their relationship remained intact.
There is much more in the lengthy The New Yorker report. It is worth your time to read this lengthy report to get a better sense of what the Trump-Putin controversy is all about.
I agree with Rep. Darrell Issa (R-Calif.) – a first! – that there needsto be a special prosecutor — and that now-Attorney General Jeff Sessions should recuse himself from the ongoing investigations. Top Republican says special prosecutor should investigate Russian meddling in Trump's election. "[Y]ou cannot have somebody, a friend of mine, Jeff Sessions, who was on the campaign and who was an appointee," he said. "You're going to need to use the special prosecutor's statute and office."
A partisan cover-up by Rep. Devin Nunes (R-CA), Chair of the  House Intelligence Committee, declaring that there is "nothing to see here, move along" before his committee has conducted any investigation is what we are going to get if a special prosecutor is not empowered to conduct an independent investigation. House Intelligence chairman says he hasn't found evidence of Trump team's ties to Russia. "The Senate Intelligence Committee — headed by Richard Burr (R-N.C.) — has promised to thoroughly investigate any contacts between Trump aides and the Kremlin. And it has pledged to specifically probe ousted national security adviser Michael Flynn's talk late last year with the Russian ambassador to the United States, Sergey Kislyak."