The U.S. Justice Department on Friday delivered documents to congressional committees responding to their request for information that could shed light on President Donald Trump's claims that former President Barack Obama ordered U.S. agencies to spy on him. Reuters reports, Justice Dept. delivers documents on wiretap claim to Congress:
The information was sent to the House and Senate intelligence and judiciary committees, said Sarah Isgur Flores, a Justice Department spokeswoman.
The chairman of the House Intelligence Committee, Republican Devin Nunes, said in a statement late on Friday that the Justice Department had "fully complied" with the panel's request.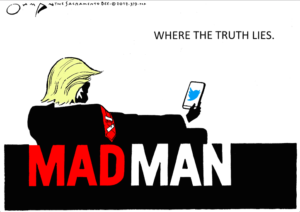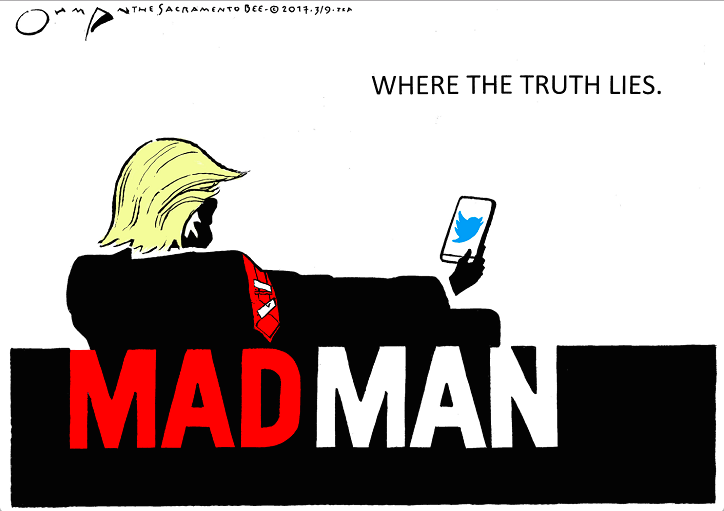 A government source, who requested anonymity when discussing sensitive information, said an initial examination of the material turned over by the Justice Department indicates that it contains no evidence to confirm Trump's claims that the Obama administration had wiretapped him or the Trump Tower in New York.
The House Intelligence Committee will hold a hearing on Monday on allegations of Russian meddling in the U.S. election. Federal Bureau of Investigation Director James Comey and National Security Agency Director Mike Rogers will testify and are expected to field questions on Trump's wiretap claim.
Leaders of both the House and Senate intelligence committees, including from Trump's Republican Party, have said they have found no evidence to substantiate Trump's claims that Obama ordered U.S. agencies to spy on Trump or his entourage. The White House has publicly offered no proof of the allegation.
The Washington Post adds, House Intelligence panel does not reveal whether documents substantiate Trump's wiretap claim:
The House Intelligence Committee did not reveal on Friday night the answer to the question of whether Justice Department documents substantiate President Trump's claim that he was wiretapped by the Obama administration.
The committee had asked for copies of any warrants, applications or court orders relating to a wiretap of Trump or his surrogates and affiliates in advance of a Monday hearing at which the directors of the FBI and the National Security Agency are expected to testify about alleged connections between the Trump team and Russian authorities.
Chairman Devin Nunes (R-Calif.) avoided the big question by releasing a statement late Friday that said his panel is "satisfied" that Justice "has fully complied" with its request related to "possible surveillance" of Trump and his associates.
Nunes said the CIA and FBI had not yet provided information that was requested "that is necessary to determine whether information collected on U.S. persons was mishandled and leaked."
He added that the NSA had "partially met our request" and pledged to fully meet it by the end of next week.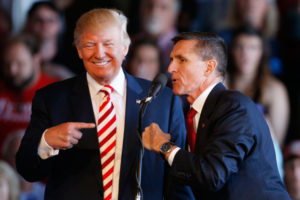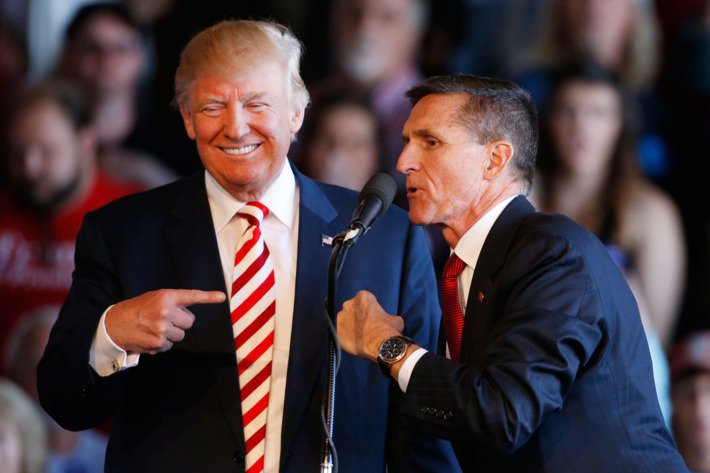 This would be information related to retired Lt. General Michael Flynn who was Trump's national security adviser, who was forced to resign under pressure ostensibly for the reason that he had lied to Vice President Pence about his contacts with Russia. However, this fact was known to Pence, who led the Trump transition team, for three weeks before Flynn was forced to resign, and only after the media reported the story. I'm not buying it.
The documents were delivered to the House Intelligence panel in preparation for Monday's public hearing. Lawmakers have asked FBI Director James B. Comey to clarify whether the bureau is investigating Russia's role in the 2016 election and alleged links between the Trump team and Russian officials. Both the House and Senate intelligence committees are probing those matters, as well as Trump's wiretapping allegations.
Senate Intelligence Committee leaders announced Friday that they would hold the first open hearing of their Russia probe March 30.
This week, House Intelligence Committee leaders requested a list of any individuals whose names were "unmasked" during surveillance activities focused elsewhere. Nunes and the committee's ranking Democrat, Adam B. Schiff of California, sent the request to Comey, National Security Agency Director Mike Rogers and CIA Director Mike Pompeo.
Former national security adviser Michael Flynn was ousted last month after details surfaced about his contacts with Russian Ambassador Sergey Kislyak before Trump took office. (Flynn was officially asked to leave because he misled Vice President Pence about the contacts.) Although Flynn was not himself under surveillance, Kislyak was, and Flynn's contacts came to light through "incidental collection."
In a case of "incidental collection," an American citizen should have been redacted from the surveillance. This leaves one of three possibilities: (1) Flynn was under a criminal investigation, (2) Flynn was the subject of a FISA Court warrant on evidence he was working on behalf of a foreign government, or (3) Flynn was not redacted from the surveillance and his contacts with the Russians were "improperly" leaked to the media by persons yet to be identified. The later appears the least likely scenario.
The other contacts of interest were between longtime GOP ratfucker and Trump adviser Roger Stone and Gucifer 2.0, a hacker handle for what the intelligence agencies have identified as Russian intelligence, and with Julian Assange of Wikileaks, who published the documents hacked by Russian intelligence.
Several other Trump campaign personnel had contacts with Russian Ambassador Sergey Kislyak, who almost certainly was surveilled by U.S. intelligence agencies.
UPDATE: From CNN, Former Trump campaign chief Paul Manafort wanted for questioning in Ukraine corruption case: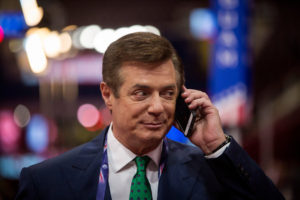 Ukrainian prosecutors want to question Paul Manafort in connection with a corruption investigation and have made repeated requests for assistance from US authorities, CNN has learned.
Prosecutors in Kiev said they have made seven separate appeals over the past two years for help in questioning President Donald Trump's former campaign manager, including letters to FBI Director James Comey and US Justice Department officials. Ukrainian officials said the US has not responded to those requests.
Under a "mutual legal assistance" treaty, the two countries have agreed to regularly assist each other in law enforcement efforts, such as gathering statements and other evidence for prosecutions.
US authorities confirmed to CNN that the requests were received but declined further comment.
Manafort served as Trump's campaign chief until being pushed out in August 2016.
The official requests from a special prosecution unit in Kiev started in December 2014, and involve a corruption case targeting Ukraine's former Justice Minister Oleksandr Lavrynovych.
Manafort has not been charged with a crime. Prosecutors want him to testify, Ukraine's prosecutor for special investigations Serhiy Gorbatyuk said.
Prosecutors allege that Lavrynovych illegally diverted more than $1 million in government funds to a prominent New York City law firm — Skadden, Arps, Slate, Meagher & Flom.
Lavrynovych had hired Skadden to review the 2011 jailing of former Ukrainian Prime Minister Yulia Tymoshenko, who had received a seven-year sentence for allegedly harming Ukraine's interests in gas supply negotiations with Russia.
Tymoshenko was the main political rival of the Kremlin-backed President Viktor Yanukovych, whom Manafort advised until Yanukovych was deposed in 2014. Tymoshenko was released from jail at the same time that Yanukovych was ousted.
* * *
In response to the deteriorating international climate, Ukrainian prosecutors say, Manafort drafted a public relations strategy that included hiring Skadden to review the Tymoshenko case and show the conviction had a sound legal basis.
But a spokeswoman for the US State Department in 2012 said the report Skadden eventually came out with "was incomplete and doesn't give an accurate picture."
Prosecutors told CNN that Ukraine's Justice Ministry had signed an agreement with Skadden to provide legal services for the equivalent of only $12,000, the legal limit above which it would have been necessary to hold a public competition to award a government contracting job.
Prosecutors provided CNN with the details of a bank transfer that took place on May 30, 2013 to a Citibank account allegedly belonging to Skadden from a Justice Ministry bank account.
The document shows the ministry wired Skadden more than $1 million — $1,075,381.41. It is this payment that prosecutors charge was a misappropriation of government funds.
"We believe they wanted to avoid the time consuming competition they would have had to organize to hire the law firm legally, so they drew up the undervalued contract and probably arranged to pay the real fee in cash," Gorbatyuk told CNN, speaking in Russian.
However, when Tymoshenko's legal team publicly pointed out that the government could not have secured Skadden's services for just $12,000, Skadden asked Ukrainian officials to draw up a second contract that reflected a more realistic fee, prosecutors allege.
Asked to comment on its involvement in the matter, Skadden released a statement to CNN: "We have been and will continue cooperating with appropriate requests."
Members of Gorbatyuk's office showed CNN a record of seven separate occasions when they asked the US authorities for help.
The first letter was sent in December 2014 to the US Justice Department's Office of International Affairs, and was a request to question Skadden partner Gregory Craig, who also served as a White House counsel in the Obama administration.
In December 2015, Gorbatyuk's office sent another letter to the Department of Justice asking to question Manafort.
The trigger for the request was two emails prosecutors found. The contents of those emails were provided to CNN: One between Craig and Manafort where Craig asked Manafort to help secure paperwork from Ukraine needed for Skadden's report, and another between a Skadden employee and a Ukrainian official that mentioned Manafort's presence at a meeting with the Justice Minister.
Prosecutors also showed CNN documentation they sent to the DOJ in which they told the US authorities that their investigation had "established that the well–known American political strategist Paul Manafort is implicated in the relationship between the Skadden Arps. firm and the Justice Ministry of Ukraine." Of Manafort, the letter said he "was likely the person who advised representatives of the former Government of Ukraine to hire the law firm and was present during talks about this issue."
Manafort declined to provide comment for this story.
* * *
Some of the attempts to question Manafort coincided with a time period when the FBI grappled with the issue of whether to subpoena Manafort in its separate investigation surrounding his business dealings in Ukraine, last summer. Comey has faced criticism for taking a different approach on legal matters relating to the Hillary Clinton campaign after he controversially sent a letter to Congress announcing the FBI's renewed interest in her use of a personal server during her time as Secretary of State just 11 days before the election.
Manafort currently faces an FBI investigation over millions of dollars' worth of payments he allegedly received while working for Yanukovych. Manafort has denied those claims.