Above Photo: Rep. Andy Biggs, R-Ariz., at podium, speaks during a news conference in the Capitol Visitor Center outside the Laura Cooper, deputy assistant secretary of defense, deposition related to the House's impeachment inquiry on Wednesday, October 23, 2019. Tom Williams/CQ Roll Call via AP Images
Remember the Brooks Brother Riot to disrupt election canvassers in Miami-Dade County in 2000?  The riot was staged by hundreds of paid GOP operatives, including Republican congressional staffers, a number of whom later went on to jobs in the Bush administration.
What happened today took Republican lawlessness to a whole new level. Over two dozen Republican members of Congress, most members of the GOP House Freedom Caucus (sic) — freedom my ass, these are crypto-fascists longing for authoritarianism — and even a member of leadership, House Minority Whip Steve Scalise, staged a stunt to disrupt the House impeachment depositions of witnesses reportedly with the prior knowledge and approval of Donald Trump.
As I have repeatedly argued, these congressman are either coconspirators or aiders and abettors of Trump's obstruction of Congress and obstruction of justice, both impeachable offenses. This also constitutes witness intimidation. These members of Congress are equally culpable at law, and every one of them should forfeit their seat and be removed from Congress.
Steve Benen reports, Why the House GOP is pretending to care about the impeachment process: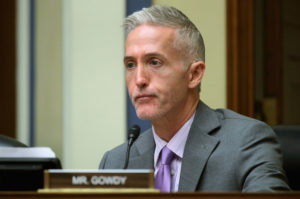 In the summer of 2015, the House Select Committee on Benghazi! was still chasing conspiracy theories, holding a series of closed-door hearings with officials and witnesses. As part of the investigatory process, other members of Congress who were interested in learning more were excluded – and when former House Oversight Committee Chairman Darrell Issa (R-Calif.) tried to crash a deposition, Rep. Trey Gowdy (R-S.C.) blocked him.
On this, Gowdy, who chaired the Benghazi panel, was correct. Not only did he take steps to prevent a political circus – nearly every witness was interviewed behind closed doors – but House rules only permit members to participate in depositions if they serve on the relevant committees. These are not spectator events.
More than four years later, Issa is no longer in Congress, but the number of far-right lawmakers eager to crash closed-door depositions has grown.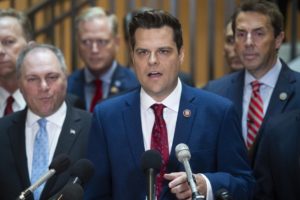 A group of House Republicans stormed a secure room where testimony is being heard in the impeachment inquiry on Wednesday, delaying the start of closed-door testimony by Laura Cooper, the top Pentagon official overseeing U.S. policy regarding Ukraine.
Led by Rep. Matt Gaetz, R-Fla., the GOP members – who don't sit on the committees that are questioning witnesses in the impeachment inquiry – entered the secure room, known as a SCIF, in the basement of the Capitol Visitor's Center.
These House Republicans know the rules, but they broke them anyway as part of a little stunt.
According to Bloomberg News, Donald Trump knew in advance about these far-right members' plan to barge into a secure hearing room – and the president supported the scheme. In fact, The Daily Beast reported that Trump effectively encouraged them to obstruct the impeachment inquiry.
Hence, these congressman are either coconspirators or aiders and abettors of Trump's obstruction of Congress and obstruction of justice, and witness intimidation. These members of Congress are equally culpable at law. Prosecute their sorry asses.
To hear the White House's more ridiculous congressional allies tell it, they're justified in launching stunts like these because hearings related to the impeachment inquiry are being held in secret. At first blush, I imagine some Americans might even think guys like Matt Gaetz and his cohorts have a point: given the importance of the process and the outcome, why is so much work being done behind closed doors?
The truth is, even the most unhinged members of Congress know the answer. They're only pretending to be dumb. The New York Times recently explained why witnesses are testifying in private:
The Democrats are trying to collect as much information as possible as quickly as possible. Big made-for-TV hearings are a chaotic and clunky way to try to build a body of evidence. They allow witnesses to line up their stories in advance and could easily backfire on Democrats trying to build a public narrative in real time.
Most congressional veterans would tell you that from a fact-finding point of view, you are better off following the Watergate model: Investigate in private first, then choreograph a series of public hearings that recreate for the public what the investigation found.
House Intelligence Committee Chairman Adam Schiff (D-Calif.) added in a letter last week to members:
"In each session, I have made an opening statement, and offered the same opportunity to a Member designated by the minority. Questions have been primarily asked by committee counsels for both the majority and the minority, but also by Members of both parties. And the majority and minority have been provided equal staff representation and time to question witnesses, who have stayed until the majority and the minority have asked all of their questions – often late into the evening. It is necessary to point this out, because the President and his allies have made the false claim that GOP members and staff have been precluded from attending or asking questions — nothing could be further from the truth.
"The reasons for conducting interviews in private are sound and based on the best interests of a thorough and fair investigation. Unlike in past impeachment proceedings in which Congress had the benefit of an investigation conducted in secret by an independent prosecutor, we must conduct the initial investigation ourselves. This is the case, because the Department of Justice under Bill Barr expressly declined to investigate this matter, after a criminal referral had been made.
"The special counsels in the Nixon and Clinton impeachments conducted their investigations in private and we must initially do the same. It is of paramount importance to ensure that witnesses cannot coordinate their testimony with one another to match their description of events, or potentially conceal the truth."
What's more, the Washington Post reported last week that the lawmakers participating in the impeachment inquiry have followed the rules closely, with both sides participating equally with every witness.
Again, House Republicans, including those involved in today's stunt, know this. They're pretending not to, claiming to have no idea why "Democrats are trying to impeach Trump in secret," but no one is dumb enough to genuinely believe this.
Well, except those sycophant followers of the personality cult of Donald Trump who watch FOX News aka Trump TV all day, for whom this stunt was staged to promote the latest talking points from Trump's minister of propaganda, Sean Hannity.
So why bother with this argument? Why obsessively focus on "process"? It probably has something do to with the fact that the growing body of evidence against Donald Trump is absolutely devastating – and the more the White House's allies can focus on the nature of the proceedings, the less attention there is on what we're learning from the proceedings themselves.
Hunter adds at Daily Kos, House Republicans ignore national security to block impeachment testimony:
One day after Ambassador William Taylor testified before a House impeachment inquiry that Donald Trump and members of his administration had explicitly confirmed that they were withholding U.S. military aid to Ukraine until the Ukrainian president publicly announced an investigation of Trump's potential election opponent, over two dozen House Republicans pushed their way into the House's sensitive compartmented information facility, or SCIF, in an effort to disrupt the testimony of the next witness, Deputy Assistant Secretary of Defense Laura Cooper. Cooper's testimony is expected to center on the illegality of Trump's move to block the Congress-appropriated military aid, regardless of what he was seeking in return.
The ramifications, even aside from the "white riot" implications of House Republicans violating national security protocols to disrupt House efforts to investigate criminal activity by the party's leader, are severe. Mieke Eoyang of the think tank Third Way explained the repercussions of unauthorized access to the SCIF and of House Republicans bringing their own electronic devices into the space rather than checking them with security personnel. To protect against the very real possibility of malware on any of those devices, the facility must now be closed and resecured in a long, nontrivial process.
House Republicans nonetheless are showing contempt for those national security concerns. Rep. Matt Gaetz, Rep. Mark Walker, and Rep. Andy Biggs tweeted from inside the facility. Gaetz and Walker later claimed those tweets were posted by staff—even if that were so, it would demonstrate that those members were communicating with staff outside the SCIF while inside, itself a violation.
House Republican claims that Democrats are conducting a "secret" impeachment are simply false. The initial step of secure testimony from witnesses is being done in a secure facility because in many cases it includes information about diplomatic exchanges and other potentially classified communications; Republican members of each of the three committees focused on the inquiry have been present throughout. The next steps, including further public testimony, debate on the articles of impeachment, if any, and an actual impeachment trial held in the Republican-led Senate, are all public.
House Speaker Nancy Pelosi has a number of available options for discipling those that violated national security procedures, from formal censure to the leveling of fines. The severity of the breach makes discipline likely.
The office of House Minority Leader Kevin McCarthy was reportedly told in advance that members would be storming the secure space and approved the action. It is therefore possible that McCarthy may himself be included in any House-approved disciplinary actions.
Homeland Security Committee chair Bennie Thompson has requested the House Sergeant at Arms to "take action with respect to the Members involved in the breach."
Ultimately American voters must hold these lawless Republicans accountable for their criminality by kicking their sorry asses out of Congress. This is totally unacceptable and cannot be condoned nor go unpunished.