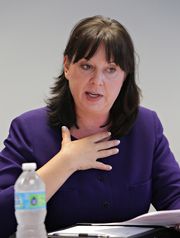 Arizona's queen of voter suppression, Secretary of State Michele Reagan, has demonstrated once again that she is totally incompetent as the chief elections officer of Arizona.
In March, there was the fiasco of the Presidential Preference Election in Maricopa County. There is now a U.S. Justice Department investigation and a lawsuit by the Democratic Party and voting rights organizations over that screw up.
And now there's this: Lawyer to seek Prop. 123 postponement after 200,000 election pamphlets delayed:
Arizona Secretary of State Michele Reagan's office failed to send out publicity pamphlets for next week's special election to more than 200,000 households with multiple voters in all but Pima and Maricopa counties, her spokesman said Monday.
Reagan spokesman Matt Roberts said the pamphlets should have reached voters 10 days before early voting started on April 20 and blamed a private vendor for the problem. By the time the mistake was discovered and new voter guides mailed and received, it was May 6.
Roberts didn't say why the public wasn't notified when the problem was discovered more than two weeks ago.
Attorney Tom Ryan says the mistake is just the latest from the secretary of state. Reagan is the lead defendant is a lawsuit prompted by long lines and other voting problems in the March presidential primary election. The U.S. Department of Justice is reviewing the problems to see if the state has violated voting rights laws.
"She has a fiduciary duty to the voters of the state of Arizona, and for her to hide the ball on this, it's illegal, it's sinful, it immoral, it's maddening," Ryan said. "She ought to be embarrassed — this is a major screw-up."
Ryan said he's asking the attorney general on Tuesday to reset the special election.
That complaint has now been filed. The Arizona Republic reports, Attorney seeks to delay special election over pamphlet:
Claiming voters have been disenfranchised ahead of the May 17 special election, an attorney filed complaints Tuesday with Arizona's attorney general and secretary of state asking that the election be postponed.
Attorney Tom Ryan, of Chandler, asked state officials to cancel the election in which voters will decide on Proposition 123 and Proposition 124.
The challenge centers on the failure to distribute all required publicity pamphlets to voters. The pamphlets describe the initiatives, present to voters arguments from both sides and show where voters can cast their ballots.
About 200,000 households outside of Maricopa and Pima counties did not receive their publicity pamphlets in time. Voting has been underway for 2 1/2 weeks.
Ryan proposed officials combine the issues to be voted on in the May 17 special election with either the Aug. 30 state primary election or the Nov. 8 general election. He also asked that early ballots already submitted to the Secretary of State be considered void. Hundreds of thousands of ballots have already been returned by voters on the early voting list.
* * *
"I recognize there will be anger over this complaint," Ryan wrote in his complaint. "But such anger, frustration and exasperation should be properly directed to the Office of the Secretary of State for her failure of office."
* * *
In his complaint, Ryan argues state law is clear that the secretary of state must mail the statutorily required pamphlets to the households of all registered voters, and that they must be mailed before an election has begun. Since hundreds of thousands of voting households did not receive their pamphlets, "this failure is substantial and not in strict compliance with Arizona law."
The Legislature last year passed a bill, which Ducey signed, that requires "strict compliance" with existing laws regarding ballot referrals and initiatives. The legislation stems from a number of citizen-led drives, including the recall of then-Senate President Russell Pearce and a proposed top-two primary system.
* * *
The error adds to a string of election-related missteps that have confounded voters and elections officials alike.
During the presidential preference election in March, voters waited in long lines because of fewer polling sites this year in Maricopa County. County officials earlier this year said fewer sites would be more cost-effective while still accommodating projected voter turnout.
And last month, Maricopa County elections officials botched the ballot for the May 17 special election.
The ballot, which went to more than 1.3 million households in the county, gave the wrong title for Proposition 124. Instead, the Spanish version of the ballot depicted it as an education-finance measure, which actually is Proposition 123.
Now, Ryan says Reagan is "disenfranchising" voters.
Tom, maybe you should ask the court to appoint a special master to oversee Arizona's elections for the rest of the year, removing our totally incompetent Secretary of State from any role so that she cannot cause any more screw ups than she already has, and cost the state even more money in litigation. The stakes are getting higher with each election.
The Republic's Laurie Roberts has a good summary, At least 400,000 early voters didn't get election info on time:
From the here-we-go-again department: another Arizona election snafu.
This time, involving vital information about what's on the May 17 ballot.
At least 400,000 early voters didn't get a publicity pamphlet on time, as required by law, and some got it just last weekend – fully two weeks after early ballots hit the mailbox.
Attorney Tom Ryan [has filed] a complaint today with Attorney General Mark Brnovich, asking the election be postponed.
State Treasurer Jeff DeWit, who is leading the opposition to Proposition 123,  also called for a postponement, saying the lack of voter information was a "huge concern" and a boost for the pro-Prop. 123 campaign.
* * *
The law says voters "shall" get their publicity pamphlet – containing Propositions 123 and 124, an analysis of what they do and statements for and against them – before the first wave of early ballots arrive.
Early ballots hit Arizona mailboxes beginning on April 21.
Two weeks after info 'shall' be received
Matt Roberts, spokesman for Secretary of State Michele Reagan, confirmed this morning that 200,000 households in rural Arizona didn't get a publicity pamphlet on time. The households skipped were those outside Maricopa and Pima Counties that had more than one early voter — meaning at least 400,000 voters didn't receive the required information on time.
Roberts attributed the problem to a computer error.
He said those who didn't get the booklet on time "should have the publicity pamphlet beginning last weekend."
Two weeks after state law said they "shall" be received.
Just the latest 'inadvertent error'
Roberts told me "It was an inadvertent error with our system that our vendor didn't alert us to."
One of so many inadvertent errors in recent times. (See: Spanish language ballots, see presidential primary fiasco.)
* * *
Postpone the election?
Ryan wants the election moved to either the Aug. 30 primary or the Nov. 8 general election.
"Our secretary of state did not do her job," he said. "This is her second large election and she has once again muffed it up. It's not even close."
Kory Langhofer, an elections law attorney [who works for Arizona Republicans], says no judge would postpone the election.
"It's obviously not kosher," he said. "I would be astonished if a judge gave them any relief at all."
Langhofer said the best that Ryan could likely hope for would be to extend the May 17 deadline by the number of days early voters didn't have the publicity pamphlet — giving them extra time to vote.
This might have been true before the legislature changed the standard of review to be followed by the courts from "substantial compliance" to "strict compliance" last year. Funny how this has come back to bite them.
Arizona requires 'strict compliance'
Those who want this election to proceed on May 17 should consider the will of our leaders.
Several years ago, the Legislature tightened up the law on recalls and referendums after Republicans were unsuccessful in stopping the Russell Pearce recall due to various small errors.
As a result, Arizona now requires "strict compliance" with the laws that lay out how recalls and referendums must proceed.
Ryan says that leaves this election in violation of the law. Langhofer, meanwhile, says the strict compliance rule applies only to those seeking to put something on the ballot, not to the administration of the resulting election.
Sooo, the law only exists to make it more difficult for you uppity citizens to exercise your constitutional rights to citizens initiative, referendum and recall. But our lawless Tea-Publican overlords are exempt from complying with the law because IOKIYAR. If "strict compliance" means anything under the law, Tom Ryan is correct. No one is above the law.
It'll be up to Brnovich or maybe a judge to decide whether the May 17 election can proceed.
Meanwhile, consider where we are in elections of late.  This – leaving voters to cast a ballot on two major referendums without the information required by law – no doubt is inadvertent.
But it's no small error.
One wonders if it would have happened had Secretary of State Michele Reagan spent more time overseeing this election and less time lobbying the Legislature to open the floodgates to more "dark money" and other campaign-finance "reforms."
The "dark money on steroids" bills supported by the Secretary of State are just another reason for her removal from office.