Legislative District 10 is represented by Democratic state Senator David Bradley, a longtime Democratic party leader and well-regarded advocate for children.
His Republican opponent is a political newcomer, Randall Phelps, a retired Army helicopter pilot and aviation trainer.
Bradley is running traditional and has raised $46,179. His expenditures are $22,214 according to the financial statement on the Secretary of State web site, leaving a war chest of $23,965.
Phelps has raised $8,679, more than half that amount, $4,514 from his own funds. What I find odd is his expenditures, which are only $2,104, half of that amount, $1,320, to the Citizens Clean Elections Commission. He apparently started out as a Clean Elections candidate, but did not have enough supporters to meet the qualifying amount. There do not appear to be any expenditures for signs or literature on the financial statement on the Secretary of State web site.
The Arizona Daily Star candidate summary reported:
Democrat David Bradley is seeking a third term as state senator, and Republican Randall Phelps is running for the first time.
Bradley's political career has included serving as chairman of the Pima County Democratic Party, four terms as a state representative, a lost race for Corporation Commission, and two terms as a state senator.
Bradley says the job is often about answering constituents' requests for help with regulatory red tape, such as problems with professional licensing. He tries to look at every bill through the lens of how kids would be affected, Bradley said.
"One of the cooler moments" of his career came on the last day of the most recent legislative session, when a bill he'd worked on for a year and a half to expand school choice vouchers for disabled kids up to age 22 from the current limit of age 18 became the "center of a storm of hubris."
A measure to reinstate KidsCare was tacked on to the bill, leading to a close vote that restarted the KidsCare Medicaid program for about 30,000 children.
Phelps said he, too, would have voted for KidsCare.
Phelps grew up with Mike Oxley, who went on to become an Ohio congressman. They imagined a future in which Oxley was president and Phelps was the Air Force One pilot. When Oxley died on Jan. 1, it was a turning point for Phelps, who'd been on the periphery of politics as a pilot for a number of candidates, and he decided to get involved.
He's had mixed results in his dealings with politicians in his personal life.
When he got turned down for a V.A. home loan and lost an appeal, he wrote to his then-senator and got dismissed. But Sen. John McCain helped him get his benefits back when he retired one day short of his 20 years in the Army Reserves, and McCain also helped him resolve a spat with the IRS, he said.
But "why do we have to go through a senator to get anything done in the government?" Phelps wondered aloud.
"It's just a stalemate. It's just sad what's going on," he said. "Blue" or "red," people want politicians to work together, Phelps said.
Phelps, who served in Vietnam and in Operation Desert Storm, said his top issue is helping veterans get jobs and start businesses.
Phelps said the average age of a military retiree is 47. "We need to keep veterans here" and working in the aviation industry for employers such as Raytheon, he said. Whether he's elected or not, he said he plans to work with Startup Tucson to help veterans start their own businesses.
He supports exempting $5,000 of military retirement pay from state income taxes, up from the current $2,500.
Bradley, who served in the Navy for eight years as a cryptologist, warned against a piecemeal system of tax cuts and exemptions.
EDUCATION FUNDING
Phelps supports more funding for K-12 schools and career and technical education. He said the Legislature should look for efficiencies in state government to pay for teacher pay raises.
Bradley supports more funding for early childhood education programs and community colleges. He said for-profit colleges need more oversight by a state agency.
He proposes making a portion of in-state college tuition tax deductible. Phelps agreed that proposal should be on the table.
Bradley also proposes replicating the community schools model used by Flowing Wells to add existing social services and nonprofit resources to schools. He said he's trying to get conservatives to buy in by demonstrating long-term savings and teacher retention.
The Arizona Daily Star has endorsed state Senator David Bradley for reelection.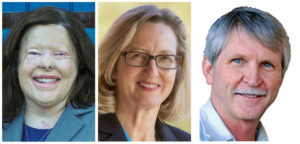 The incumbent House member in LD 10 is Democrat Stefanie Mach, running for her third term. Her seat-mate, Democratic Representative Bruce Wheeler, is leaving the legislature.
Two candidates are vying for the open seat, University of Arizona law professor Kirsten Engel, a Democrat, and print shop owner Todd Cloddfelter, a Republican running for the third time in this district. (This guy must really love his work because he has signs posted all over town, although he does not appear to be using his own print shop to produce them).
Stefanie Mach and Kirsten Engel are running traditional. Mach has raised $34,203 and spent $14,353. Engel has raised $65,555 and spent $54,364 (there was a contested Democratic primary). Cloddfelter is running as a Clean Election candidate again this cycle. He has raised $44,399 and has spent $28,915, according to the financial statements on the Secretary of State web site.
The Arizona Daily Star candidate summary reported:
All three candidates say they are prepared to work with members outside of their party to accomplish what's best for the state and that ultimately each party wants to achieve the same goals.
"What we all want is very similar, it's just the means to get there that are different," Mach said.
She talked about the issue of Medicaid expansion, which came before the legislature during her first year in office, citing her experience navigating the lengthy process, which she referred to as a delicate situation.
"No one knew internally if it was going to work out until it did, and we all worked together to make sure that the 300,000 people who were vulnerable had access," Mach said.
Clodfelter said he has belonged to organizations his whole life, all of which have been nonpartisan. He cited Boy Scouts, Rotary Club and his church as a few examples.
"We accomplished a lot with those organizations, because of all of the different ideas people had," he said. "It's just a matter of working together."
Engel cited her experience as an attorney, saying that when she worked as an assistant attorney general in Massachusetts, she successfully negotiated an agreement with a large paint manufacturer to warn consumers about the hazards of lead-based paint exposure.
"We were the first state to do that, and we became a model for states across the country," she said, adding that at times the negotiations were tense.
CANDIDATES' PRIORITIES
All of the candidates agree education is the most pressing issue facing the state, and Proposition 123 was not the right solution.
"I don't believe it was the only choice, but it was the only choice we had before us at the time," Mach said, adding that she voted against it when it passed through the legislature.
Each of the candidates also mentioned the state's infrastructure as a priority. They differed on what additional problems Arizona needs to "fix," although each agreed that both a short- and long-term plan would be necessary to achieve those goals financially.
Mach wants to take on prison reform, saying the largest housing unit in the state for mentally ill people is the state prison system. She said it would cost less for the state to treat substance abuse and mental health issues than to put people in prison.
A former attorney for the Environmental Protection Agency, Engel has included the environment on her list of priorities.
"People are concerned about the water issue," she said. "They feel like Tucson has been a leader in efforts to protect the environment, but now the state needs to follow its lead."
Clodfelter talked about mending the economy and the need for more jobs, but said it wouldn't be easy to repair any of the problems the state currently has.
"You can't fix just one aspect of these issues," he said. "If you change one piece of the design, you have to plan for the rest."
The Arizona Daily Star has endorsed state Representative Stefanie Mach for reelection and endorsed Democrat Kirsten Engel for the open seat.
The Legislative District 10 Citizens Clean Elections Debate is Tuesday, October 18 at 6:00 p.m., at Pima Community College District Office 4905 East Broadway Blvd, Tucson, Arizona.