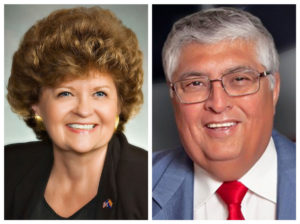 Legislative District 14 is represented by Senator Gail Griffin, a member of the Neo-Confederate Secessionist wing of the Tea-Publican Party.
During her tenure in the Arizona legislature, Griffin has voted for every crazy bill seeking to "interpose or nullify" federal laws on gun regulations, Clean Air and Clean Water Act regulations, etc. Her pet peeve is the Endangered Species Act for Mexican grey wolves. Griffin really hates Mexican grey wolves.
Griffin also has voted for every crazy bill from the Tenth Amendment Center and the Cliven Bundy crowd seeking to seize federal lands for private use by the state, i.e., to sell the land at rock-bottom prices to the corporate cronies who fund political campaigns. Griffin likes to cal this "unacceptable federal overreach and intrusion," just another way of shouting "states rights!"
Gov. Doug Ducey vetoed two measures sponsored by Sen. Gail Griffin that would have undermined provisions of state laws designed to protect the state's water supply going back more than three decades, SB 1268 and SB 1400, "special" bills designed to benefit a 7,000-home Sierra Vista development called Tribute that wildlife and water activists say could kill the tiny San Pedro River and possibly endanger the future of the Army's Fort Huachuca.
Griffin does, however, believe in the power of the state to crush the will of county and local governments. Griffin introduced SB 1357, which would have seized part of Pima County — conveniently the part where Rosemont Mine is located — and give it to Santa Cruz County. That bill died.
Griffin also vote for SB 1487, a new state law that empowers the Legislature to redistribute shared revenues — gas tax and other funds — to other cities, if the attorney general is notified that a city is not abiding by state law. Griffin was the first person to contact Arizona Attorney General Mark Brnovich in an effort to kill the City of Bisbee's plastic bag ban ordinance.
Griffin voted against Medicaid expansion (and is a plaintiff in the lawsuit challenging its enactment) and the restoration of KidsCare funding. She voted for SB 1516 the GOP's "dark money on steroids" bill, while voting for every GOP voter suppression bill.
The list goes on and on, far too many to document here. Southern Arizonan's would do themselves a huge favor by kicking this far-right reactionary out of office. Luckily there is a sane Democrat running against Griffin for whom you can vote this year.
Jaime Alvarez is a retired Army auditor who decided to run because "my blood is boiling" over the state of education funding in Arizona. Education issues led Alvarez to run against Griffin in District 14:
Alvarez is participating in the clean elections system, which means he doesn't accept donations from special interests. He supports campaign finance reform, saying he is against outside spending in state elections. [See Griffin's vote for SB 1516 above].
Griffin has raised about $41,000 for her campaign, including major donations from the political action committees of Pinnacle West, Freeport-McMoRan, Realtors of AZ and Cox Arizona.
Griffin supported Proposition 123, which was meant to increase teacher pay and end a longstanding legal battle between the state and school districts. "It was a way to solve some issues and get $3.5 billion into education without raising taxes," she said in an email.
She supports creating more revenue for education by transferring control of federal lands to the state, to increase the state tax base.
Alvarez said that strategy ignores the fact that 68 percent of Arizonans voted against Proposition 120 in 2012, which would have given the state authority over federal lands.
"My opponent and I were at a Tea Party debate in Safford and her comment was, 'The road to prosperity is cutting taxes,'" but tax cuts are why Arizona doesn't have enough money to spend on education, Alvarez said.
Alvarez opposed Prop. 123, saying the state should have used the money it has, including this year's budget surplus, instead of "completely blowing off the people" by failing to adjust school funding for inflation according to a 2000 voter-approved mandate.
As a result, school districts are asking taxpayers for more bonds to take care of deteriorating buildings and buses, Alvarez said.
Alvarez said the state could cut tax credits that benefit private schools to help raise revenue for public education.
Alvarez supports strengthening community colleges and joint technological education districts. The state also should "quit taking Highway User Revenue Fund dollars that are supposed to go to counties and cities," he said.
Alvarez also criticized Griffin for voting against KidsCare, an expansion of Arizona's Medicaid program for low-income children, and for signing on to a lawsuit over the Medicaid expansion. "That ideology is really detrimental to our district and our state," he said.
In the House, Representative David Gowan termed out of office and ran for Congress before having to drop out for lack of support. David Stevens has also termed out of office. Both House seats are open seats.
The Arizona Daily Star candidate summary provides:

Voters in District 14 have four candidates to choose from for two open state House seats, Democrats Mike Holmes and Jason Lindstrom, and Republicans Drew John and Becky Ann Nutt.
The two House seats are open, with incumbent Republicans David Gowan and David Stevens stepping down.
John has raised about $34,300 for his campaign, including major donations from Arizona Cardinals President Michael Bidwill and Tucson auto dealer Jim Click. The other candidates are participating in the clean elections system, meaning they do not accept donations from special-interest groups.
Here's where the candidates stand on a few key issues:
EDUCATION FUNDING
Republicans John and Nutt supported Proposition 123, the voter-approved measure meant to increase teacher pay and end a years-long legal dispute between schools and the state. Democrats Holmes and Lindstrom opposed it.
Holmes said the Legislature should stop shifting money away from education and focus on funding for teachers, buildings and buses. He opposes the expansion of the state's school voucher programs and the Empowerment Scholarship Account program, saying those programs would hurt small and rural school districts.
John said Prop. 123 was not the ultimate answer to school funding, but lawmakers can get serious about finding solutions now that the courts and politics are out of it. He said legislators need to do more listening to outside ideas.
Lindstrom called Arizona's low ranking among states in education spending "embarrassing." He opposed Prop. 123 because he thought it unwise to spend the state land trust funds more quickly. He said the state should look for more efficiencies to shift funds to education.
Lindstrom also said he wants government to be more transparent, and to promote that he'd wear a camera on the job if elected.
Nutt said she supported Prop. 123 because education leaders supported it. On the campaign trail, she's met with as many school superintendents as possible to learn about the different needs of different school districts. The Legislature should focus on updating the school-funding system to better meet districts' needs, she said.
She supports shifting some federally controlled lands to state control, excluding park lands, to put more money in the land trust that helps fund education.
ECONOMIC DEVELOPMENT
Holmes said Cochise County is losing population largely because of Defense Department cutbacks at Fort Huachuca, and the area needs to diversity its economy. He supports Sierra Vista's plans to create a tech education hub.
Holmes and Lindstrom support plans to add an industrial port of entry in Douglas, like the one in Nogales, and an inland port in Willcox. More investment in infrastructure is needed to make it happen, Holmes said.
Holmes also supports a procurement preference for veteran-owned businesses in state contracting, which he said would help more veterans get jobs and start or grow businesses.
John said rural Arizona has always struggled in economic development because it doesn't have spare money to spend. He said he'd focusing on helping to create an educated workforce and encouraging community colleges to work with businesses to align curriculum to workforce needs. John also would work to help small businesses in rural areas get better access to capital and training for applying for government loan programs.
John also said it's important to change the negative rhetoric about border towns and focus on area assets.
Nutt said she started a chamber of commerce and a tourism council in Greenlee County to help stabilize local economies there. She said she wants to help preserve the rural way of life by strengthening local economies and maintaining workforce training programs. "It does the state no good to have areas that are floundering," she said.
BORDER ISSUES
Each candidate said enforcing immigration law is a federal responsibility, but consideration should be given to crime that comes across the border.
Holmes said the Legislature should empower county sheriffs and stop sweeping funding from sheriff's departments. Nutt agreed that the state should address the needs of border sheriffs.
John and Lindstrom said the state should push harder on the federal government to address illegal immigration and border-area crime. John said the state should get involved when the federal government won't.
The Legislative District 14 Clean Elections debate is tonight, Wednesday, September 28 at 6:00 p.m., at the Benson City Hall, 120 W. 6th Street, Benson, AZ. Voters are encouraged to visit http://www.azcleanelections.gov/ to submit questions for candidates.