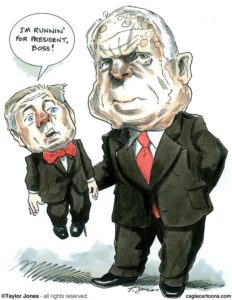 The littlest rebel, little Lindsey Graham (R-SC), spent many years as John McCain's loyal puppet boy.
Whatever John McCain had to say, Lindsey Graham was right there at his puppet master's side, parroting whatever John McCain had to say in a bad ventriloquist puppet act. Jeff Dunham McCain was not.
But when John McCain died, the puppet boy was suddenly alone without a puppet master. He feared that he would sit on a shelf to be forgotten, or maybe thrown away like the toys feared in Toy Story 3. He had to find himself a new puppet master.
Donald Trump, the predatory grifter and con man in the White House knew this all too well. He knows an easy mark to prey upon when he sees one. Lindsey Graham was, alone, weak and vulnerable without John McCain. A few rounds of golf at Trump's golf course and the next thing you know, little Lindsey Graham had found himself a new puppet master. Trump retooled his puppet boy into Lindsey "Stonewall" Graham, a nasty, authoritarian, mean-spirited little puppet boy that better reflected the personality of his new puppet master.
Trump's puppet boy Lindsey "Stonewall" Graham was in full authoritarian mode on Thursday in the Senate Judiciary Committee. Senate panel advances asylum bill over Democratic objections: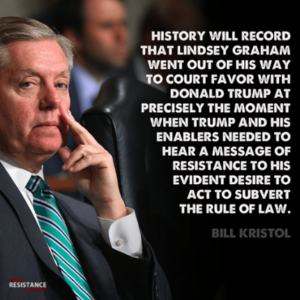 At the outset of the markup, Graham said the intent of the bill was to reduce the flow of migrants to the border. "We need to cut this flow off," he said.
The bill, in broad strokes, would strip several protections for migrant children and generally make it much more difficult to obtain asylum in the United States. It also would give more power to the Department of Homeland Security to make decisions on migrants without going through judicial review.
In particular, the legislation seeks to modify the Flores agreement — a 1997 court settlement that requires migrant children to be placed in the least restrictive setting, and released from custody "expeditiously." A recent court ruling interpreted the limit on detaining children to 20 days.
His bill would reverse the order on detention known as the "20-day rule" and allow for children to be held by immigration officials for up to 100 days.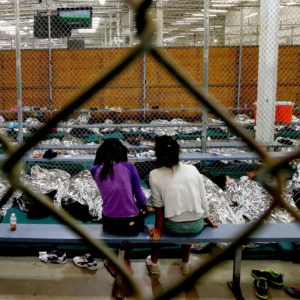 Graham's bill would lift that limit and also loosen standards of care for children in government custody. Some provisions in the bill would also make it more difficult for abused and neglected children to receive protection in the United States. These measures, Graham has argued, would create disincentives for migrants from making the dangerous journey to the border.
Because The Cruelty Is the Point.
Thursday's markup was short and marked by drama: Democrats argued Graham rushed through approval of the bill by sidestepping committee procedure and without much debate or allowing for amendments from Democrats.
Afterward, ranking member Dianne Feinstein of California lamented that the bill did not "enjoy broad support" and that "it would increase problems at the border." She said that a number of Democrats had requested that the bill be held over until after the August recess, and that Graham's refusal to do so was a violation of procedure.
"Democratic members requested we hold Chairman Graham's a bill over until the August recess as required — as required by our rules," Feinstein continued. "I urged the chairman to honor that request. It was not … The committee will be breaking and violating its own rules. Why even have rules if they can be broken whenever it is expedient to do so, or whenever it suits the will of the majority or the chairman?"
It's for that reason, Feinstein said she strongly objected to moving forward, saying it would be the first time in her 26 years in the Senate that there was a "blatant disregard [of] quorum and holdover rules." (h/t RawStory).
"No matter how many committee rules or Senate rules are broken, this bill will not become law," she said. "It begs the question: Why are we doing this?"
Sen. Patrick J. Leahy, who has enjoyed a decadeslong tenure on the committee, said that it "is not what it used to be." In a dramatic gesture, he tore up a copy of the committee rules, which he noted every member had voted on six months ago. The Vermont Democrat called the committee "a conveyor belt of ultra partisan ideas."
"This is supposed to be the Senate Judiciary Committee — not the Donald Trump committee," Leahy said.
* * *
Before the markup, about 150 immigrants' rights organization signed onto a letter opposing the legislation, arguing that it would "foreclose lifesaving protection and subject children as young as toddlers to prolonged and harmful incarceration."
In a statement, the advocacy organization America's Voice argued that Graham's position had shifted greatly since 2013, when he was one of the main players working on a comprehensive, immigration overhaul as part of the Gang of Eight of bipartisan senators.
"As Senator Graham performs today for an audience of one, those of us who knew him when mourn the loss of a leader who once fought bravely for great causes and now fights cravenly for a cruel man," the organization said in a statement.
After the bill was approved, several Democrats raised points of order, objecting to the way the markup was conducted. "I am sick at heart at what we've done — I hate being here right now, I hate what has just happened here," said Sen. Sheldon Whitehouse of Rhode Island. "If the chairman's reading of rule 26 is given any credence, then we are in the majority free-for-all, where no rule, no procedure, no principle, no protocol, and no courtesy matters any longer."
Sen. Mazie K. Hirono of Hawaii ended the session by remarking on the substance of the bill, given that no amendments from Democrats had been allowed. "This gives so much power to administrative decision making that in a word, it's nuts — and probably unconstitutional."
The legislation, which has little chance of passing in the House, was approved with one manager's amendment. It now heads to the Senate floor, where Graham said he wants the measure to become part of larger negotiations between the House and Senate over the Homeland Security appropriations bill after the recess.
Lindsey Graham has thoroughly debased himself and demonstrated that he lacks any character or convictions. This sad, pathetic little man needs to be removed from the Senate in 2020. He has a serious Democratic opponent, Jaime Harrison, a former chair of South Carolina's Democratic Party, who needs your help. Jaime Harrison for Senate.
UPDATE: Well sure, why not? The Hill reports, #LeningradLindsey trends after Graham forces asylum bill through Senate committee:
The hashtag "LeningradLindsey" trended on Twitter Thursday after Sen. Lindsey Graham (R-S.C.) forced a controversial asylum bill through committee.
Hundreds started using the hashtag invoking Leningrad — the Soviet-era name of the Russian city of St. Petersburg — slamming Graham for the move.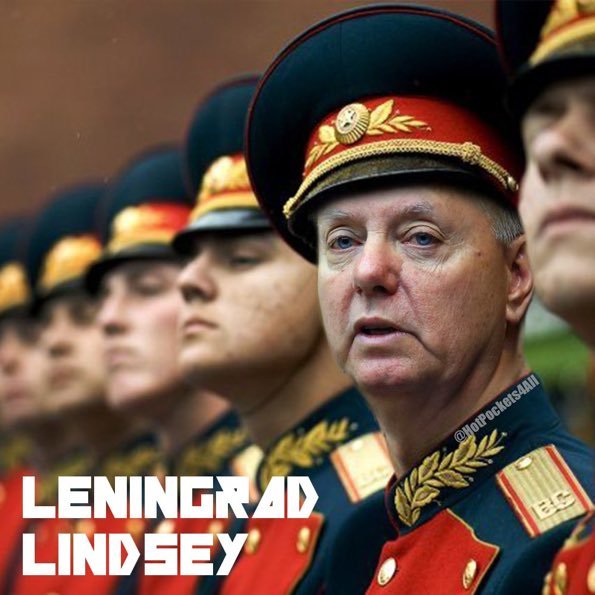 "#LeningradLindsey is breaking procedural code, lying to the American people, and has betrayed the principles this country was founded upon," one person tweeted.
"Resign, #LeningradLindsey," another tweeted.
And then there is this excellent catch … Russian oligarch oil money flowing to Lindsey Graham's failed presidential campaign. Is there any Republican who is not on the take from the Russians?
Here is the report at Medium. Lindsey Graham, Russian Oil Money & A Campaign Finance Scandal:
Len Blavatnik is a Russian oligarch with US and UK citizenship who donated to Sen. Graham's 2016 presidential campaign. Blavatnik made many of his billions off Russian oil. He is also long-term business partner of Kremlin-linked Russian oligarch Oleg Deripaska at RuSal, the aluminum giant in which he is a major investor, as well as Viktor Vekselberg, who is entangled with Trump's personal lawyer Michael Cohen through his U.S. family office Columbus Nova.
Sen. Graham's political action committee received a total of $800,000 from Blavatnik via his company, Access Industries. He received $500,000 in May 2015 just before Donald Trump declared and another $300,000 in October 2015, long after it was publicly apparent Graham's campaign had no traction in the polls. The Blavatnik family, including Len, donated another $57,000 to Graham's campaign directly, but the Senator's campaign later returned $13,500.
Senator Graham abandoned his 2016 campaign for president on December 21, 2015. Blavatnik gave $7.35 million to PACs working for high-ranking Republicans, including both the Speaker of the House and Senate Majority Leader, during the 2015–16 federal campaign cycle. Special Counsel Robert Mueller was probing donor Blavatnik for his ties to Donald Trump and specifically a million dollar inaugural donation.
* * *
This report also indicates that a Ukrainian food industry executive — who used to work for the sanctioned Russian bank, Sberbank — and his family, who are based in New Jersey, were also significant donors to Graham's presidential campaign, who had excessive donations returned.
Lastly, the report notes that Sen. Graham received illegal campaign donations from a Chinese-American virologist.
The person who arranged the illegal campaign donations scheme was a biotech company CEO named Dr. Jian-Yun Dong aka Dr. John Dong and his wife Dahner Wang. Eventually, Dong was convicted for arranging illegal foreign campaign contributions to Graham and was sentenced to 18 months in jail for that charge. He received an additional 70-month federal jail sentence in his second trial on federal corruption charges, for converting research funds into a lobbying slush fund and a source of funds for real estate improvements.
Sen. Graham helped Dr. Dong obtain earmarks totaling $19.6 million in federal grants from NIH and the military. His wife Wang turned on him, cooperating with prosecutors and leading to the scientist's conviction and imprisonment.
Lindsey Graham was not charged in the criminal case against Dr. Dong, because prosecutors "found no evidence" he knew of multiple illegal schemes by his political donor.