While Special Counsel Robert Mueller continues working quietly behind the scenes, there have been several excellent pieces of investigative journalism in recent days following leads on the Russian collusion thread of the investigation. These are lengthy investigative reports that I will not attempt to parse out here.
Luckily, Andrew Prokop at Vox.com has already posted an excellent summary. The past 48 hours in Mueller investigation news, explained (paragraphs reordered for clarity):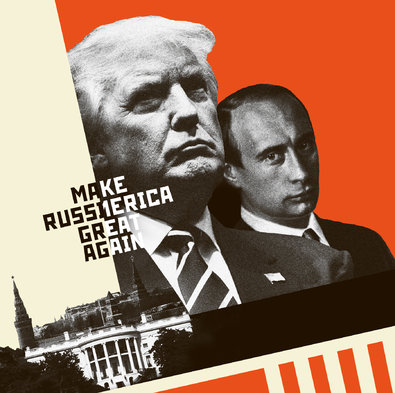 New reports over the past two days have brought increased attention to three long-simmering subplots in special counsel Robert Mueller's Russia investigation.
First, the Wall Street Journal revealed new details about GOP operative Peter W. Smith's quest to obtain Hillary Clinton's emails from Russian hackers during the 2016 campaign — including that he raised at least $100,000 for the effort and then pitched in $50,000 of his own money. (Smith was found dead last year, and local authorities ruled his death a suicide.)
Peter W. Smith: what happened when he sought Hillary Clinton's emails from Russian hackers?
What we already knew: During the 2016 campaign, 80-year-old GOP operative Peter W. Smith recruited a team to try to obtain Hillary Clinton's 33,000 deleted emails from "dark web" hackers — including hackers he thought were "probably around the Russian government." It's not clear if Smith had any success, but we know he tried because he freely admitted all this to reporter Shane Harris in May 2017.
Then, 10 days after Smith told his story to Harris (but before it published), Smith was found dead in a Minnesota hotel, with a plastic bag over his head and a source of helium attached. Per the Chicago Tribune, an accompanying note said Smith was taking his life because of a "RECENT BAD TURN IN HEALTH SINCE JANUARY, 2017," and because of "LIFE INSURANCE OF $5 MILLION EXPIRING." The note stated that "NO FOUL PLAY WHATSOEVER" was involved in his death. Local authorities ruled his death a suicide.
Since Smith's death, we've learned that he name-dropped Michael Flynn a lot during the email quest, and that Smith distributed a document suggesting "Trump campaign" involvement. Harris also reported that US intelligence reports describe Russian hackers talking about how to get Clinton emails to Flynn through an intermediary. Mueller's team started looking into the matter last year.
What's new: On Sunday, the Wall Street Journal's Byron Tau, Dustin Volz, and Shelby Holliday reported several fascinating new details about Smith's operation and investigators' interest in it.
First off, they described how Smith communicated with some associates about the project. He and others had access to a Gmail account with the name "Robert Tyler." Sometimes, rather than sending emails, they would simply type messages in the "drafts" folder to try to avoid a paper trail. (The other person could then log in and see the draft.)
Second, they revealed that a large amount of money was involved. They describe an October 11, 2016, email in the account from an unknown person called "ROB" to Smith, mentioning in an apparent code that "$150K" will "allow us to fund the Washington Scholarship for the Russian students." The code is somewhat undercut by the subject line ("Wire Instructions — Clinton Email Reconnaissance Initiative") and a mention that "the students are very pleased with the email releases they have seen" (WikiLeaks had begun posting John Podesta's emails a few days earlier).
Finally, the Journal reporters say that Mueller's team has remained quite focused on John Szobocsan, a business associate of Smith's who was involved in the email operation, was interviewed by the special counsel's team three times this year, and went before a grand jury in August.
The questions remaining: Did Smith's operation come up with nothing in the end, as he claims? After all, Clinton's deleted emails were never released. Was he operating independently (as he claimed to Harris), or was the Trump campaign involved somehow (as his document claimed)? And, uh, are local authorities correct that he killed himself?
Smith may be dead, but Flynn is alive and cooperating with Mueller, so he may have provided some answers. But the fact that a grand jury was hearing testimony about this as recently as August suggests it's still very much under scrutiny.
UPDATE: The Wall Street Journal adds today that Peter W. Smith struck up a professional relationship with Lt. Gen. Michael Flynn, the former national security adviser to President Trump, as early as 2015, and told associates during the presidential campaign that he was using the retired general's connections to help him on the email project. Late GOP Activist Peter W. Smith Met With Former Trump Adviser Michael Flynn in 2015.
Second, the New Yorker revisited the question of mysterious online communications between a Russian bank [Alfa Bank] and a domain tied to the Trump Organization. This topic came up during the campaign and was received skeptically, but now the New Yorker quotes experts who've reviewed the data and still suspect there's something there.
Alfa Bank: what is up with a Russian bank's online contacts with a Trump domain?
What we already knew: All the way back in October 2016, Franklin Foer asked in a reported piece: "Was a Trump server communicating with Russia?" He asked because computer scientists crawling the internet for signs of Russian hacking online had noticed something odd: that two servers owned by Russia's Alfa Bank had repeatedly looked up a Trump Organization domain (mail1.trump-email.com) over several months. Then two days after New York Times reporter Eric Lichtblau asked Alfa's lobbyists for comment on the matter, the Trump domain was deleted, which seemed odd.
But Foer's piece was received skeptically. For one, when Lichtblau's Times piece finally ran, it was under the soon-to-be infamous headline "Investigating Donald Trump, FBI sees no clear link to Russia," and said the FBI had "ultimately concluded that there could be an innocuous explanation, like a marketing email or spam, for the computer contacts." Other media outlets and commentators chimed in to opine that because the Trump domain was administered by a separate company handling the Trump Organization's marketing emails, the "spam" explanation or some other mistake was more likely.
So the conventional wisdom became that Foer's piece was probably wrong, and that's remained the case even after Trump-Russia links started looking a lot less conspiratorial. Still, CNN reported in March 2017 that the FBI was still looking into the topic.
What's new: On Monday, the New Yorker's Dexter Filkins revisited the issue at length. He talked to members of the initial group of computer experts who first surfaced the matter, who reaffirmed their analysis that this was not a coincidence. He also revealed that a former FBI investigator and Democratic Senate staffer, Dan Jones, had assembled two separate teams of computer scientists to independently look over the server data.
They concluded that the domain lookups were deliberate and likely entailed some form of communication (perhaps use of an instant messaging service). "Is it possible there is an innocuous explanation for all this?" one told Filkins. "Yes, of course. And it's also possible that space aliens did this. It's possible — just not very likely." In the article, they elaborate at length as to why they think so (and Alfa Bank continues to dispute their claims).
The questions remaining: I'm not equipped to judge the technical details of this argument, but if you do buy it, the questions of what this communication actually entailed and who was involved remain unanswered.
The piece notes that one of the only other companies to repeatedly look up the Trump domain was Spectrum Health, a Grand Rapids, Michigan, health care nonprofit whose board chairman is Dick DeVos — brother-in-law of the aforementioned Erik Prince. It also mentions that the curious server traffic mostly occurred within the time Paul Manafort chaired the Trump campaign, though it continued after he resigned in August 2016.
Now, of these three stories, Alfa Bank is the one with the weakest evidence that Mueller is still investigating it. (The FBI looked into the matter before Mueller's appointment, but we don't have a more recent report confirming continued interest.) Still, Manafort recently flipped, meaning if he does know anything nefarious about this, Mueller probably now knows too, so stay tuned.
UPDATE: Natasha Bertrand of The Atlantic reports today The Trump Campaign Says Exploiting Hacked Emails Is Free Speech: The Trump campaign lawyers argued in a motion to dismiss argued the First Amendment protects the campaign's "right to disclose information—even stolen information—so long as (1) the speaker did not participate in the theft and (2) the information deals with matters of public concern." While there is no evidence yet that the Trump campaign knew about or aided in the hacking itself, campaign-finance laws prohibit candidates from accepting "anything of value" from a foreign national. [Receipt of stolen property and conversion of stolen property are also crimes.]
Third, the New York Times revealed that an Israeli firm called Psy-Group pitched its "social media manipulation" services to Trump campaign aide Rick Gates in early 2016, but that Gates didn't hire the firm. Mueller's team has been investigating Psy-Group closely for months for reasons that are not entirely clear but seem to be about whether the firm did in fact do work on behalf of Trump's campaign.
Psy-Group: did this social media "manipulation" company end up helping Trump, or not?
What we already knew: This year, Mueller's investigators have focused intently on a new set of non-Russian supporting characters in the scandal: a trio who met with Donald Trump Jr. in August 2016 to discuss how they could help the Trump campaign on social media.
There's Joel Zamel, owner of the Israeli "social media manipulation" company in question, Psy-Group. There's George Nader, an adviser to the crown prince of the United Arab Emirates. And there's Erik Prince, the American private security company CEO and brother of Education Secretary Betsy DeVos, who had a mysterious meeting with a Russian financier in Seychelles after the election. (Also shortly after the election, Nader paid Zamel about $2 million, for unclear reasons.)
Mueller has questioned both Zamel and Nader at US airports and called them in for grand jury testimony, and he's even sent FBI agents to Israel to dig into Psy-Group. But we still haven't gotten the full picture of why, and how it might relate to Russian interference.
What's new: On Monday, the New York Times's Mark Mazzetti, Ronen Bergman, David Kirkpatrick, and Maggie Haberman reported that Psy-Group actually pitched Trump campaign aide Rick Gates on their services back in March 2016.
At the time, the big question was whether Trump could hold on to enough delegates at the Republican convention to lock down the nomination. Psy-Group wrote a proposal that "veteran intelligence officers" would create psychological profiles of thousands of delegates and bombard them with "authentic looking" but fake online messages to encourage them to back Trump. However, Gates did not end up hiring Psy-Group, it seems.
The questions remaining: This has clearly been a major focus for Mueller this year, and the big question is why he's so focused on Psy-Group and this cast of characters. Might it involve information provided by his cooperators, Michael Flynn and Rick Gates?
The answer is unclear, but reading between the lines, Mueller may suspect Psy-Group did in fact end up doing social media manipulation on Trump's behalf (Zamel has denied this), that George Nader (who paid Psy-Group $2 million after the election) and Erik Prince were involved, and that there may even have been a Russian angle.
UPDATE: Richard Pinedo becomes third person sentenced in Robert Mueller's Russia probe:
A federal judge in Washington, D.C., sentenced Richard Pinedo on Wednesday to six months in prison followed by six months in home detention for his role in Russian meddling in the 2016 election. Pinedo, whose website sold Americans' bank information online, pleaded guilty in February to one count of identity fraud. Although he is not as well known as other individuals charged by special counsel Robert Mueller, Pinedo is the third person to be sentenced in connection to the investigation.
Pinedo's cooperation and testimony before the grand jury in D.C. assisted the special counsel's office in its investigation into Russian meddling in the election. However, out of the 16 defendants in that case, which include Yevgeny Prigozhin, the businessman known as "Putin's Chef," only one, Concord Management and Consulting, has sought legal counsel and entered a plea of not guilty.
Alex Van Der Zwaan received 30 days in prison for his role in the Russia investigation, and George Papadopoulos was sentenced to 14 days. Other defendants in Mueller's investigation like Michael Flynn, Richard Gates and Paul Manafort, have all yet to be sentenced. Flynn's hearing is scheduled for Dec. 18.
After Election Day, I would expect to see the Special Counsel move on two tranches of his investigation: Russian collusion and obstruction of justice. There are likely to be financial and/or tax crimes discovered in the course of the investigation as well.
---
Support volunteer citizen journalism at the Blog for Arizona with a donation today. Your secure contribution keeps the Blog online and sustains a free press in Arizona.
---