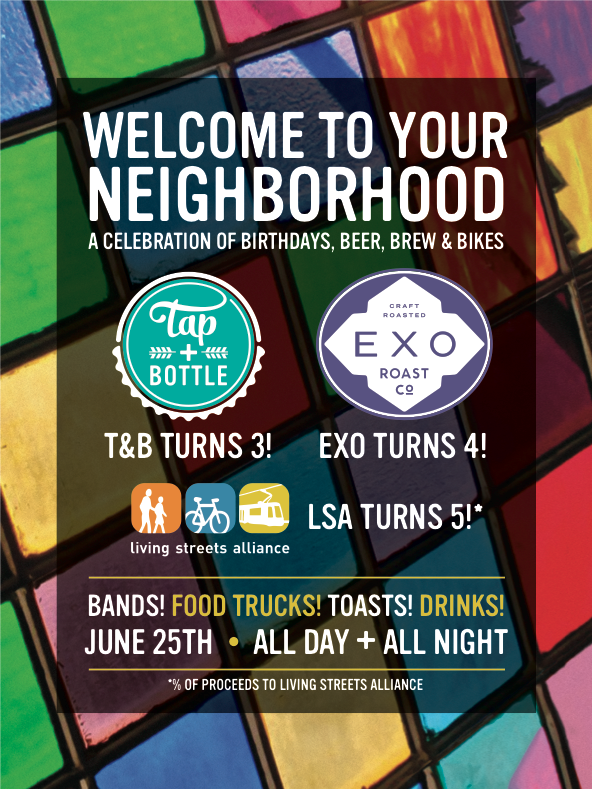 "This spring, Living Streets Alliance (LSA) turned five and we're finally getting around to celebrating. Because parties are way more fun when they're with our friends, we're teaming up with Tap & Bottle and Exo Roast Co. to throw a mid-summer fiesta in celebration of birthdays, beer, brew, and bikes. On Saturday, June 25th, a whole slew of events, activities, live music and more will take place at these two lovely establishments down the street from our office. Even better: a portion of all proceeds will go to support the work of LSA!
And, because we LOVE our members, we're throwing in some extra fun just for you. Stop by any time between Noon and 6pm and we'll have a coupon for a complimentary beer at Tap & Bottle, plus you'll be entered to win one of our Tucson Summer Stay-cation packages. If you come between Noon and 4pm, you can also grab a free scoop of Isabella's Ice Cream. And feel free to join in toasts and cake at 5pm to celebrate all that we've accomplished together over the past five years. It's gonna be a blast!" (from FB page)
This neighborly event starts at 10 a.m. and goes to almost midnight.
Exo Roast Company and Tap + Bottle are both at at 403 N. 6th Ave. (NW corner of E. 7th St. and N. 6th Avenue). LSA's new location is just up the street at the SW corner of E. 6th Street and 6th Avenue.
More on LSA at: www.livingstreetsalliance.org.