Malignant narcissist Donald Trump got all nonplused and angry over the humiliating beatdown he took from all sides in the media for his utterly moronic — and dangerous — suggestion at Thursday's "Daily Trump Show" that doctors should investigate whether injecting household cleaning supplies like bleach and Lysol into the body could kill the coronavirus "in a minute." He even suggested that injecting sunlight into the body — blowing sunshine up your ass — might work. You can't make this stuff up.
Trump was mercilessly mocked for his stupidity, and U.S. officials scrambled to warn against bogus cures floated by Trump. "We shouldn't have to tell you this, but DO NOT drink bleach."
Trump may have done his last "Daily Trump Show" on Friday, a mercifully short episode after Trump abruptly cut off the press briefing without taking any questions from the press shortly after Kaitlan Collins, CNN's White House Correspondent, refused to move to the back of the room. Trump stormed out of coronavirus briefing because CNN reporter refused order to sit at back of room.
Over the weekend, Trump said he was canceling the White House press briefings because they weren't "worth the time and effort" because the "Lamestream Media asks nothing but hostile questions."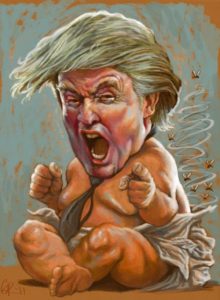 In other words, crybaby got his feelings hurt by everyone pointing out just how dangerously stupid he is, so now he wants to take his ball and go home and sulk in a pity party. "The press was mean to me! Waaa!"
Actually, White House aides and allies have made a concerted effort to get Trump to stop doing daily briefings because he might "just say something completely off the wall and off the rails," demonstrating for all the world to see just how incredibly stupid he is.
That ship has sailed, I'd say.
Over the weekend the New York Times and Washington Post did a breakdown of the "Daily Trump Show," and it paints a portrait of a man who is mentally and emotionally unwell and unfit to serve as president, especially during a pandemic crisis where lives are at stake.
The New York Times reported, 260,000 Words, Full of Self-Praise, From Trump on the Virus (excerpt):
The self-regard, the credit-taking, the audacious rewriting of recent history to cast himself as the hero of the pandemic rather than the president who was slow to respond: Such have been the defining features of Mr. Trump's use of the bully pulpit during the coronavirus outbreak.
The New York Times analyzed every word Mr. Trump spoke at his White House briefings aka the "Daily Trump Show" and other presidential remarks on the virus — more than 260,000 words — from March 9, when the outbreak began leading to widespread disruptions in daily life, through mid-April. The transcripts show striking patterns and repetitions in the messages he has conveyed, revealing a display of presidential hubris and self-pity unlike anything historians say they have seen before.
By far the most recurring utterances from Mr. Trump in the briefings are self-congratulations, roughly 600 of them, which are often predicated on exaggerations and falsehoods. He does credit others (more than 360 times) for their work, but he also blames others (more than 110 times) for inadequacies in the state and federal response.
Mr. Trump's attempts to display empathy or appeal to national unity (about 160 instances) amount to only a quarter of the number of times he complimented himself or a top member of his team.
[H]e has mentioned the coronavirus's staggering toll — nearly 50,000 Americans dead as of April 26, and hundreds of thousands of others sick — only fleetingly.
Mr. Trump has mentioned his immediate predecessor, President Barack Obama, roughly 10 times, sometimes in response to a question. And he has referred to previous administrations about 30 times, often accusing them of leaving him with faulty conditions. Mr. Trump has mentioned governors, individually or as a group, about 400 times, alternating between compliments and criticism.
While other presidents treated moments of crisis as an opportunity to bring the nation together, Mr. Trump, bereft of his signature campaign rallies, has used the evening television appearances as a branding exercise to promote himself. The briefings became so problematic — especially after Mr. Trump's dangerous suggestion last week that injecting disinfectant could help people who are sick with the virus — that the White House is now considering limiting them.
The Washington Post reported, 13 hours of Trump: The president fills briefings with attacks and boasts, but little empathy (excerpt):
What began as daily briefings meant to convey public health information have become de facto political rallies conducted from the West Wing of the White House — events that are now in doubt after an uproar last week over Trump's suggestion of another bogus coronavirus cure. The president has offered little in the way of accurate medical information or empathy for coronavirus victims, instead focusing on attacking his enemies and lauding himself and his allies.
Trump has spoken for more than 28 hours in the 35 briefings held since March 16, eating up 60 percent of the time that officials spoke, according to a Washington Post analysis of annotated transcripts from Factba.se, a data analytics company.
Over the past three weeks, the tally comes to more than 13 hours of Trump — including two hours spent on attacks and 45 minutes praising himself and his administration, but just 4½ minutes expressing condolences for coronavirus victims. He spent twice as much time promoting an unproven antimalarial drug that was the object of a Food and Drug Administration warning Friday. Trump also said something false or misleading in nearly a quarter of his prepared comments or answers to questions, the analysis shows.
Trump's freewheeling approach ended in a political crisis this past week, after the president's dangerous suggestion at a briefing Thursday that injecting bleach or other disinfectants might cure the coronavirus — "almost as a cleaning." The remarks set off a government-wide scramble and led to Trump telling aides Friday he would skip briefings this weekend. White House officials say privately they are considering scaling back the events entirely.
* * *
The Post analysis of Trump's daily coronavirus briefings over the past three weeks — from Monday, April 6, to Friday, April 24 — reveals a president using the White House lectern to vent and rage; to dispense dubious and even dangerous medical advice; and to lavish praise upon himself and his government.
Trump has attacked someone in 113 out of 346 questions he has answered — or a third of his responses. He has offered false or misleading information in nearly 25 percent of his remarks. And he has played videos praising himself and his administration's efforts three times, including one that was widely derided as campaign propaganda produced by White House aides at taxpayer expense.
[T]he most frequent target of Trump's attacks during the briefings was Democrats (48 times, over roughly 30 minutes), including former president Barack Obama and House Speaker Nancy Pelosi (Calif.). His next-favorite subjects for criticism were the media (37 times, over roughly 25 minutes); the nation's governors (34, over 22 minutes); and China (31 times, over nearly 21 minutes).
Expressions of empathy from Trump are rare. The president has mentioned coronavirus victims in just eight briefings in three weeks, mostly in prepared remarks. In the first week of April, when the nation's focus was largely on the hard-hit New York region, Trump began several briefings by expressing his condolences for the victims there.
* * *
Like his campaign rallies, the president's portion of the daily briefings are rife with misinformation. Over the past three weeks, 87 of his comments or answers — a full 47 minutes — included factually inaccurate comments.
"Some administration officials, outside Republicans and other Trump allies say the briefings have increasingly become a distraction, and they fear they are doing more to harm than help the president's reelection hopes." Ya think?!
Trump's downward mental and emotional spiral continued as Trump Spent Melania's Birthday Rage Tweeting About Not Winning A Nobel Prize:
On his wife's 50th birthday, Donald Trump spent the afternoon rage tweeting jealously about people who won a Nobel Prize for reporting on Russia.
Trump tweeted (some since deleted):
When will all of the "reporters" who have received Noble Prizes for their work on Russia, Russia, Russia, only to have been proven totally wrong (and, in fact, it was the other side who committed the crimes), be turning back their cherished "Nobles" so that they can be given….
— Donald J. Trump (@realDonaldTrump) April 26, 2020
….to the REAL REPORTERS & JOURNALISTS who got it right. I can give the Committee a very comprehensive list. When will the Noble Committee DEMAND the Prizes back, especially since they were gotten under fraud? The reporters and Lamestream Media knew the truth all along….
— Donald J. Trump (@realDonaldTrump) April 26, 2020
….Lawsuits should be brought against all, including the Fake News Organizations, to rectify this terrible injustice. For all of the great lawyers out there, do we have any takers? When will the Noble Committee Act? Better be fast!
— Donald J. Trump (@realDonaldTrump) April 26, 2020
Trump is such a "family man" that he is spending his wife's birthday jealously trying to get Nobel Prizes taken away from reporters who covered the Russia scandal. The problem is that the prizes awarded for journalism are Pulitzers. There are no Nobel or Noble prizes for journalism.
Oops! Trump later tried to pretend his "Noble" error was what he actually meant to say (just like "covfefe"):
Does anybody get the meaning of what a so-called Noble (not Nobel) Prize is, especially as it pertains to Reporters and Journalists? Noble is defined as, "having or showing fine personal qualities or high moral principles and ideals." Does sarcasm ever work?
— Donald J. Trump (@realDonaldTrump) April 26, 2020
Sarcasm? "You keep using that word. I do not think it means what you think it means." – Inigo Montoya.
Trump also Melted Down After Getting Busted For Not Showing Up For Work by a recent New York Times story.
The man who uses always uses superlatives to describe himself actually asserted that:
"[P]eople that know me and know the history of our Country say that I am the hardest working President in history. I don't know about that, but I am a hard worker and have probably gotten more done in the first 3 1/2 years than any President in history."
Yeah, no one says this but you. You will go down in history as "America's worst president." James Buchanan and Andrew Johnson thank you for moving them up on the "worst" list. (Sarcasm done right).
Trump's private schedule has been leaked numerous times during his presidency, and they reveal that Trump is spending most of his presidency when he is forced to stick around the White House in "executive time," i.e., watching TV, rage tweeting, and talking to his friends on the phone. Also eating "hamberders."
Trump has spent more days of his presidency away from the White House and at his own golf clubs than any president in modern history.
At great expense to the American taxpayer, and a profit to Donald Trump, i.e., emoluments.
Donald Trump is a part-time president, who isn't interested in doing the job, which is why he has been a total failure in responding to the coronavirus.
In 2016 the media, prompted by the Trump campaign, created the meme "but her emails" to attack Hillary Clinton.
Jennifer Rubin says Trump apologists' defense has been obliterated by 'But Lysol' (excerpt):
His advice to reopen the economy backfired as the country overwhelming signaled disapproval of the AstroTurfed protests and the popularity of governors whom Trump criticized rose. And then came the moment that perfectly epitomized his presidency, captured word for word in an ad for Republicans for the Rule of Law:
When your opponents can run a minute of your own blathering, it pretty much proves you blew it. But this is not simply another gaffe for Trump or even another dumb idea like the wall. This was an extended conversation reflecting the grotesque ignorance and total unfitness of the man who at every turn has failed to protect the country during the worst domestic crisis since the Great Depression. It illustrated how he intellectually corrupts those around him, forcing them to sacrifice their own credibility to defend his inanities.
During the preceding three years, when Trump critics pointed to his incompetence, racism, cruelty, lying, contempt for democracy, economic illiteracy or xenophobia, his defenders would retort "but tax cuts" or "but Gorsuch." Essentially, they argued, we had to forget about everything else because Trump had bestowed upon the right their precious tax cuts (along with a sustained recovery) and Supreme Court picks that gave conservatives a 5-4 majority on most cases.
The apologists ignored that any conservative president would have produced similar results or that policy ends do not justify the destruction of civility, decency or democracy. Nevertheless, it was enough to keep on board the wealthy donor class and the right-wing evangelical Christian hypocrites who were pleased to overlook his un-Christian conduct and character for the sake of some judges. It was enough to satisfy those willing to be persuaded and unwilling to admit their vote for him had been a tragic mistake.
Now, however, the disaster that Trump has been utterly incapable of addressing has wiped out the value of those tax cuts (and the stock market) and taken more than 50,000 American lives. Whatever his apologists' defense, the response to his previous (now virtually imperceptible) accomplishments has been obliterated by "But Lysol" — that is, his mind-boggling unfitness leading him to ignore real threats and promote dangerous behavior.
The more Trump's sycophantic aides defend him, the worse he looks and the greater the concern that he has created a cult that is unable to inform or educate him. Coronavirus response coordinator Deborah Birx, as she has done so often, refused to contradict Trump outright on Sunday on "Meet the Press," thereby "perpetuating an unscientific, untested, single study presented by a nonscientist from the Department of Homeland Security," as NBC's Andrea Mitchell put it.
* * *
Trump has decided to run for cover, insisting now that the news conferences are a "waste of time" while aides suggest he will not be appearing or at least not appearing as often as he had been. The Biden campaign can mourn the loss of new material for their campaign ads, but the last and most compelling message, Trump's reckless and unbelievably dumb Lysol advice — what House Speaker Nancy Pelosi called "embalming" — is left hanging. We have the perfect encapsulation of a president whose defects make him not simply useless but a menace to America.
If Vice President Mike Pence ever finds his balls that his wife keeps in a jar hidden under the bed, he would do his constitutional duty and invoke Section 4 of the 25th Amendment declaring that "the President is unable to discharge the powers and duties of his office, the Vice President shall immediately assume the powers and duties of the office as Acting President."