"Never rat on your friends, and always keep your mouth shut."
That's a famous line from Robert Di Niro's organized crime boss character in the movie "Goodfellas."
A rat, commonly known as an FBI informant, often refers someone from an organized crime family who has gotten arrested and cooperated with the federal government to provide information about a larger crime or crime family aka an informant.
Donald Trump called his former attorney and "fixer" Michael Cohen a "rat" when he plead guilty to campaign finance violations. Prosecutors state in a sentencing memo that Cohen "acted in coordination with and at the direction of Individual-1" in handling payments to two women who claimed to have an affair with "Individual-1," who "was elected President."
Just to be clear, Donald Trump is an unindicted coconspirator only because of an Office of Legal Counsel memorandum which adopts a policy that a sitting president cannot be charged and prosecuted for crimes.
Two made men who go way back in the criminal enterprise fka the Republican Party, wise guys Paul Manafort and Roger Stone, followed the vows of omerta and kept their mouths shut, and even lied to federal prosecutors to protect mafia "Don" Trump. They didn't "rat him out."
Paul Manafort was willing to go to prison to keep his secrets (he is out now on COVID release). Roger Stone used his secrets to leverage a commutation from mafia "Don" Trump.
The New York Times reports, Trump Commutes Sentence of Roger Stone in Case He Long Denounced: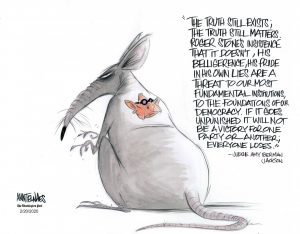 As his time to report to prison neared, Roger Stone openly lobbied for clemency, maintaining that he could die in prison and emphasizing that he had stayed loyal to the president rather than help investigators.
"He knows I was under enormous pressure to turn on him," Mr. Stone told the journalist Howard Fineman on Friday shortly before the announcement. "It would have eased my situation considerably. But I didn't."
Trump dangling pardons and Stone lying to prosecutors to get that pardon is witness tampering and suborning of perjury by Trump.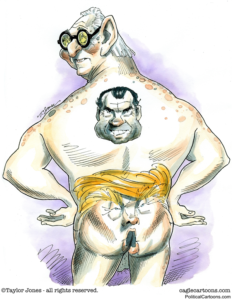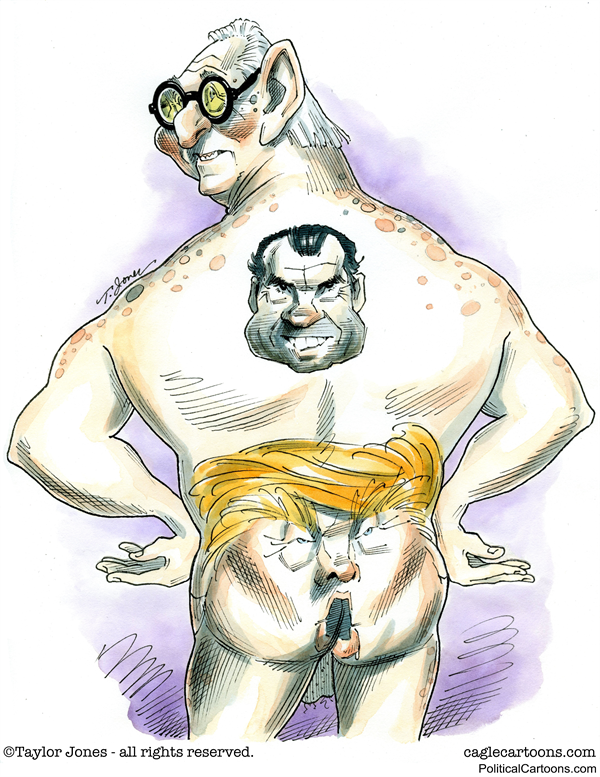 In a lengthy written statement punctuated by the sort of inflammatory language and angry grievances characteristic of the president's Twitter feed, the White House denounced the "overzealous prosecutors" who convicted Mr. Stone on "process-based charges" stemming from the "witch hunts" and "Russia hoax" investigation.
The statement did not assert that Mr. Stone was innocent of the false statements and obstruction counts, only that he should not have been pursued because prosecutors ultimately filed no charges of an underlying conspiracy between Mr. Trump's campaign and Russia. "Roger Stone has already suffered greatly," it said. "He was treated very unfairly, as were many others in this case. Roger Stone is now a free man!"
The commutation, announced late on a Friday, when potentially damaging news is often released, was the latest action by the Trump administration upending the justice system to help the president's convicted friends. The Justice Department moved in May to dismiss its own criminal case against Mr. Trump's former national security adviser Michael T. Flynn, who had pleaded guilty to lying to the F.B.I. And last month, Mr. Trump fired Geoffrey S. Berman, the United States attorney whose office prosecuted Michael D. Cohen, the president's former personal lawyer, and has been investigating Rudolph W. Giuliani, another of his lawyers.
And in yet another corrupt move in a Friday night news dump, Attorney General William "Coverup" Barr completed the decapitation of the independent U.S. Attorney offices by replacing a career attorney in the EDNY with one of his loyal henchman, ensuring that the investigations into mafia "Don" Trump will never see the light of day before election day.
The pattern continues: Barr replaces a US Atty with his own close aide, this time in EDNY. The other pattern is that these districts always have a tie to Trump. EDNY is investigating Trump inaugural committee. https://t.co/20Zy0aPYGp

— Barb McQuade (@BarbMcQuade) July 10, 2020
I will reiterate what I have said many times before. The Party of Trump is a criminal enterprise led by a third-rate mafia "Don" Trump. They are all accomplices, coconspirators and accessories who aid and abet his criminality and corruption. There is not a patriot among them. They put fealty to their "Dear Leader" above all else, including loyalty to their country and our national security, and their oaths of office to defend the Constitution. They reject the rule of law and are amoral. It is a betrayal of the faith of the American people in our constitutional government. They must all be held accountable.
Chris Hayes, in a blistering commentary Friday night on All In with Chris Hayes, expanded upon this critique. The Party of Trump is intellectually and morally bankrupt and is incapable of governing.
Chris Hayes's commentary was followed by his guest Steve Schmidt, from the Lincoln Project, who burned the Party of Trump to the ground. These Trump enablers all need to be held accountable and defeated in November.
Steve Schmidt and his fellow Never Trumpers at the Lincoln Project have determined that the Party of Trump must be 'Burned to the ground': Anti-Trump Republicans set new goal of defeating the GOP Senate:
A loose association of current and former Republicans working to sink President Donald Trump's re-election now see another political feat that's necessary for them to have a shot at reclaiming their party: flipping the U.S. Senate to the Democrats.
The emerging belief, based on more than a dozen interviews, is that defeating Trump alone is insufficient to spur the reckoning required to salvage a party that will almost undoubtedly confront a crossroads if the president loses to Joe Biden this fall. Many argue that GOP senators must pay a steep price for their unabating fealty to Trump, even if it hands Democrats complete control of the federal government.
"The analogy would be in the same way that fire purifies the forest, it needs to be burned to the ground and fundamentally repudiated," said Steve Schmidt, a Republican-turned-independent political strategist who now works for The Lincoln Project, one of the most pugnacious of the anti-Trump GOP groups. "Every one of them should be voted out of office, with the exception of Mitt Romney."
Unprecedented, historic corruption: an American president commutes the sentence of a person convicted by a jury of lying to shield that very president.

— Mitt Romney (@MittRomney) July 11, 2020
[T]he Lincoln Project has placed six-figure ad buys against Senate Majority Leader Mitch McConnell in Kentucky, as well as Sens. Joni Ernst in Iowa, Thom Tillis in North Carolina and Martha McSally in Arizona, as Republicans try to hold onto their narrow three-seat majority.
"They are the only … human beings who had the authority and the ability to keep this president in check constitutionally and politically, and every one of them made a conscious decision to not do so," said Jennifer Horn, a former New Hampshire GOP chairwoman who now advises the Lincoln Project. "The only way to make sure that Trumpism doesn't continue to rule the Republican Party for years to come is to make sure that we defeat not only the president, but those people who have enabled him."
The Lincoln Project released this powerful advertisement "Names" targeting top Republican senators who have enabled President Donald Trump, calling on voters to never trust them again.
The group formed by anti-Trump Republican strategists listed off several GOP senators it deemed to have shown "cowardice" under the president's leadership, including Senate Majority Leader Mitch McConnell, Sen. Lindsey Graham of South Carolina and Sen. Martha McSally of Arizona.
It also accused the list of 14 senators of committing "betrayals" in office and choosing Trump over the country at large.
The narrator says: "This circus of incompetence, corruption and cruelty will end. When it does, the women and men in Trump's Republican Party will come you, telling you they can repair the damage he's done, beg you to forget their votes to exonerate Trump from his crimes, ask you to forgive their silence, their cowardice and their betrayals as Trump wrecked this nation."
"Every time they had a choice between America and Trump, they chose Trump. Every time they were called to the service of this nation and their sacred oath, they chose Trump."
The ad then calls on viewers to remember the names of the senators listed in the ad, and to "never, ever trust them again."
UPDATE: Why a commutation and not a pardon you ask? Kevin Drum explains at Mother Jones. Why Did Trump Commute Roger Stone's Sentence Instead of Pardoning Him?
Why the second-class treatment of a commutation instead of a pardon? Wasn't Stone important enough for a pardon?
But wait. Someone who gets a pardon can no longer invoke the Fifth Amendment as a justification for refusing to testify in court. If Stone were called in some other case, he'd be required to spill any beans he had. But if I understand the law correctly, a commutation is more limited. The conviction stands, and the possibility of putting yourself in further jeopardy remains. Thus your Fifth Amendment rights stand.
So if you wanted to help out a buddy, but you also wanted to make sure he couldn't be forced to provide dangerous testimony in the future, commutation sure seems like the best bet, doesn't it?
In other words, "Be a good boy and keep your mouth shut, capisce?"