The MAGA/QAnon cult is hijacking Pride Month with renewed homophobic and transphobic attacks from its domestic terrorist organizations like the Proud Boys and Patriot Front, and by MAGA/QAnon state legislators. They are attacking drag shows (a regular feature of Pride Month) based upon their deranged QAnon conspiracies that a cabal of Satanic, cannibalistic sexual abusers of children are operating a global child sex trafficking ring and conspired against former U.S. President Donald Trump. Drag shows are an extension of the pedophile "grooming" by LGBTQ teachers ("Don't Say Gay" bills) from earlier this year.
Note: QAnon conspiracy theories are just a modernized version of the antisemitic blood libel – a superstitious accusation that Jews ritually sacrifice Christian children at Passover to obtain blood for unleavened bread – used by Christians to kill Jews in Europe since the Middle Ages culminating in the Holocaust by the Nazis. QAnon is White Christian Nationalism and antisemitism. Call it it by its name, fascism.
It's almost as if these MAGA/QAnon cultists have never seen their beloved "Dear Leader" motorboat drag queen and then-Mayor Rudy Giuliani. So here's your "grooming" drag show for you.
This past weekend, KQED reports, Sheriffs Investigating Hate Crime After Alleged Proud Boys Disrupt 'Drag Queen Story Hour' With Homophobic Slurs:
Content warning: This article contains multiple uncensored uses of derogatory phrases that some may find highly offensive.
The Saturday book reading for preschoolers started out as many previous readings had before: Drag queen Panda Dulce appeared with elaborate and carefully styled makeup, her swooped eyebrows arching like peaks as she belted out the "welcome song" for a handful of kids and their parents at San Lorenzo Library.
"Hello, children! Hello, grown-ups! Hello, everyone, it's nice to see you here," she sang. The children sat in a semi-circle on the library floor, crooning along with Dulce.
As she sang, a line of men entered the library, single-file. Some wore the signature black-and-yellow colors of the far-right Proud Boys group, law enforcement officials said. One of the men's shirts read "Kill Your Local Pedophile" on it, emblazoned over a gun.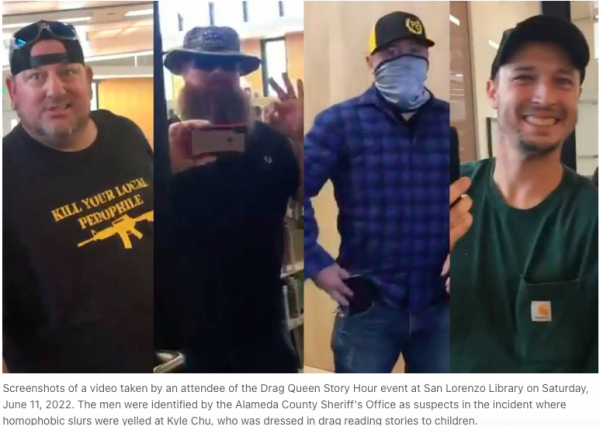 They sat down behind the children. When the singing stopped, the shouting started.
"So who brought the tranny?" they yelled, directed straight at Dulce. They called her an "it," and a "pedophile." Dulce, fearing violence, hid in the back office with a security guard.
"I didn't know if they were armed. I was only acutely aware of the fact that neither myself nor any of the other librarians were," she told KQED. In an Instagram post, Dulce said the men "totally freaked out the kids. They got right in our faces. They jeered. They attempted to escalate to violence."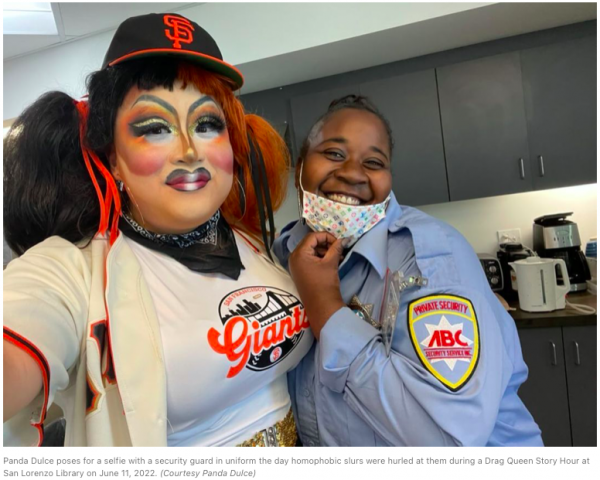 BTW, Kung Fu Panda was San Franciso Giants beloved Pablo Sandoval, World Series MVP in 2012. Hence the Panda name and San Franciso Giants T-shirt.
Alameda County Sheriff's Office deputies responded to the scene, but by the time they got there, some of those shouting obscenities had dispersed. No arrests were made. No one was injured.
Alameda County Sheriff's Office spokesperson Lt. Ray Kelly said the sheriffs believed they were responding to a disturbance, and that "at the time, there was no reason to do an arrest."
"It wasn't till later that we discovered that it was targeted hate speech and that it was done by design and organization," he said. "We'll follow up now with this change in events and the dynamics of the disturbance."
Now the Alameda County Sheriff's Office is investigating the incident as a possible hate crime, with the intent to annoy or harass children. They're asking the parents and Panda Dulce, whose name is Kyle Casey Chu, whether they'd like to file a complaint.
NEW: San Francisco drag queen Panda Dulce says their Drag Queen Story Hour for kids at San Lorenzo Library today was stormed by people shouting homophobic slurs and hate speech.

They allegedly shouted "tranny" and "pedophile."

I called @ACSOSheriffs who confirmed the incident: pic.twitter.com/IwAS31vGWQ

— Joe Fitzgerald Rodriguez (@FitzTheReporter) June 12, 2022
"We're looking at this through a hate crimes lens based on the information, the fact that these individuals went into the library, they were verbally and physically aggressive in their demeanor and in their approach," Lt. Kelly said. "They caused the organizer of that event to actually flee the area. So there was fear of attack there, of assault. And then we … as well as that, there were children present in the library at the time. And so that would also be considered a crime. You cannot annoy or harass children in the state of California."
The FBI's San Francisco bureau released a statement on Tuesday regarding the disruption. "The FBI is aware of this incident and we are in regular contact with the Alameda County Sheriff's Office.  If, in the course of the local investigation, information comes to light of a potential federal violation, the FBI is prepared to investigate."
A joint statement was released by Bay Area officials on Sunday evening condemning what they call "the senseless act of hate" caused during the Drag Queen Story Hour.
Joint Statement from Bay Area Officials Condemning LGBTQ+ Hate Crime at San Lorenzo Public Library. pic.twitter.com/f8KkPYBNbt

— Harris Mojadedi 孟茂德 🏳️‍🌈 (@HarrisBknowin) June 13, 2022
The Drag Queen Story Hour was intended as a celebration of Pride Month for kids in the small East Bay town of 30,000 people. Chu, who hails from San Francisco, has been a part of Drag Queen Story Hour since at least 2017.
The event was created by Michelle Tea and RADAR Productions in San Francisco in 2015 as a way to celebrate reading "through the glamorous art of drag," according to the organization, and has 50 chapters in the United States.
"That's a Pandora's box has been opened and people feel very okay with attacking our community," said State Sen. Scott Wiener. "We're seeing political attacks around the country and we're seeing actual violence. These attacks are related and they are fueled by the extreme right wing political rhetoric from politicians like like Ron DeSantis and Greg Abbott, but also from right wing influencers on social media who post all sorts of atrocious material attacking me and attacking LGBTQ people in general."
San Lorenzo is in the East Bay district of Rep. Eric Swalwell, who wrote in a statement Sunday, "Today while on a plane back to Washington, DC, I learned about an attack in our community by members of the Proud Boys. We must reject this hate and extremism whenever it shows itself, which is why I will be returning home this Thursday to meet with law enforcement and the community. There is no place for this hate in the East Bay, and we all need to speak up with one voice in saying so."
The Proud Boys are considered a hate group by the Southern Poverty Law Center, a nonprofit monitoring domestic hate groups and extremists. The Southern Poverty Law Center describes the Proud Boys as known for anti-Muslim and misogynist rhetoric, whose leaders regularly echo white nationalist memes.
And let's never forget that the DOJ charged Proud Boys leaders with seditious conspiracy over Jan. 6 attack – Donald Trump's own private militia to overthrow the government in his coup d'etat attempt.
The incident was far from isolated.
In the town of Coeur d'Alene, Idaho, on the same day, 31 members of the white nationalist group Patriot Front were arrested for conspiracy to riot, and were believed to be headed to a local "Pride in the Park" event. The group is considered a hate group by the Southern Poverty Law Center.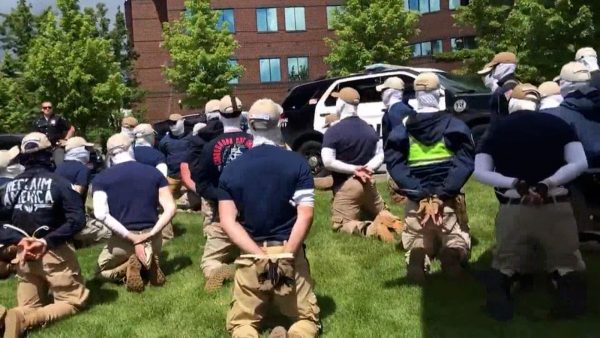 See, The 31 people arrested in Idaho have ties to a White nationalist group and planned to riot at a Pride event, police say. Here's what we know:
After an alarmed 911 caller reported a group dressed like a "little army" [cosplay] getting into a moving truck, police in Coeur d'Alene, Idaho, arrested 31 men believed to be linked to a White nationalist group, who had plans to riot at a weekend Pride event, authorities said.

The large group — which police believe was affiliated with Patriot Front — was seen at a hotel piling into a U-Haul with riot gear, the caller told a 911 dispatcher. They were later pulled over and arrested, Coeur d'Alene Police Chief Lee White said.

The group was headed to a Pride in the Park event at Coeur d'Alene City Park, police said. The event included a Pride walk and performances by local musicians, dancers and drag artists.

Local and state police were plentiful and on high alert Saturday because they wanted "to make sure this event went off safely," Mayor Jim Hammond said. They'd also received threats about a separate group meeting in another city park; threats that turned out to be unfounded, he said.

Hammond referred to those arrested as young men who "seem to not have a purpose."  Asked what he thought the group might have done had police not thwarted their alleged plans, he said, "I have not seen that these people had any firearms, so I think it would've been mostly just disruption and trying to cause fear."

Police found at least one smoke grenade, White said.

All 31 individuals were from outside the local area, Hammond said previously. Just two are from Idaho, according to a booking summary from the Kootenai County Sheriff's Office.

It's unclear why they picked Coeur d'Alene's out of all the Pride events going on in the nation, but Hammond said perhaps they thought they could "get away with more" in a smaller community like Coeur d'Alene, a city of about 56,000 residents located just over the Washington border from Spokane.
"They thought they could 'get away with more'" because far-right domestic terrorists groups have made Idaho their "own private Idaho" for years. Are Paramilitary Extremists Being Normalized? Look To Idaho For Answers.
The North Idaho Pride Alliance, which organized the event, released a statement Sunday saying its members were resting "after successfully organizing a momentous, joyful, and SAFE Pride in the Park community celebration under the most challenging of circumstances. … We are deeply grateful to law enforcement agencies who were present and professionally responded."
KQED continues:
And just recently, San Lorenzo's Drag Queen Story Hour had gained notoriety in spaces that regularly lambaste the LGBTQ+ community.
About two weeks ago, the infamous Twitter account @LibsofTikTok, known for its inflammatory posts about the LGBTQ+ community that are often amplified by right-wing politicians and media personalities, posted a "mega-thread," highlighting roughly 40 examples of family-friendly drag events across the United States. The account has more than 1 million followers.
The group wrote in its Twitter post, "They say it's innocent. They say it's just about inclusion and acceptance. They say no one is trying to confuse, corrupt, or sexualize kids. They lie."
One of those drag events @LibsofTikTok highlighted was the San Lorenzo Library Drag Queen Story Hour, the very one Chu saw interrupted by a barrage of hate.
While the thread has since been taken down, it amassed more than 4 million impressions. The thread was removed from being seen in Germany by Twitter, and the @LibsofTikTok account was temporarily locked out for "abuse and harassment" by Twitter and urged to delete the thread, the organization said in their newsletter. KQED reached out to @LibsofTikTok and will update this article should they provide comment.
The event caused concern in the wider LGBTQ+ community in the Bay Area. Sister Roma, of the San Francisco-based Sisters of Perpetual Indulgence, said it was a reminder for the community to be vigilant.
"It just goes to show that even though we've made such great progress in our community and in the trans community, there's still so much work to do," Roma said. "We can never be content with the accomplishments that we have because as we've seen with the potential reversal of Roe v. Wade, any of our rights can be swept away with the stroke of the pen. So it's important to stay vigilant, to stay involved, to stay awake and to stay motivated, to protect what we have, and to continue to fight for our rights in our community."
Chu did not say whether he would press charges against the men who stormed his book reading.
But, he said, "no words can appropriately capture the immediacy and terror [you] feel when [you] realize there is no buffer between [you] and these men. That they are likely armed and you are utterly defenseless."
Despite that fear, Chu later came out of the back office and finished his reading to the children. The book he read is called, "Families, Families, Families!" by Suzanne Lang and Max Lang, about diverse families depicted as cartoon animals.
"Some children have two dads. Some children have one mom," the book reads, showcasing families with just grandparents, single fathers, or step-siblings. "If you love each other, then you are a family."
Chu read every word.
[H]e said, "I'm just glad I finished the story."
Panda fo the win!
Finally, there is Arizona's MAGA/QAnon cultists in the state legislature. Arizona Senate Republicans want to outlaw kids at drag shows: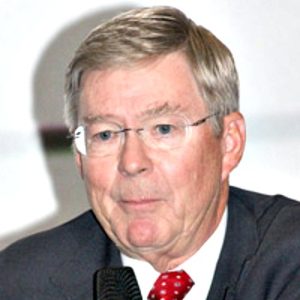 Arizona State Senate Republican leaders announced Tuesday that they want to make it illegal for anyone under 18 to attend drag shows in Arizona, though the actual details of what will be proposed are a "work in progress," the measure's likely sponsor said.
"In a civil society, you don't bring your children up like that," said Sen. Vince Leach, a Republican from Saddlebrooke [– and QAnon cultist.] Two GOP lawmakers promote QAnon on social media.
No, you bring them up in White Christian Nationalist domestic terrorist groups and teach them to hate the "others" who are not like them or do not believe the same as they do, and teach them how to use weapons and violence to get their way. You teach them that violent sedition and insurrection to overthrow the government is "patriotism."
Leach said he has been mulling legislation barring children and teenagers from drag shows since last year, when he learned of a University of Arizona drag show for children. Then in March, Tucson Magnet High School held a drag show for students. But each time, other legislative concerns prevented action, he said.
The final straw, Leach said, was seeing an Indigenous drag show at the Heard Museum in Phoenix earlier this month. 
He said images of drag shows circulating online have shown performers with their "crotch wide open" in front of young children. [Doubtful. This sounds like a drag show for adults, and some homophobic and transphobic group is posting those images online claiming they are in front of children to rile up ignorant yahoos like Vince Leach.]
*sigh* The Arizona Republican Party's latest fundraising email is targeting drag performers. They even used the photo of the cis burlesque dancer, lying about her being a drag queen and describing her as a "gender bender stripper." Literally just making shit up. pic.twitter.com/ioeoLXIOm9

— AZ Right Wing Watch (@az_rww) June 11, 2022
Exactly what form the proposed ban will take remains to be seen, as Leach acknowledged that he hasn't begun drafting the legislation yet. He said his desire is to implement a statewide ban, but conceded that doing so would run up against "free-market concerns," so it might only be limited to public institutions, like schools.
The effort would capitalize on a growing movement that has been spurred on by a group of self-described "Christian fascists" and broadcast right-wing media outlets.
There you have it, Vince Leach is carrying water for self-described Christian Fascists. Is this really someone you want in the Arizona legislature? HELL NO!
And the proposed Arizona ban comes on the heels of an event in Dallas this month that was overtaken by far-right extremists associated with the America First and groyper movement who identified themselves as "Christian fascists." 
The group was protesting at a family-friendly drag queen brunch and was led by white nationalist John Doyle, who at one point encouraged the local police to enter the establishment and "put bullets in all their heads."
Business Insider adds: "Around a dozen protesters chanted "Christ is king" outside the bar, and a local news station reported one woman in the crowd held a sign accusing those involved in the show of pedophilia. [QAnon in the house!]
Multiple right-wing media outlets claimed that the event was "grooming" children in a scheme similar to conspiracy theories such as the ones that circulated with QAnon and "pizzagate," which both center on global networks of pedophiles and child traffickers.
Within days, a Texas GOP lawmaker had issued a press release announcing that he would introduce legislation to ban drag performances in the presence of minors. Later that evening, a Florida Republican legislator said he would introduce a measure to terminate the parental rights of any parent who allows their children to attend a drag show.
Leach didn't cite the Dallas event in an interview with the Arizona Mirror, but he wrote on Twitter that it was "Disgusting!!"
"This is a national trend that we have been seeing pop up very quickly," Jeanne Woodbury, policy and communications director for Equality Arizona, told the Mirror. Equality Arizona is a non-profit organization that advocates for the LGBTQ+ community in Arizona.
"There is no violence associated with drag," Woodbury said. "Drag isn't something that is violent. This is an agenda that is set out to drive gay people and queer people into the margins and prosecute trans people just for living."
Woodbury said she is concerned about what the future legislation may look like, as the LGBTQ+ community has been the past target of policies that have criminalized their existence, and this new legislation could lead to that again.
* * *
Woodbury said she is concerned about the potential breadth of the legislation. If it's written too broadly, she said, it's possible that a transgender individual could face criminal charges for simply being in public near a minor.
Leach said he wants to avoid infringing on free speech [bullshit!] and parental rights in trying to "protect our children" from being exposed to sexualized content at drag shows. [There's his QAnon cred with that "grooming" and "parental rights" campaign talking point.]
"Parents know best, but we know that giving marijuana candy to a six-year-old will get you a visit from DCS," he said, referring to the state's Department of Child Safety.
At other points, Leach likened banning youth from drag shows to existing laws prohibiting children from entering bars, going to strip clubs and doing heroin. He said the comparisons were fair, though he conceded there's a "fine line" in making them.
Woodbury hopes that Republican senators she has worked with throughout the session will not support the bill.
"I know that there are Senate Republicans of good will that I have enjoyed working with over the course of this session and I would like to think that they would look at this for what it is and what it would mean that they would not support it," Woodbury said.
It is unclear what other states Leach is working with or if he is working with any stakeholders to craft the legislation. The Mirror reached out to the Center for Arizona Policy, an anti-LGBTQ+ organization that frequently works with lawmakers in the state on similar legislation, but did not get a response.
Business Insider may have your answer. Drag shows are the latest battleground in the right wing anti-gay disinformation campaign about 'grooming' (excerpt):
Hate and harassment targeting drag performers have escalated in recent weeks as events to celebrate LGBTQ Pride month have ramped up, but the harassment is also indicative of a resurgent right-wing campaign to associate gay and trans people with predatory behavior and pedophilia — falsely labeling them as "groomers" intent on coercing children into sex.
Much of the campaign has played out in plain sight, with right-wing influencers inciting online outrage against LGBTQ events and performers. Before the wave of far-right protests and harassment in the past week, the anti-gay Libs of TikTok Twitter account repeatedly posted information about family-friendly drag events to its 1.2 million followers.
Libs of TikTok specifically posted about the Pride events in Dallas, San Lorenzo, and Coeur D'Alene in the weeks before extremists and far-right protesters targeted those events and rallies.
Drag performers and organizers mentioned in Libs of TikTok tweets told Insider they faced vicious, targeted harassment campaigns and attempts to shut down their shows.
* * *
Nick, who asked Insider not to publish their last name over fears of further attacks, said they were one of three drag performers who were asked to perform at a school assembly for students in grades 6 to 12. Nick tweeted a clip of the performance days later and said the video was positively received until "right wing people found it."
The 15-second clip showed Nick performing onstage in a long dress for a small crowd of students and staff, who cheered enthusiastically as Nick removed a series of wigs while Whitney Houston's song "I Have Nothing" played over the speakers.
After Libs of TikTok shared the video, which now has over 510,000 views on Twitter, Nick said they received numerous death threats and messages calling them a "groomer." Others claimed Nick was harming or otherwise "corrupting" children. Nick received hate messages on every one of their social-media platforms, leading them to either temporarily set the accounts to private or delete the profiles entirely.
[T]he performance was also not sexual in nature, Nick said, and they opted to wear a full-length dress despite performing outside on a hot day. None of that deterred the harassment campaign.
Nick said their mother recently died, and right-wing trolls began writing comments underneath a post about her death. "That's how far these people are going," Nick said.
Libs of TikTok posts have targeted drag events across the country, as cancellations and protests follow
Over the past week, Libs of TikTok has posted dozens of times about specific drag shows or Pride Month events that involve children, claiming without evidence that these events harm kids. The account, which The Washington Post reported is run by a Brooklyn real-estate agent named Chaya Raichik, has targeted libraries, zoos, botanical gardens, and LGBTQ youth organizations for organizing events that involve drag performers.
Time for the DOJ's new domesitc terrorism and hate crimes divisions to pay this Chaya Raichik a visit.
The account claimed in its most recent post to Substack that it had been limited by Twitter three times, though most of the tweets targeting drag performers and venues that host them have been allowed to remain on the platform. Twitter's hateful conduct policy prohibits accounts that exist to "promote violence" or "directly attack" individuals based on sexual orientation or gender identity. Neither Twitter nor Libs of TikTok responded to Insider's request for comment.
"The left has no idea what they are unleashing," the account said in a now-deleted tweet. "They keep trying to censor and silence me but unbeknownst to them, I actually thrive even more under those circumstances."
Tough talk from a Tik-Tok'er.
GOP legislators have increasingly targeted drag shows and LGBTQ rights
As right-wing influencers such as Libs of TikTok have fomented online harassment against drag and LGBTQ events, lawmakers in both Texas and Florida [but of course] have proposed legislation attempting to ban family drag shows.
Texas state Rep. Bryan Slaton, a Republican, last week filed legislation that would ban drag performances in the presence of children. In a press release announcing the legislation, Slaton said the bill was the result of a "disturbing trend in which perverted adults are obsessed with sexualizing young children."
Slaton has also said he would work toward passing legislation that would make providing gender-affirming care to minors "child abuse."
Florida state Rep. Anthony Sabatini, a Republican who is also running for Congress, said in a tweet he planned to propose legislation that would make it a felony and terminate the parental rights of "any adult who brings a child to these perverted sex shows." [So much for Parental rights, this is the legal doctrine of parens patriae – the State is to act as a substitute parent to a child whose parents, for one reason or another, cannot properly raise the child – according to Anthony Sabatini.] Sabatini called for an emergency session of the Florida legislature to consider his proposal.
You can bet that these haters do not write their own bills. There is some far-right religious group writing model legislation for them – coming to Arizona soon. Reporters should start with asking these two haters questions about who is drafting the bills for them.
UPDATE: The Arizona legialature has less than two weeks to enact a state budget before July 1, or the state government will have to shut down services. Wildfire season is just beginning, and our water crisis is here without any legislative response from the climate denying GQP legislature.
Northern Arizona is on fire, Lake Mead is at dangerously low levels, we're spending over a billion dollars on prisons, and this is what state legislators are fixated on instead of passing a budget.

DO. YOUR. JOBS. 🤦‍♀️ https://t.co/d6cwpG9EVD

— Julie Gunnigle (@JulieGunnigle) June 16, 2022