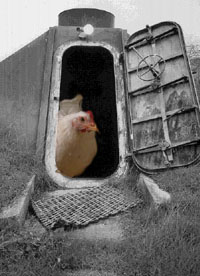 Martha McSally goes to great lengths to avoid debating her opponents, she always has. It is because she is a terrible debater, as anyone who has ever seen her debate can attest.
And when McSally does agree to a debate — never multiple debates — it is always in front of a GOP-friendly audience.
McSally never strays far from her chicken bunker, as this blog has documented for years (hence, the familiar graphic).
The Arizona Republic reports Martha McSally agrees to debate with Kyrsten Sinema in Phoenix:
U.S. Senate contenders Democrat Kyrsten Sinema and Republican Martha McSally will debate Oct.15 in Phoenix at an event hosted by Arizona PBS and The Arizona Republic.
The debate is scheduled for 7-8 p.m. on October 15. It will be broadcast on Arizona PBS Channel 8.1 and at azcentral.com. Republic political reporter Maria Polletta and Ted Simons, host of Channel 8's "Arizona Horizon," the nightly public affairs program, will be the moderators.
Neither candidate would debate her rivals in the primary election.
Sinema asked that health care be a key topic of debate because she says it's the issue she hears about most on the campaign trail. It also aligns with a top Democratic campaign priority this year.
In agreeing to the U.S. Senate debate, Sinema said it was time to focus on "issues Arizonans care about most, not petty attacks and political distractions."
As you probably guessed already, McSally is not interested in debating "issues Arizonans care about most." She wants to talk about pink tutus and the smear-machine attacks her campaign and allied GOP organizations have been spewing on the airwaves.
"We believe Arizonans deserve a debate, and they deserve an opportunity to see Kyrsten Sinema's true liberal colors. On Oct. 15, Kyrsten's not going to be able to hide from her protesting past and her extreme liberal views," Torunn Sinclair, McSally spokeswoman, said in a statement.
Arizonans have heard enough of this crap already, Martha. It's time for you to stop hiding behind your smear-machine and to actually explain to voters your positions on "issues Arizonans care about most."
And it should not be a single debate in Phoenix in front of a GOP-friendly media audience. If you want to represent this state, you should have to debate around the state in front of a wide variety of audiences with actual constituents.
Come out of hiding in your chicken bunker, Martha.
---
Support volunteer citizen journalism at the Blog for Arizona with a donation today. Your secure contribution keeps the Blog online and sustains a free press in Arizona.
---