Earlier this week, our always insecure egomaniacal Twitter-troll-in-chief claimed that he has created "more than 1 million private sector jobs."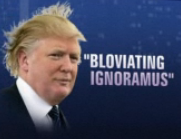 How do you know when Donald Trump is lying? His lips are moving. Trump takes credit for 1 million jobs. Not true: "Official government data from the Labor Department show only 601,000 private sector jobs have been added since January, when Trump took office. Trump is trying to take credit for far more."
This is yet another example of how Tea-Publicans can't do math. Trump Budget Based on $2 Trillion Math Error. And this example. Trump's argument for withdrawing from Paris agreement contains multi-trillion dollar math error.
The Washington Post reports, U.S. job market falls short of expectations in May, adding just 138,000 jobs:
U.S. job growth came in below expectations in May with employers adding just 138,000 jobs while the unemployment rate fell to 4.3 percent, the lowest it has been in more than 16 years, federal economists reported Friday morning.
Economists surveyed by Bloomberg had expected an increase of 180,000 in non-farm payrolls, which would have been in line with average monthly gains seen over the past year.
Steve Benen breaks down the May jobs report. U.S. job growth cools a bit in the spring:
The Bureau of Labor Statistics reported this morning that the U.S. economy added 138,000 jobs in May, an underwhelming total. The unemployment rate, meanwhile, inched lower to 4.3%.
As for the revisions, the totals for March and April were both revised down, and combined they show a net loss of about 66,000 jobs.
What about the president's claim that we've added "more than a million private-sector jobs"? That's only true if we start fiddling with the definition of "we." In the four full months Trump has been in office, the U.S. economy, as of this morning's new data, has added 601,000 private-sector jobs. If we're generous and add January to the total – Obama was president for two-thirds of the month – the economy's added 805,000 private-sector jobs.
To get to "more than a million," Trump would have to claim credit for economic progress that happened before he took office.
Above you'll find the chart I run every month, showing monthly job losses since the start of the Great Recession. The image makes a distinction – red columns point to monthly job totals under the Bush and Trump administrations, while blue columns point to job totals under the Obama administration.
Here's another chart, this one showing monthly job losses/gains in just the private sector since the start of the Great Recession.
Neil Irwin writes at The Upshot for the New York Times, We May Be Closer to Full Employment Than It Seemed. That's Bad News.
The May job numbers raise a depressing possibility: that this is as good as it will get for the United States labor market.
At first glance, the new numbers seem like a bit of a mystery. The unemployment rate fell to a 16-year low, yet job creation slowed and the number of people who are neither working nor looking for work rose. But the data aren't really inconsistent. Rather, they point to a job market that is pretty close to full employment — where workers who want a job can find one fairly easily, but low unemployment isn't pulling workers into the labor force en masse.
The big headline is a drop in the unemployment rate to 4.3 percent. That's lower than it ever fell during the mid-2000s expansion, and you now have to go back to 2001 to find a moment as good. But the details of why the rate fell in May are terrible; the unemployment rate dropped for all the wrong reasons.
Instead of a decrease because more people are employed, the number of people who reported themselves as having a job actually dropped by 233,000. Meanwhile, the number of people not in the labor force at all — neither working nor actively looking for work — soared by 608,000.
Those are volatile numbers, and any one month probably doesn't mean much. But over a longer horizon, the trend is still looking pretty soft. The great weak spot in the labor market in the last few years has been labor market participation — fewer adults have sought work at all, so they are not working but do not count as unemployed.
And while there had seemed to be some progress earlier in the year, the labor force participation rate is now only a tick above where it was a year ago. A rate rise from 62.6 percent to 62.7 percent over the course of an entire year is not much of an improvement.
This may be part of the explanantion for labor force participation. Steady Jobs, With Pay and Hours That Are Anything But:
[M]ore and more employees across a growing range of industries find the number of hours they work is swinging giddily from week to week — bringing chaos not only to family scheduling, but also to family finances.
And a new wave of research shows that the main culprit is not the so-called gig economy, but shifting pay within the same job.
This volatility helps unravel a persistent puzzle: why a below-average jobless rate — 4.4 percent in April — is still producing an above-average level of economic anxiety. Turbulence has replaced the traditional American narrative of steady financial progress over a lifetime.
"Since the 1970s, steady work that pays a predictable and living wage has become increasingly difficult to find," said Jonathan Morduch, a director of the U.S. Financial Diaries project, an in-depth study of 235 low- and moderate-income households. "This shift has left many more families vulnerable to income volatility."
* * *
Stability is worth a lot to workers. On average, employees are willing to give up a fifth of their weekly wage to avoid a schedule set by an employer on a week's notice, according to a field experiment where workers were offered a range of alternative hours at different pay levels.
"That is totally the story," said Mr. Morduch, who watched household incomes in his study rise and fall. "And that instability and insecurity are increasingly a part of middle-class life, too."
* * *
Monthly expenses can pendulum as much as income, but the two do not necessarily move in tandem. An analysis of 250,000 bank accounts by the JPMorgan Chase Institute, a nonprofit research arm of the bank, found that roughly 80 percent of households had an insufficient cash buffer to manage the mismatch between income and expenses in a given month.
Few people can comfortably ride out the inevitable financial bronco ride. "Only households that earn $105,000 or more a year are secure against the volatility they are exposed to," said Diana Farrell, the institute's president and chief executive. "It's not just about the unemployed or the poor."
Middle-income households, for example, saw their monthly expenses deviate by nearly $1,300, the equivalent of a month's rent or mortgage payment. And one uh-oh expense — usually in the form of a medical, tax or car repair bill — can wreck a family's balance sheet for a year or more.
Even a single month's volatility can have a cascading effect. One month, a family copes by using the money earmarked for, say, the utility bill to cover the cost of replacing a busted water heater. The next month, it's the telephone company that goes unpaid as the family struggles to make up the missed utility bill plus late fees and interest — and so on. Emergencies are not the only source of expense spikes. So are bridal showers, Christmas gifts and outgrown winter coats.
* * *
Rather than causing jolts in income, the gig economy is, for many people, what smooths them out. Only about 0.5 percent of the labor force is working in the gig economy. And while bonuses, extra commissions and overtime bump up a worker's average income, unwelcome reductions in hours, particularly at the lower end of the income ladder, more often shrink an expected paycheck.
"Stable, predictable work schedules are essential to economic security," said Susan J. Lambert, a professor at the University of Chicago who is studying new data supplied by the General Social Survey, a respected national survey that began asking in-depth questions about work schedules only last year.
The latest data shows that 41 percent of all hourly workers say they are not given more than a week's notice of their schedule; nearly half have little or no say on their work hours.
"It's not just service, or female-dominated jobs, but some of the most challenging schedules are production and construction jobs," Ms. Lambert said.
The ubiquity of the phenomenon has frequently been masked by annual measures of income and spending or one-time snapshots of savings and debt that fail to capture fluctuations week to week or month to month.
* * *
The number of Americans living comfortably or doing all right financially has grown since the recession. Still, the new Fed report found that 30 percent — roughly 73 million adults — say they are finding it difficult to get by financially, or are just getting by.
"To Mr. Morduch and his co-author, Rachel Schneider, the rise in income volatility is an indication of how businesses in an era of advancing technology and global competition have shifted risk onto employees."