Memorial Service for Governor Castro May 16th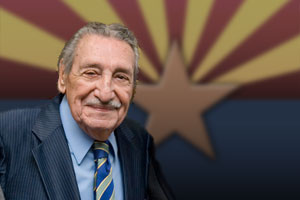 There will be a Celebration of Life Memorial for Governor Raul Castro on Saturday, May 16th at 11 a.m. at the State Capitol.
In addition, there will be memorial masses held in Nogales May 15th at 9 a.m. at Sacred Heart Catholic Church, in Tucson May 15th at 2 p.m. at St. Augustine's Cathedral and in Phoenix May 16th at 9 a.m. at St. Mary's Basilica. His ashes will be interred in a private ceremony in Sedona.
Gov. Castro died April 10th at the age of 98 after being in hospice care for several weeks. He was elected governor in 1974, the first and only Latino elected to the office. He resigned almost three years later to serve as Ambassador to Argentina. Gov. Castro led a remarkable life and continued to a great inspiration especially to students encouraging them to achieve their dreams.
The Arizona Capitol Museum has put together a display of memorabilia of his life that is on display on the second floor.