Permanent musical accompaniment: I Fought The Law (And The Law Won), by the Bobby Fuller Four (1966).
The Special Counsel and U.S. District Judge Amy Berman Jackson sent President Trump a clear message today: tamper with witnesses, and you will be going to jail; you can share a cell with your former campaign manager. Paul Manafort ordered to jail after witness-tampering charges: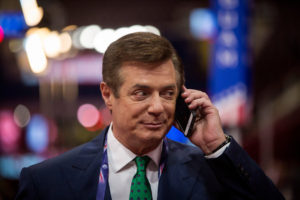 A federal judge ordered Paul Manafort to jail Friday over charges he tampered with witnesses while out on bail — a major blow for President Trump's former campaign chairman as he awaits trial on federal conspiracy and money-laundering charges next month.
"You have abused the trust placed in you six months ago," U.S. District Judge Amy Berman Jackson told Manafort. "The government motion will be granted, and the defendant will be detained."
The judge said sending Manafort to a cell was "an extraordinarily difficult decision" but said his conduct — allegedly contacting witnesses in the case in an effort to get them to lie to investigators — left her little choice.
"This is not middle school. I can't take away his cellphone," she said. "If I tell him not to call 56 witnesses, will he call the 57th?" She said she should not have to draft a court order spelling out the entire criminal code for him to avoid violations.
"This hearing is not about politics. It is not about the conduct of the office of special counsel. It is about the defendant's conduct," Jackson said. "I'm concerned you seem to treat these proceedings as another marketing exercise."
Manafort was led out of the courtroom by security officers. He turned and gave a last look and wave to his wife, seated in the well of the court. She nodded back to him.
The order to incarcerate Manafort capped a months-long fight over the terms of his bail. He had been confined to his home on electronic monitoring and other restrictions since he was first indicted Oct. 27 during special counsel Robert S. Mueller III's probe of Russian interference in the 2016 presidential election. Manafort had been asking to post a $10 million bond and end the seven months of home detention.
It was not immediately clear where Manafort would be jailed.
Well, at least he won't have to wear those two ankle bracelet monitors any longer.
Just as I predicted last week, today would be the last day in Paul Manafort's life that he would not be incarcerated — unless — he cuts a plea deal with the Special Counsel to become a cooperative witness and to tell Robert Mueller absolutely everything he knows. (He is still going to have to serve some prison time). It's time to cut a plea deal, Paulie.
Donald Trump, who believes he is above the law and is unaccountable, failed to receive the clear message sent by the Special Counsel and the Court. Trump complains about Manafort's jailing on witness tampering allegations:
President Trump said Friday that the jailing of his former campaign manager in advance of his trial was "a tough sentence," charging that a federal judge's decision to respond to allegations of witness tampering was "very unfair."
Trump shared his thoughts on Twitter (of course) less than two hours after a judge ordered Manafort sent to jail in response to allegations of witness tampering while awaiting trial on conspiracy and money-laundering charges brought by special counsel Robert S. Mueller III.
The order to jail Manafort was issued Friday by U.S. District Judge Amy Berman Jackson of the District of Columbia.
Shortly before, Trump, who has embraced his power to pardon federal convicts in recent weeks, sought to distance himself from Manafort as he talked to reporters at the White House.
"Manafort has nothing to do with our campaign," Trump said, adding that he felt "a little badly" that prosecutors were targeting the longtime Republican operative for actions taken more than a decade ago.
"You know, Paul Manafort worked for me for a very short period of time," Trump said, before ticking off other Republican presidential nominees with whom Manafort has been affiliated. "He worked for Ronald Reagan, he worked for Bob Dole, he worked for John McCain or his firm did. He worked for many other Republicans. He worked for me for what? For 49 days or something? A very short period of time."
In fact, Manafort served 144 days as Trump's campaign chairman. He was hired in late March 2016 and resigned in mid-August of that year — a stretch that included the Republican convention where Trump was formally nominated.
At the hearing Friday, U.S. District Judge Amy Berman Jackson of the District of Columbia ordered Manafort jailed after he was accused of witness tampering while awaiting trial on federal conspiracy and money-laundering charges brought by special counsel Robert S. Mueller III.
Prosecutors alleged that by committing a new crime while on release, Manafort violated terms of his home confinement in Alexandria, Va., and they asked the judge to revoke or revise it.
Manafort, 69, has pleaded not guilty to all charges in what prosecutors say was a broader conspiracy to launder more than $30 million over a decade of undisclosed lobbying for a former pro-Russian politician and party in Ukraine.
In his remarks to reporters — part of a freewheeling gaggle on an array of subjects — Trump suggested he felt bad not only for Manafort but for others with ties to his presidency who are now facing legal action.
"I feel badly for some people because they've gone back 12 years to find things about somebody, and I don't think it's right that they burst into a lawyer's office on a weekend and early in the morning," Trump said, in an apparent reference to his personal attorney Michael Cohen, who is facing two federal investigations.
"I've never heard of that before," Trump said. "I mean, could you imagine if they burst into Barack Obama's lawyer's office. It would not be acceptable. I mean, that's really a terrible thing."
"I feel badly for a lot of those people. I feel badly for General Flynn," the president continued, referring to his short-lived national security adviser Michael Flynn, who pleaded guilty in December to lying to the FBI about his contacts with then-Russian Ambassador Sergey Kislyak.
"He's lost his house," Trump said. "He's lost his life, and some people say he's lied. Some people say he didn't lie. I mean, really it turned out maybe he didn't lie."
The Post continues:
Asked whether he might consider pardoning former aides and advisers, Trump answered, "I don't want to talk about that."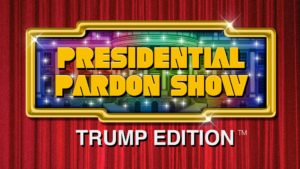 But Rudolph W. Giuliani, a Trump attorney, told the New York Daily News on Friday that the Mueller investigation "might get cleaned up with pardons from President Trump in light of Paul Manafort being sent to jail.
"When the whole thing is over, things might get cleaned up with some presidential pardons," the former New York mayor told the Daily News.
* * *
Giuliani, who serves as Trump's personal lawyer, doubled down on his previous call to end the Mueller investigation immediately.
"That kind of investigation should not go forward," Giuliani said. "It's time for Justice to investigate the investigators."
* * *
Giuliani said the Manafort development all but took off the table the prospect of Trump sitting down for an interview with Mueller.
"It's less likely if not completely unlikely that we would be interviewed by a special counsel whose entire berth is illegitimate," Giuliani said.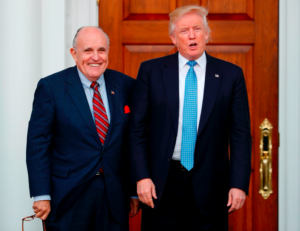 Giuliani has discussed Trump's power to pardon associates in the past, but has never previously gone as far as to suggest the President could overturn Mueller's investigation in the process.
Legal experts said the purpose of Giuliani's comment was clear.
"It's going to be interpreted as a message to Manafort not to panic," said Nicholas Gravante, a New York white collar criminal defense lawyer. "This can come off as Rudy telling Manafort, 'if push comes to shove here, you're going to get pardoned, so keep your mouth shut.'"
* * *
Experts concluded Giuliani's comment could come off as an attempt to impede Mueller's investigation, but agreed it's very unlikely to amount to obstruction of justice in a court of law.
"It's certainly strange and problematic," said Renato Mariotti, a former federal prosecutor in Illinois specializing in financial crimes. "But it's very hard to prove that (Giuliani) had intent to obstruct justice."
Mariotti said Manafort is likely expecting a pardon, considering his staunch resistance to cooperating with investigators despite facing charges that could land him in prison for the rest of his life.
"Why isn't Manafort flipping?" Mariotti said. "One word: pardon."
I disagree with Mariotti on this one. Giuliani dangling presidential pardons to witnesses can be viewed as witness tampering and obstruction of justice. Giuliani was pretty blatant about it. I would not discount him potentially facing charges as well.