The co-author of the GOP Voter Suppression Act (HB 2305), Sen. Michele Reagan, was interviewed by Brahm Resnik on Sunday Square Off, and let's just say that it did not go well. Raw Story reports WATCH: GOP candidate repeatedly refuses to explain her vote for Arizona 'birther bill':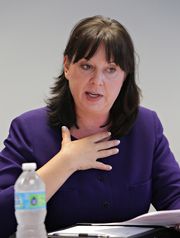 In an interview with 12 News, the Republican candidate for Arizona Secretary of State deflected questions about why she supported a so-called "birther bill" when she was in the state legislature.
"In 2011," the interviewer asked, "you voted for the 'birther bill,' which required [presidential] candidates to prove their citizenship to the secretary of state of Arizona — would the presidential candidates in 2016 have to prove their citizenship to you?"
After an uncomfortably long pause, Reagan replied, "I just think we need to follow the state laws, and the state laws are pretty clear and, um, what is required in state law is what needs to be followed. As secretary of state, the laws are very clear."
"Why vote this way though?" the interviewer interrupted. "Do you believe president Obama needed to show his birth certificate to the secretary of state?"
"I believe," she replied, "that what is in state law is sufficient."
"Then why vote for that bill? It was an embarrassment to our state," he said. "Do you recognize that?"
"I realize that what's in state law right now is sufficient," she replied.
"Do you regret that vote?" he asked.
"There are certain things that, uh, I think that, uh, state law is sufficient, and we don't need to revisit that or go back and change that," she replied.
(Link to the entire interview with Reagan via 12 News).
Oh, but it was worse than what people now remember. The "birther bill"  of Sen. Judy Burgess had died in the legislature, only to be revived by Rep. Carl Seel as a "strike everything" amendment to HB 2177 (2011). Remember the "circumcision certificate"? Yeah, Michele Reagan voted for that. I posted at the time, Arizona passes "birther" bill with an odd amendment:
It's what in the amendments to the Birther bill that has caught the attention of observers. Nicole Belle at crooksandliars.com explains. Truth Is Stranger Than Fiction: AZ Birther Law Requires Candidates "To Describe Penis":
This is what happens when you let the inmates run the asylum:
They don't call Arizona the "meth lab of Democracy" for nothing — where else could a lack of foreskin prove citizenship?

The Arizona Senate formally passed the "Birther Bill" today, but not in its original version.

Apparently, requiring presidential candidates to provide a long-form birth certificate before allowing their names on the ballot in Arizona — despite it already being a federal requirement to run for president — was a bit too much for a few GOP lawmakers. So they made some amendments: if you can't find your birth certificate, and you have a penis, a document describing your lack (of) foreskin will suffice.

A circumcision certificate — a document given to the parents of a male Jewish child after his foreskin is snipped off during a circumcision ceremony — is not a legal document (see an example of one here) but if you have one, under the amended bill, it's apparently enough to prove you're a U.S. citizen and your name can be permitted on the ballot in Arizona.

Pulling out your penis in front of election officials, however, will not prove citizenship — and, in the worst case scenario, could get labeled a sex offender.
Do I really need to be the one to tell them that Muslims males get circumcised too? Oy. I guess we need to root out all those stealthy Scandinavians planning to run for president.
You have to laugh, if only to keep from pulling all your hair out in the face of such stupidity.
If this idiots bill makes it to the governor's desk, she should veto the damn thing.
Which is exactly what Governor Brewer did. Then Judy Burgess and Carl Seel tried again in 2012, Arizona's Penis-Free "Birther" Bill Is Back in Action, but that bill failed.
If repeated "birther bills" (2010-2012) were an embarrassment to Arizona, Michele Reagan has a lot of company. Here is a helpful reminder of how the Arizona legislature voted for the "birther bill," HB 2177. Many of these Tea-Publican yahoos are still serving in the legislature and are running again.
SENATE
HOUSE