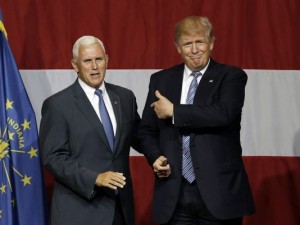 As dishonorable and disrespectful to Gold Star parents as Donald Trump is, his sycophant supporters demonstrate that they are even worse. Military mom booed at Mike Pence rally in Nevada. At a campaign rally in Nevada, a crowd of Trump supporters booed a woman who asked Mike Pence how he can tolerate Donald Trump's disrespect of American servicemen.
Well Tucson, you get your chance to ask Mike Pence why he tolerates Trump's disrespect for military service members and will not repudiate Trump today.
Vice Presidential Nominee, Governor Mike Pence, will be in Tucsn on Tuesday, August 2nd, for a Town Hall, at the Fox Tucson Theater, 17 W. Congress Street,  Tucson, AZ 85701. Event Begins: 2:00 PM.
Ahead of Pence's Visit
Rep. Grijalva and AZ Veterans Speak Out Against Trump's Latest Insults
Tucson, AZ – In advance of Mike Pence's visit to Arizona on Tuesday, Rep. Raúl Grijalva will be holding a press conference tomorrow to speak out against Donald Trump's latest insults against the brave men and women who've served our country. Over the weekend, Trump attacked the family of fallen U.S. Army Captain Human Khan, and in doing so, showed that he's temperamentally unfit and unqualified to be our next Commander-in-Chief.
Who: Rep. Grijalva, AZ Senator David Bradley, and Arizona Veterans
What: Press Conference
Where: Pima County Democratic Party, 4639 E. First St., Tucson, AZ 85711
When: Tuesday, August 2, 2016 at 9:00 a.m.