Above: Kentucky District Judge Justin Walker, far right, fist bumps U.S. Supreme Court Justice Brett Kavanaugh as Senator Mitch McConnell, in the middle, looks on at Walker's swearing-in ceremony.
There are those who would turn a blind eye to public corruption, excusing it as "elections have consequences," and this is the "spoils of victory," and "everybody does it." No, they do not.
What "The Enemy of The People," Senate Majority Leader Mitch McConnell has been doing to the federal courts is unprecedented in our history, it is not within the acceptable norms of even partisan politics, and it is establishing a dangerous precedent for the future that if allowed to continue will destroy the independence and integrity of the federal courts, and cause the public to lose faith in the institution of the courts and the rule of law itself.
I'm beginning to believe that this may be the actual plan of this evil GOP bastard. He knows that the Republican tyranny of the minority cannot hold against the rising tide of changing demographics in this country and that soon the Democrats will regain power over the federal government. McConnell is stacking the federal courts with conservative activist judges who will strike down the Democrats' legislative agenda out of partisan political activism for the a generation to come. The master of obstructionism is embedding his destructive policy of obstructionism in the federal courts, so that it will continue long after he is dead and gone. This will be his destructive legacy.
What McConnell is doing ought to be considered criminal public corruption of the courts. Prosecute him for a conspiracy to defraud the United States, 18 U.S.C. § 371, or under the Racketeer Influenced and Corrupt Organizations (RICO) Act, 18 U.S.C. §§ 1961-1963. These provisions have been broadly interpreted and applied in the past to cover similar public corruption charges against public officials.
McConnell has been stacking the federal courts with appointees who are rated "not qualified" by the American Bar Association. Their only qualification is that they have been approved by the right-wing Federalist Society and/or the Heritage Foundation, and have McConnell's personal stamp of approval (there's your "two or more persons" conspiracy charge).
McConnell's most recent appointee should be the last straw. This can no longer be tolerated as acceptable behavior in this country. This is criminal public corruption of the courts.
Joan McCarter at Daily Kos provides some background:
Remember when Sen. Mitch McConnell blew off the second stimulus response bill to take a long weekend back in Kentucky? Yes, it was just under three weeks ago, but in novel coronavirus time that's 30 years. Anyway, Mitch took that long weekend just as the shit was hitting the fan to celebrate with Brett Kavanaugh and a guy named Justin Walker, who McConnell had secured a federal judgeship for just a few months previous. Now, thanks to that undeserved promotion, Walker is up for a much bigger job: Trump has nominated him to the powerful U.S. Court of Appeals for the District of Columbia Circuit.
Kavanaugh, who was in Kentucky with McConnell for the party, recommended Walker, who had been one of his clerks. Which was about all Walker has done. At just age 37 and a law professor, he had never in his life tried a case. The American Bar Association rated him as unqualified because of his inexperience—he hasn't even been out of law school long enough to qualify by their standards. When he was nominated, McConnell said Walker was "unquestionably the most outstanding nomination that I've ever recommended to Presidents to serve on the bench in Kentucky." And he promptly bulldozed the nomination through.
Now he's saying—about a guy who has served for just 5 months and never been in a courtroom before that!—"I think you cannot credibly argue that Justin Walker is not a judicial all-star." Certainly the ABA could credibly argue that.
On top of all that's infuriating about this nomination is the fact that right now—in the middle of a pandemic—they're pushing a guy to the second most powerful court in the land who is notoriously opposed to the Affordable Care Act—as much as his former boss, Kavanaugh. That and the fact that McConnell is still trying to get judges crammed onto the bench—and leaning on current judges to retire so he can get even more extremists in—in the middle of a pandemic and economic crisis.
The Washington Post adds, Trump taps former Kavanaugh clerk to fill vacancy on powerful D.C. appeals court:
The nomination of Justin Walker, 37, is almost certain to trigger a vigorous battle over his qualifications to serve on the nation's second-most influential court, which is often at the apex of key cases involving executive power and federal regulations. The American Bar Association had deemed Walker not qualified for his current post as judge for the Western District of Kentucky, where he has served for just over five months.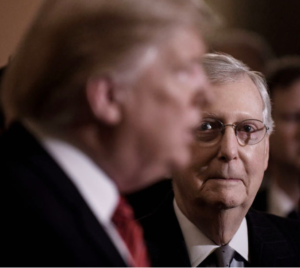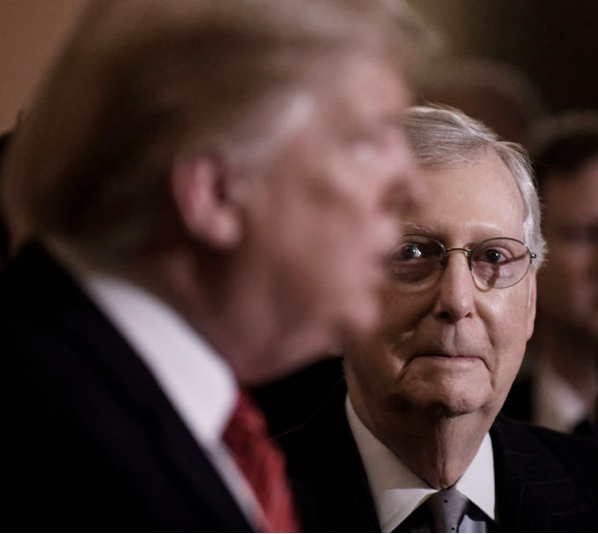 But Walker's nomination also underscores the influence of Senate Majority Leader Mitch McConnell (R-Ky.) on the conservative transformation of the federal judiciary under Trump, to whom McConnell has actively promoted Walker behind the scenes.
Both former Justice Anthony Kennedy and Justice Brett Kavanaugh privately recommended Walker for the D.C. Circuit vacancy in conversations with Trump, according to a person familiar with the calls who spoke on the condition of anonymity to speak freely.
Even more active was McConnell. He knows Walker's grandfather and first met Walker when he interviewed the future majority leader for an article for his high school newspaper. McConnell had previously recommended Walker for the Western District seat and in January, accompanied the judge to the Oval Office to meet the president, although that conversation would ultimately veer to Trump's then-looming impeachment trial.
Trump, McConnell recalled, came away impressed with Walker during the 15-minute conversation and connected well with him. Walker is the youngest nominee to the D.C. Circuit since 1983, and the first from outside Washington since 2005.
The close ties among McConnell, Kavanaugh and Walker were highlighted last month when the majority leader returned home to Kentucky to attend Walker's investiture in Louisville as Congress wrestled with a second aid package to combat the effects of the coronavirus pandemic. Both donning the traditional black robe of a judge, Kavanaugh swore in his former clerk, who fervently defended him in the media during his contentious 2018 confirmation fight.
Walker conducted 162 media interviews — including 35 appearances on Fox News, the president's favored network — defending Kavanaugh and his character, according to the Leadership Conference on Civil and Human Rights, which opposed Walker's nomination to the district court seat last year, citing his ABA rating and "ideological defense" of Kavanaugh.
Walker would fill a vacancy being created by the retirement of Judge Thomas B. Griffith, a George W. Bush appointee who indicated early last month that he will retire in September. Trump has had two picks confirmed to the influential appellate court: Gregory G. Katsas, the president's former deputy legal counsel, and Neomi Rao, who was Trump's regulatory czar before her judicial nomination.
Katsas and Rao were similarly unqualified, and have been disasters since joining the court. But that's the plan.
Demand Justice, a liberal advocacy group focused on the judiciary, has raised questions about the circumstances surrounding Griffith's decision to leave the bench because it came shortly before reports that McConnell was quietly reaching out to judges on their plans to retire.
"The nomination of a Mitch McConnell crony, who has been rated unqualified by his peers, to the second highest court in the country is beyond suspicious," said the group's chief counsel, Christopher Kang, who worked on judicial nominations in the Obama White House. "We need an immediate investigation into whether McConnell manufactured this vacancy by unethically pressuring Judge Thomas Griffith to retire now."
McConnell may also have manufactured the retirement of Justice Anthony Kennedy to get Brett Kavanaugh on the Supreme Court, despite Justice Kennedy having denied it.
A graduate of Duke University and Harvard Law School, Walker has served as law professor at the University of Louisville since 2015. He is a member of the Federalist Society, a powerful network of conservative lawyers, which has held an outsized influence on Trump's judiciary strategy and his picks.
The biggest mark on his record has been his "not qualified" rating from the nonpartisan American Bar Association, which told the Senate that Walker did not have the requisite courtroom experience to serve as a judge.
"Mr. Walker is less than 10 years out of law school, has never tried a case, has never served as co-counsel, and it's not clear how much of his 10 years has even been spent practicing law," Senate Minority Leader Charles E. Schumer (D-N.Y.) said in a floor speech opposing his nomination.
Republicans have frequently dismissed the ABA's ratings of Trump nominees [because their nominees are not qualified]. Walker was confirmed on a party-line, 50-to-41 vote in October.
Walker's nomination to the D.C. Circuit is already attracting support from the constellation of influential conservative figures and groups who have engineered a successful pipeline of judicial confirmations under Trump.
Carrie Severino, president of the deep-pocketed Judicial Crisis Network, said the group is "prepared to do whatever necessary" to ensure Walker's confirmation. And the Article III Project, led by Mike Davis, who was the chief nominations counsel for the Senate Judiciary Committee during the Kavanaugh confirmation fight, will lead the outside effort to get Walker confirmed.
"Judge Walker has had an impressive legal career, during which he has aligned himself with originalism, textualism, and the important separation of powers principles that make our country great," said Leonard Leo of the Federalist Society, who has worked closely with both the White House and the Senate on judicial nominees.
For three years, McConnell has moved at a rapid tempo to fill the judicial openings inherited by Trump after the GOP Senate leader refused to act on dozens of President Barack Obama's nominees, most notably Supreme Court nominee Merrick Garland, who has served on the D.C. Circuit since 1997.
McConnell has vowed to leave no vacancy behind as the president faces reelection this November, and Senate Republicans face the risk of losing control of the chamber.
McConnell has paid particular attention to the nation's appellate courts, one step below the Supreme Court where the vast majority of cases stop. Trump has 51 circuit court appointees, which translates to 1 out of every 4 appellate judges. McConnell says the circumstances are different now because both the Senate and the White House are of the same party, which was not the case four years ago.
In the interview with The Post this week, McConnell said the Senate Republican majority's commitment to confirming judges is unchanged despite a congressional calendar made uncertain by the coronavirus pandemic, preventing senators from holding confirmation hearings and casting votes. The Senate, under McConnell, has installed 193 of Trump's picks for the bench, including two Supreme Court justices, 138 district court judges and two judges for the U.S. Court of International Trade.
"This Congress goes on until Dec. 31, and we intend to confirm all of the judges that are sent up to us this year," McConnell said. He also reiterated his promise that he would fill a Supreme Court vacancy this year, should there be one, a reversal from his argument in 2016 that a seat should remain open until the voters decide in the presidential election.
Mitch McConnell personifies evil and the quintessential corrupt politician. The voters of Kentucky need to perform a mea culpa for their sin of sending McConnell to the Senate by sending him to defeat this November. Then prosecute him for public corruption. Do not let him transition into a high paid lobbyist job where he can continue his destructive public corruption.