While most of America on Tuesday was following news of Donald Trump's former campaign manager being convicted by a jury on eight counts (and it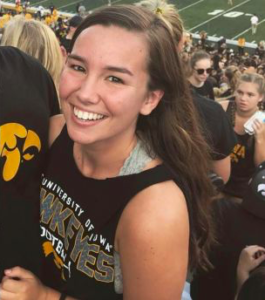 would have been all 18 counts but for one rogue juror, Lone holdout on Manafort jury blocked conviction on all counts, juror says), and Trump's former personal lawyer and consigliere (fixer) Michael Cohen pleading guilty to eight counts and implicating Donald Trump in two counts of campaign finance violations involving hush money payments to Stormy Daniels and Karen McDougal, the alternate universe of FAUX News aka Trump TV was reporting that authorities in Iowa filed charges against an undocumented immigrant in connection with a recovered body believed to be that of 20-year-old University of Iowa student Mollie Tibbetts, who disappeared from her home a month ago. Republicans want to make Mollie Tibbetts a household name:
Former Speaker Newt Gingrich emailed Axios' Mike Allen to make sure that we'd be covering this story, which Fox News led with on air and online Tuesday evening, ahead of the Cohen-Manafort news. His take: "If Mollie Tibbetts is a household name by October, Democrats will be in deep trouble. If we can be blocked by Manafort-Cohen, etc., then GOP could lose [the House] badly."
Newt Gingrich, the spawn of Satan, is channeling GOP ratfucker Lee Atwater and the infamous Willie Horton campaign ad by George H.W. Bush in 1988.
The Latest: Suspect worked at farm tied to Republican farmer.
President Donald Trump asked his audience at a rally Tuesday in Charleston, West Virginia, whether they had heard about the "illegal alien" from Mexico.
Trump said, "You saw what happened to that incredible, beautiful young woman. Should have never happened."
Trump called the nation's immigration laws "a disgrace" that need to be overhauled.
He added, "We're getting them changed, but we have to get more Republicans. We have to get 'em."
Well, it turns out that:
The immigrant from Mexico charged in the kidnapping and murder of an Iowa college student worked at a dairy farm owned by the family of a prominent state Republican leader.
Spokesman Dane Lang said Tuesday night that Yarrabee Farms is a "small family farm" owned by him and his father, Craig Lang, who has long been a prominent Iowa farmer and political figure.
And the immigrant's lawyer says Cristhian Bahena Rivera is not in the country illegally. The Des Moines Register reports, Lawyer chides Trump, says suspect in Mollie Tibbetts' slaying worked in Iowa legally. Not true, says employer:
A court document filed Wednesday morning states that the man accused of killing Mollie Tibbetts was working legally in Iowa, contradicting authorities' contention that he is an undocumented immigrant.
The government is incorrectly promoting the idea that Rivera is not in Iowa legally, attorney Allen Richards of Tama said in a court document asking for a gag order in the case.
"Sad and sorry Trump has weighed in on this matter in national media which will poison the entire possible pool of jury members," Richards wrote, referencing a statement from the president citing Tibbetts' death as an example why "immigration laws are such a disgrace."
Immigration status remains in dispute, however:
[O]fficials at the Iowa dairy farm where the suspect worked offered information Wednesday afternoon that undermines the document's claim.
And U.S. Immigration and Customs Enforcement spokesman Shawn Neudauer said Thursday that "law enforcement remains absolutely confident that we've correctly identified the suspect as an illegal alien from Mexico, based both on investigative interviews with him and on records checks."
It took less than a day for Donald Trump's White House and FAUX News aka Trump TV  to turn Tibbetts — against the wishes of her family members — into a political cause célèbre to bolster Trump's immigration crackdown. Mollie Tibbetts's family doesn't want her death politicized. Trump is doing it anyway.
Some of Mollie Tibbetts's relatives have urged the public not to focus on Rivera's immigration status. Tibbetts's aunt posted on Facebook that "Evil comes in EVERY color"; her cousin attacked conservative activist Candace Owens on Twitter for "generaliz(ing) a whole population based on some bad individuals."
But the fact that Tibbetts (a photogenic young white woman whose disappearance was already a national story) was allegedly killed by an unauthorized immigrant is exactly what made the White House's interest in the story inevitable.
* * *
[I]t's also revealing that the White House is so insistent — that it thinks the death of a single white University of Iowa student allegedly at the hands of someone who lacked legal status justifies anything they might do in the name of keeping out other people who lack legal status.
It's not just the Trump White House. Republicans seize on the death of Mollie Tibbetts to focus on illegal immigration:
Far from the courtrooms where President Trump was battered this week by bad news, a slaying in small-town Iowa has given him ammunition to defend some of his most raw statements about illegal immigration.
A college student was found dead.
A 24-year-old Mexican national is charged with murder.
The slaying of Mollie Tibbetts and the arrest this week of farmworker Cristhian Rivera pulled attention away from the convictions of the president's former campaign chairman and personal attorney while providing an example of the kind of criminal fears that fueled Trump's rise to the White House.
* * *
Administration officials and Republican lawmakers have seized upon the case to rally support ahead of the November midterms while warning that a loss of congressional majorities would expose the president to possible impeachment. Trump has told supporters that Democrats represent "open borders" that would invite a flood of dangerous illegal immigration.
White House press secretary Sarah Huckabee Sanders highlighted Tibbetts's death at the beginning of her press briefing Wednesday before facing questions about the convictions of Trump personal attorney Michael Cohen and ex-campaign chairman Paul Manafort.
"Sadly, the individual believed to be responsible for the murder is an illegal immigrant," Sanders said, "making this an unfortunate reminder of why we need to strengthen our broken immigration laws."
While media coverage of the Manafort and Cohen cases dominated mainstream news outlets, Trump allies sought to refocus attention on Tibbetts's death and the suspect's immigration status.
Fox News led its website with a package on the case headlined, "Monster Down the Road," and Vice President Pence and former Trump campaign aide Corey Lewandowski drew attention to her death on Twitter. "We MUST stop illegals from coming to our country and killing innocent people — this is non negotiable," Lewandowski wrote.
Republican pollster Chris Wilson, who is working on several battleground Senate races, said he expects more GOP candidates to hammer at the Tibbetts case.
"It gets to the basic point Republicans have been making" that the immigration system needs to get stricter, Wilson said. "Immigration as an issue is a winner for Republicans when we make it about security and crime."
JUST TO BE CLEAR: Immigrants do not commit violent crimes at a higher rate than native-born Americans, according to federal and state crime statistics. A study published in February by the libertarian Cato Institute examining 2015 criminal data in Texas found native-born residents were much more likely to be convicted of a crime than immigrants in the country legally or illegally.
Nevertheless, the GOP will embrace Trump's hard-line immigration platform as 'a winner for Republicans' in November:
President Trump and Republican leaders are eagerly embracing hard-line immigration policies as a centerpiece of their strategy for the November midterms, believing the issue will bolster GOP turnout and help detract from the worsening legal scandals enveloping Trump.
Republican candidates are joining the White House's campaign to offer public support for Immigration and Customs Enforcement (ICE), warn of the dangers of the Salvadoran MS-13 gang and highlight sensational crimes involving undocumented immigrants.
The aim is to draw a sharp contrast with Democrats over enforcement of border control laws. Republican strategists view immigration as a deeply emotional issue that motivates the conservative base, and they have delighted as liberals push Democrats to the left as a reaction to Trump's presidency.
* * *
The emerging strategy would represent an echo of Trump's 2016 campaign, during which he fanned fears of crime, terrorist and economic competition from immigrants. But it could pose risks for a party that has controlled the White House and Congress for nearly two years and faces pressure from voters to demonstrate progress on the Republican governing agenda.
In rapidly diversifying swaths of the Mountain West and the Southeastern states like Florida and Georgia, some Republicans also fear the party could do lasting damage to its prospects in national elections if it does not temper its rhetoric.
Recent election results suggest immigration is not a cure-all for the party's struggles under an unpopular president. In the Virginia governor's race last year, voters rejected Republican Ed Gillespie, who parroted Trump's efforts to drum up fear of MS-13.
Though Senate Republicans believe immigration will play well in conservative states that are key to maintaining a majority, the issue could be less helpful for GOP candidates in suburban jurisdictions that could determine control of the House. Polls show Democrats already holding an edge on the generic House ballot.
* * *
For a party that has to contend with the burgeoning political scandal surrounding the White House, however, the immigration debate offers Republicans a chance to change the topic.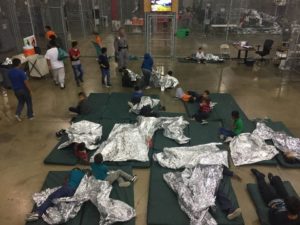 Republicans do not want to talk about President Trump's family separation policy for immigrants lawfully seeking asylum; the policy is state sponsored child kidnapping. They do not want to talk about how children improperly held in government detention, far in excess of previous immigration policies, suffered irreparable harm mentally and emotionally and in some cases, physical abuse at the hands of their jailers. Republicans do not want to talk about how Trump's family separation policy may have made more than 500 children orphans as a result of this policy. Republicans do not want to talk about how the Trump administration and its Department of Justice is in open contempt of court of a judge's order requiring the government to do everything in its power to reunify families that it unlawfully separated.
No, Republicans want to victimize the family of Mollie Tibbetts a second time by turning her into a campaign to demonize all immigrants and to turn Cristhian Bahena Rivera into the "Willie Horton" of the 2018 campaign. It is disrespectful to the memory of Mollie Tibbetts. 'She Wouldn't Want That.' Mollie Tibbetts' Family and Friends Push Back on the Politicization of Her Death:
"Please do not compound the atrocity of what happened to her by adding racism and hate to the equation..Anyone that knew Mollie knows she wouldn't want that. Respect each other, support each other but most importantly BE KIND!"
But it is all the GOP has to motivate their xenophobic white nationalist and racist base of white voters.
---
Support volunteer citizen journalism at the Blog for Arizona with a donation today. Your PayPal contribution keeps the Blog online and sustains a free press in Arizona.
---