Donald Trump lost the popular vote by more than 2.8 million votes. "Mr. Unpopular," Donald Trump, will enter office as the most unpopular of at least the last seven newly elected presidents, according to a new ABC News/Washington Post poll. Trump to Enter Office as Most Unpopular President in at Least 40 Years, Poll Finds: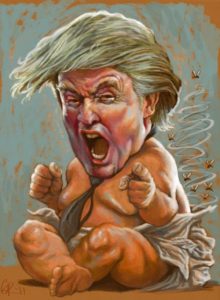 Forty percent of Americans in the national survey approve of the way Trump has handled the transition, only half as many as the 80 percent who approved of Barack Obama's preparations to take office. Trump also trails far behind George W. Bush (72 percent transition approval), Bill Clinton (81 percent) and George H.W. Bush (82 percent) on this measure.
Similarly, just 40 percent in this poll, produced for ABC News by Langer Research Associates, approve of most of Trump's Cabinet choices, trailing his four most recent predecessors by 19 to 26 percentage points.
Also, only 40 percent see Trump favorably overall. That's 21 points behind Obama's departing favorability rating (his best since November 2009) and by far the lowest popularity for an incoming president in polling since 1977. Previous start-of-presidency favorability ratings have ranged from 56 percent for George W. Bush to 79 percent for Obama.
These results are consistent with a new CNN poll, which found Trump with a 40% approval rating, "the lowest of any recent president." CNN/ORC Poll: Confidence drops in Trump transition:
Donald Trump will become president Friday with an approval rating of just 40%, according to a new CNN/ORC Poll, the lowest of any recent president and 44 points below that of President Barack Obama, the 44th president.
Following a tumultuous transition period, approval ratings for Trump's handling of the transition are more than 20 points below those for any of his three most recent predecessors. Obama took the oath in 2009 with an 84% approval rating, 67% approved of Clinton's transition as of late December 1992 and 61% approved of George W. Bush's transition just before he took office in January 2001.
An earlier Gallup poll produced similar results. Approval of Trump Transition Still Low as Inauguration Nears:
In Gallup polling conducted two weeks before Inauguration Day, President-elect Donald Trump continues to garner historically low approval for his transition performance, with 51% of Americans disapproving of how he is handling the presidential transition and 44% approving.
Trump's 48% transition approval rating in December was already the lowest for any presidential transition Gallup has measured, starting with Bill Clinton's in 1992-1993. Trump's current rating only further separates him from his predecessors — particularly Barack Obama, who earned 83% approval for his handling of the transition process in January 2009, up from 75% in mid-December 2008.
An earlier Quinnipiac University National Poll also found voters disapprove 51 – 37 percent of the way Donald Trump is handling his job as president-elect.
There is no modern precedent for poll numbers like this.
So naturally the always insecure egomaniacal Twitter troll Trump claims "the polls are rigged!" "Fake news!"