Phase one of the Mutiny on the Boehner is now complete.
On Wednesday, the mutinous GOP House Freedom Caucus took Captain Queeg the TanMan hostage and forced him to pull the scheduled vote on the resolution of disapproval of the Iran agreement. They then forced the nominal Weeper of the House to accede to their hair-brained "Tortilla coast gambit" based on a debunked conspiracy theory about IAEA "secret side deals" with Iran. The GOP House Freedom Caucus 'Tortilla Coast gambit' to delay the Iran deal is a fraud.
On Thursday, the House voted on two resolutions claiming that the President had not given them all the information required to be reviewed by Congress under the Iran review law passed by Congress.  Not true: As Max Fischer wrote:
You can read, for yourself, the law that Congress passed articulating its authority to disapprove the Iran deal. Section 135 describes the congressional review period, and specifically articulates the documents that the Obama administration is required to give Congress. There is nothing in there about the text of IAEA safeguards agreements with Iran.
These two resolutions from the GOP's Gimmicks-R-Us Shoppe were approved on a straight party-line vote without a single Democrat in support. Roll Call Vote 491 243-186 (straight party-line vote); Roll Call Vote 492 245-186 (straight party-line vote). This demonstrates that the TanMan is not in command of his mutinous ship.
This morning the Tan Man's mutinous crew completed voting on the final pieces of their hair-brained "Tortilla coast gambit."  All but one Tea-Publican (Rep. Thomas Massie (R-Ky.), who voted present because he believes it is a treaty not subject to House "advice and consent") voted against approval of the P5+1 world powers nuclear agreement with Iran, along with 25 "squish" Democrats, including Arizona's Kyrsten Sinema. Roll Call Vote 493 162-269 (defeated). The final piece was a resolution suspending the President's ability to lift sanctions on Iran, which like the votes on Thursday, were approved on a straight party-line vote without a single Democrat in support. Roll Call Vote 494 247-186 (straight party-line vote).
What the mutinous GOP House Freedom Caucus failed to consider when they concocted their hair-brained "Tortilla coast gambit" is that the Senate must approve of it as well before September 17, and everything in the Senate takes 60 votes for cloture to get to a final vote.
Tea-Publicans do not have the votes in the Senate, despite the fact that the House mutiny has now spread to the Senate. GOP senators file challenge over Iran side deals (the usual suspects: Sens. Ron Johnson (R-Wis.), Mike Lee (R-Utah), Pat Toomey (R-Pa.) and Ted Cruz (R-Tex.)). The Septuagenarian Ninja Turtle, Senate Majority Leader Mitch McConnell, has rejected the effort, telling reporters that "as I understand the law, once Sept. 17 passes is it not the case that the president will take the view that he is free to go forward."
Which brings us to phase two of the Mutiny on the Boehner. The House is to vote on defunding Planned Parenthood next week:
The House will vote next week on legislation to defund Planned Parenthood for one year while Congress conducts an investigation into controversial undercover videos regarding the organization's use of fetal tissue donations.
Next week's vote comes as the clock is ticking for Congress to find a way to avoid a government shutdown on Oct. 1. Many conservatives want to block any government spending on Planned Parenthood, which other Republicans worry could spark another disastrous shutdown, such as 2013's over the healthcare law.
Congress has a limited number of days in session before the deadline. The House will only be in session for three days next week due to Rosh Hashanah. After that, Congress will be in town for two days during the week Pope Francis is in Washington, leaving three work days in September.
While announcing next week's schedule, House Majority Leader Kevin McCarthy (R-Calif.) warned members that Friday's session would last later than usual due to the short workweek. McCarthy made no mention of any vote on a short-term funding bill to avert a shutdown.
The vote on Rep. Diane Black's (R-Tenn.) bill to place a moratorium on Planned Parenthood funding for one year will be the opening salvo in the government funding fight.
The House will also vote on legislation authored by Rep. Trent Franks (R-Ariz.) to add criminal penalties for violations of the 2002 Born Alive Infants Protection Act, which offers legal protections to infants born alive after a failed abortion attempt.
"These two critical bills will ensure that we get all the facts and protect those   who cannot protect themselves," McCarthy said.
Opting not to pass a short-term funding bill next week will leave little time for the Senate to take up anything approved by the House.
Held hostage by his mutinous crew, who would rather engage in a witch hunt of Planned Parenthood than to do the people's business and pass 13 appropriations bills to keep the government running, the TanMan is powerless to stop his mutinous crew from hurtling towards a government shutdown at the end of September.
His mutinous crew actually wants a government shutdown and thinks that they can "win" the public relations campaign because they live in the "Closed Conservative Information Feedback Loop" of the conservative media entertainment complex. Conservative lawmaker insists GOP can win shutdown fight – Rep. Jim Jordan (R-Ohio) of the mutinous GOP House Freedom Caucus:
In an interview for C-SPAN's "Newsmakers," Jordan stressed that many conservative lawmakers will not vote for any spending bill that funds Planned Parenthood.
* * *
The tactics the GOP employs in the days ahead are crucial, according to the five-term lawmaker.
"We just need to make that case in a compelling, repetitive way, over and over again, so the American people clearly understand what's at stake here."
Jordan, 51, didn't answer several questions on his political future the future of Speaker John Boehner (R-Ohio). Instead, he emphasized the many policy battles this fall, including the Iran nuclear deal, the debt ceiling limit, the Export-Import Bank and the clash over government funding.
If Congress and the White House cannot agree on a broad spending bill by the end of the month, the government will shutter on Oct. 1.
 Once again, what the mutinous GOP House Freedom Caucus has failed to consider is that they cannot act alone — they have to have the cooperation of the Senate, and the Septuagenarian Ninja Turtle, Senate Majority Leader Mitch McConnell says the Planned Parenthood shutdown fight 'an exercise in futility':
Senate Majority Leader Mitch McConnell (R-Ky.) is rejecting calls from conservatives to block Planned Parenthood funding in a spending measure, warning it would be "an exercise in futility."
In an interview with Politico, McConnell said he would support a "clean" measure to fund the government and avoid a government shutdown on Oct. 1.
He said he supported calls to defund Planned Parenthood, but argued that Republicans would not be able to win the battle with a Democrat in the White House.
"It's an exercise in futility," McConnell said. "I'm anxious to defund Planned Parenthood," but "the honest answer of that is that's not going to happen until you have a president who has a similar view."
McConnell offered similar comments in an interview for a Kentucky TV station last month.
He warned that Senate Democrats would block any attempt to defund Planned Parenthood as part of a government spending bill.
"Senate Democrats have refused to let us pass any of the 12 appropriations bills," McConnell said. "What we're going to do is fund the government into the end of the year, and it will obviously have to be something that could get a presidential signature. So there's no way you can avoid talking to each other about how to get there."
McConnell said the upper chamber would vote on a bill banning abortions after 20 weeks.
"What we are going to do is move to the pain-capable [abortion] bill sometime this month and see how people feel about that," he said.
Despite McConnell's vow of no more government shutdowns, he cannot control the mutinous GOP House Freedom Caucus which is holding the TanMan hostage. Their goal is to eventually remove the TanMan from his speakership. House conservatives not pressing Boehner fight for the moment: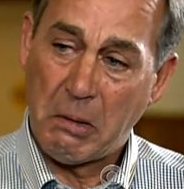 House conservatives are using a threat to oust Speaker John Boehner to solidify their position in fights over the Iran nuclear deal, funding for Planned Parenthood and other battles set to take place this fall.
Conservative members returning from August recess said removing Boehner was not a top priority compared with extracting concessions in upcoming congressional fights. But thanks to a no-confidence resolution introduced in July by Rep. Mark Meadows (R-N.C.), they now have an explicit threat to invoke as they seek to pull leadership's strings.
* * *
The wait-and-see attitude shared by members of the Freedom Caucus belies the perception that, given Meadows's resolution, conservatives will act soon to topple Boehner. Aides to the speaker indicated that they would not be surprised to see a mutiny sometime this fall. But there is little evidence to suggest the Freedom Caucus will seek Boehner's removal before debates on Iran, Planned Parenthood and other matters run their course.
* * *
Lawmakers face an unusually high number of pressing legislative deadlines this fall, creating a precarious situation for House leaders. Funding for the government is set to run out on Sept. 30. Transportation spending must be reauthorized by the end of October. Also in the near future, lawmakers must raise the U.S. debt limit.
Passing these bills would be challenging at any time. But this fall, emotional fights over the Iran nuclear deal and funding for Planned Parenthood are intersecting with Congress's regular, must-pass business, complicating every debate.
* * *
The will-they-or-won't they speculation about Boehner's ouster is a powerful tool for conservatives, who are facing pressure from their constituents to deal with Boehner once and for all. The entire Freedom Caucus drew a line in the sand on Thursday, releasing a statement that declared they would not support a government funding bill that included money for Planned Parenthood.
At the same time, the delicacy of the various interconnected debates this fall is likely to keep the anti-Boehner drama behind the scenes, at least until a point when conservatives decide to take action.
* * *
Echoing his conservative peers, Rep. Trent Franks (R-Ariz.) said ousting Boehner should not be a standalone goal this fall with so many contentious issues facing lawmakers.
"If that's the case, then shame on all of us," Franks said.
* * *
Former National Republican Congressional Committee Chairman Tom Cole (R-Okla.) said that even if insurgent members could marshal enough votes to remove Boehner, they have no real plan to replace him.
Cole said "You need to have a credible alternative and they've yet to unveil who their candidate would be."
Proposed alternative speakers are "fine fellas," but none of them are strong enough to get majority support from the rest of the party, and nobody is going to vote to remove one speaker without another one lined up, Cole added.
* * *
Perhaps Boehner's biggest friend are the micro-divisions among the rebels; in the Freedom Caucus, members have a separate sense of the red line Boehner must not cross to maintain his speakership. If the group coalesces around one standard, that could spell trouble, especially since a single lawmaker can force the vote of no-confidence.
Things are about to get ugly real soon as Tea-Publicans engage in a naked abuse of power, with little or no concern for the American people or responsible governance.